Marly Youmans






The Fool and the Owl



Although there were no aspens, the forest
Felt like aspens to the Fool, as if somewhere
A leaf flashed and twiddled by its stem--
As if a million shivery leaves were tweedling
By a stem--a wilderness hanging by
A thread, by many threads, by spider's silk
Above an endless pit, the well of souls.
The shivering was catching, and the Fool
Trembled in his bed and comforter
Of leaves.
What was it?
Then.
A night owl came,
Owl with his golden bursts of eyes in his
King-Minos mask of a gold, flattened face.
Bones lay in hieroglyphics at his feet,
And in his claws a scream, quick, torn off.
The Fool groped in his mind, remembered owls
Of wisdom, pictures of owl-headed staves,
And tiny dumpy owls on windowsills.
The gold splats of the eyes ate up his face,
Haloed his brain with flame.
Next: a hush
And lifting wings. What was it that Owl meant?
The Fool, safe-huddled in his bed of leaves,
Well knew unearthliness was passing near--
Some dangerous live gold, uncanny sign,
Admonition. Message. But how to read?








Self-Portrait as Meadow



Long grasses in the meadow are showing
Silver sides of stems as they give way to
The wind and toss, each anchored at the toe--
They are something as if impossible
Like a choir of dancers or a river
Of glistening sand, while levitating
Hairpins jerk and sail above the flow and
Abrupt stillness where a posse of bumblers
And tiny wildly-shaken handkerchiefs
In yellow, white, or blue go dusting down
The pollen from vetch and daisies, spreading
The field's fool's gold. Strange how a field seems so
Thoughtful, graceful, infinitely chatty
With its grasses weaving and unweaving,
Yielding and springing back on a tether.
Greens ripple through me. Sun, a waterfall
Of gold, pouring from a distance to me
Now beds itself in sheaths of stone and earth.
My skin twitches when a thousand thoughts stir,
Reeling beautifully into tangles
Impossible to comb, gold with pollen.
Wind shuffles them in place and dies away,
Letting Niagaras of light have sway.








Hurdler, Age 12



You walk on air as if sweet joyfulness
Came streaming from the lilacs by the track,
You laugh and joke just like the other girls--
Then flying far from them you leap the bars
Without a pause or hitch: with only smooth
Motion as of wings unfolding or folding,
Your body sculling air, itself the boat
And passenger at once, making the kind
Of elegance I like--offhanded ease
That never shows the hours, the jags, the falls,
The crossed-out lines. You are the only swan,
Sailing the springtime's pools of meltwater
Without a glance to those of us who stare.
You are the rose reflected in the glass
That is no glass but river, sliding past
The stands where watchers sit, as gravity-
Bound as any rock beside the water.
And you are also the poem that skates
Its page of water: water like a stone,
The glittering ice chiseled with your name.

for Kristin Ratliff


AUTHOR BIO

Marly Youmans's ninth book is A Death at the White Camellia Orphanage, winner of The Ferrol Sams Award for Fiction (Mercer University Press, 2012.) Forthcoming are The Foliate Head, a collection of poetry from Stanza Press in the UK, and Thaliad, an epic poem from Phoenicia Publishing (Montreal), as well as several novels, Glimmerglass and Maze of Blood (Mercer.) Currently she is serving as a judge for The National Book Award in Young People's Literature. Earlier work in Mezzo Cammin: 2011.2, 2011.1, 2010.2, 2010.1, 2009.2, 2009.1, 2008.2, 2008.1, & 2007.1.
POETRY CONTRIBUTORS

Nicole Caruso Garcia

Claudia Gary

Tracey Gratch

Kathryn Jacobs

Erin Jones

Jean Kreiling

Angela Alaimo O'Donnell

Alexandra Oliver (Featured Poet)

Liz Robbins

Doris Watts

Marly Youmans

Claire Zoghb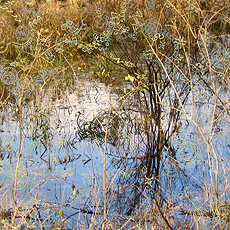 Rhea Nowak: I am always intrigued by the relationships between clarity and chaos, rhythm and awkwardness, mark and intention, presence and absence.