Nicole Caruso Garcia






For My Mother, Who Cannot Swim



You said, "Can't save you if you're drowning," so
you made me take swim lessons at the Y
and public pool, and when the Guppy class
was full, they threw me in with Sharks. "Jump in,"
they said, "we'll catch you"--what a lie--and off

the diving board I went. You trusted them,
but I lacked confidence in strangers who
let water fill my nostrils as I tread
above eight feet of liquid death. How wise
you were, preparing me for wilderness.

One day my floaties slipped off in the deep
end, their fluorescence floating opposite
directions, comedy and tragedy.
They signaled, Caution: Irony Ahead.
To spite them, I decided not to drown.

I soon spent summers bronzed, eyes red with salt
and chlorine, puckered at the fingertips.
In pregnancy you craved black olives, so
perhaps you bore a dolphin daughter, sprung
from rubbery dark skins in murky brine.

And seaweed-haired, I smiled and body-surfed
the Jersey waves, despite the times they swelled
to claw and thrash me to the sandy floor.
Once upright, I coughed salty barks, tried not
to show you that they pummeled me so hard

the sun went dark, as if I'd never see
the shore again where you sat guardian
of limeade, cheddar Goldfish, frozen grapes,
the cooler anchoring our sacred square
of pink chenille where you brushed sand away.

You wouldn't get your hair wet, but we love
that kinky-curly world no bathing cap
will fit. When Dad came home from work and hugged
you in your apron, he'd inhale and sigh,
"I love it when your hair smells like biscotti."

One day I joined you in the pool's blue calm,
three-feet, and volunteered to teach you how
to swim. Who says that forty is too old?
Your ancestors were from Greek islands and
the boot of Italy that stomps the seas.

Waist-deep, I tried to christen you with skill:
a way to save oneself in spite of fear.
In other matters you were fearless, just
as when you took up arms, so unafraid
to wield the wooden spoon of discipline.

Yet like a stubborn lamb with tight black wool,
a lamb who will not even lift one leg,
you froze, refused to let me help you float.
Who wouldn't want to feel the weightlessness?
Like heaven, amniotic, drifting back.

I hear Mahalia Jackson's gospel blues,
"And if you never hear me sing no more,
child, meet me on the other shore" and think
of you, who still can't swim, but who will get
there somehow, dry, and motioning toward home.








La Femme Obscure



Though sailors woo her, flashing galleons
and cannon bronze,

let phalanxes of stars retreat. She needs
no glinting guards.

She is both empress and the castle keep,
her fortress deep,

five thousand fathoms of obsidian.
Dismiss the moon

drawn like a scimitar against the throat
of creeping light,

for she is sanctuary strong as stone,
her court within

great vaulting halls of coral tapestries,
her diary's

smooth decades strung like pearls around her wrist.
With merely mist

for battlements, she stands a citadel
defended well.

At daybreak she emerges molten gold,
both coy and bold,

behind her ear an orchid of white foam.
Beneath that bloom,

her naked shallows freckled warm with light,
she blinks, and yet

her stoic stare belies each wound or kiss
in her abyss.

She cradles good men whom she could not save,
attends each grave,

yet wrestles scoundrels to her chamber floors.
Despite the boors

who offer bagatelles of bristly lace,
cast emptiness

and jetsam in her depths like an ersatz
trousseau, their nets

she silvers bright with fish. And with each wave,
she tries to heave

ashore the contents of her deepest trench,
as if the beach

could bear inscription carved like rare white jade.
Across mute sand

she hears the wind bring ballads laced with rum
and myth's perfume.

Ships' amber lanterns make men's shadows grow
with claims to know

her countless coves, her vast domains;
yet she remains

aloof and sprawling nude from sky to shore,
la femme obscure.



AUTHOR BIO

Nicole Caruso Garcia was born in New Jersey in 1972. She earned her B.A. in English from Fairfield University, and after seven years in corporate industry, she left to earn her M.S. in Education from The University of Bridgeport. Her poetry has appeared in literary journals such as Willow Review, The Sow's Ear Poetry Review, Soundings East, The Ledge, Poetry Midwest, and Small Pond Magazine of Literature. She received the Spring 2010 Willow Review Award. She teaches Poetry and Creative Writing at Trumbull High School. Despite her penchant for formalism, her rapping alter ego, Capital G, often visits to bust a rhyme for her students. Her first video, "Plagiarism Rap," debuted on YouTube in February. She and her husband live in Connecticut. Earlier work in Mezzo Cammin: 2011.2, 2011.1, & 2008.1.
POETRY CONTRIBUTORS

Nicole Caruso Garcia

Claudia Gary

Tracey Gratch

Kathryn Jacobs

Erin Jones

Jean Kreiling

Angela Alaimo O'Donnell

Alexandra Oliver (Featured Poet)

Liz Robbins

Doris Watts

Marly Youmans

Claire Zoghb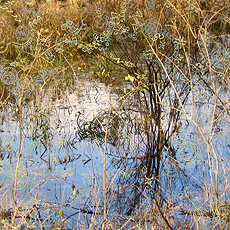 Rhea Nowak: I am always intrigued by the relationships between clarity and chaos, rhythm and awkwardness, mark and intention, presence and absence.