Angela Alaimo O'Donnell






Diagnosis: Human



Section II

The star of my left breast
bloomed on the blank screen,
her many ducts like finger lakes--
so full she seemed.

Ever the lesser breast,
always short on milk,
never well-equipped,
not her bigger sister's ilk.

Now she was special,
her little lump new.
Still, she looked to me
harmless and true.

You could have felled me with a feather--
I was that struck--
as she stood there in the mirror
dumb as luck.








Her



She comes to me in her
kitchen, in a Tony Bennett number,

and I know I never knew her,
never approved of her

girlish gesture, her
greedy glance in the mirror,

her love of her
self thicker than any love we

could claim from her,
us needy & noisy and & full of palaver,

the burden she
would have left, like her

mother before her.
And who could judge such fervor?

Not I, the fourth of her
five, the hitch in her

stride, child of a mother
who never loved her.









On Edward Hopper's "A Woman in the Sun"



Nothing can be mistaken here
where summer's clarity is kind.

Her body's urgency so clear
against the darkness of her mind.

What she sees we cannot know.
She stands so naked and so clothed.



AUTHOR BIO

Angela Alaimo O'Donnell teaches English, Creative Writing, and literature courses in American Catholic Studies at Fordham University in New York City. Her most recent book, Saint Sinatra & Other Poems (Word Press), was published in 2011. Previous books include a full-length collection, Moving House (Word Press, 2009), and two chapbooks, Mine (Finishing Line Press, 2007) and Waiting for Ecstasy (Franciscan University Press, 2009). Her poems have appeared in a number of journals, including America, Comstock Review, First Things, Hawaii Pacific Review, Journal of the Motherhood Initiative, Pedestal Magazine, Post Road, Potomac Review, RUNES, St. Katherine Review, The Nepotist, and Valparaiso Poetry Review. O'Donnell was a finalist for the Foley Poetry Award and the Mulberry Poets Award, and her work has been nominated for Pushcart and Best of the Web prizes. Earlier work in Mezzo Cammin: 2011.1, 2009.2, & 2007.2.
POETRY CONTRIBUTORS

Nicole Caruso Garcia

Claudia Gary

Tracey Gratch

Kathryn Jacobs

Erin Jones

Jean Kreiling

Angela Alaimo O'Donnell

Alexandra Oliver (Featured Poet)

Liz Robbins

Doris Watts

Marly Youmans

Claire Zoghb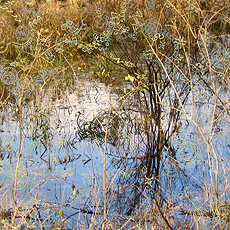 Rhea Nowak: I am always intrigued by the relationships between clarity and chaos, rhythm and awkwardness, mark and intention, presence and absence.