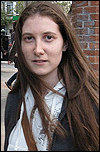 Taylor Jillian Altman is a graduate of Stanford University and the Creative Writing Program at Boston University. Her work has appeared in journals such as The Alembic, Salamander, and Silk Road, and her chapbook, Swimming Back, was published by sunnyoutside press. Taylor lives in the San Francisco Bay Area and works for QuestBridge, a non-profit that connects high-achieving low-income students with college scholarships.




Meredith Bergmann is a sculptor, poet and critic. Cities with public monuments include Boston and New York; articles and poems have appeared in Iambs and Trochees, The New Criterion, The New York Review of Art, The Tri Quarterly Review, and Sculpture Review. She is poetry editor of American Arts Quarterly and its related website: www.nccsc.net/poetry.




Kim Bridgford is the director of the West Chester University Poetry Center and the West Chester University Poetry Conference, the largest all-poetry writing conference in the United States. As editor of Mezzo Cammin, she was the founder of The Mezzo Cammin Women Poets Timeline Project, which was launched at the National Museum of Women in the Arts in Washington in March 2010, and will eventually be the largest database of women poets in the world. She is the author of four books of poetry: Undone (David Robert Books); Instead of Maps (David Robert Books); In the Extreme: Sonnets about World Records (Story Line Press), winner of the Donald Justice Prize; and Take-Out: Sonnets about Fortune Cookies (David Robert Books). Her forthcoming book is Hitchcock's Coffin: Sonnets about Classic Films (David Robert Books).




Barbara Lydecker Crane has published over thirty poems in the last few years, in Light Quarterly, Measure, Christian Science Monitor, Think Journal, America, Raintown Review, Blue Unicorn, Lucid Rhythms, Lyric, Shit Creek Review, Snakeskin, Bumbershoot, 4 and 20, Ars Medica, Yale Journal of Humanities in Medicine, and the three anthologies. New work is forthcoming in Comstock Review and another anthology. Crane is a graduate of Skidmore College, where she majored in fine arts. A former graphic designer, Crane is a professional fiber artist, though poetry is taking more of her time these days. She and her husband recently moved to Somerville, MA.




Janann Dawkins's work has appeared in publications such as decomP, Existere, Mezzo Cammin, Ouroboros Review, and Two Review, among others. Leadfoot Press published her chapbook Micropleasure in 2008. A graduate of Grinnell College with a B.A. in American Studies & twice nominated for the Pushcart Prize, she resides in Ann Arbor, MI.




Rose Kelleher grew up on the South Shore of Massachusetts, then lived in Boston for several years before moving to Maryland and marrying a transplanted Bostonian. She has worked as a technical writer and programmer, and authored four computer books and numerous technical articles. Since rediscovering poetry, she has published poems and essays in a variety of journals, most recently The Flea, The Raintown Review, Soundzine and Umbrella. Her first collection, Bundle o' Tinder, was awarded the 2007 Anthony Hecht Poetry Prize and is available from Waywiser Press.




Athena Kildegaard lives in Morris, Minnesota, where she is a lecturer at the University of Minnesota, Morris, and a freelance writer/producer for Pioneer Public Television. Her books of poems are Rare Momentum (2006) and Bodies of Light (forthcoming), both from Red Dragonfly Press. Her poems have appeared widely in such journals as Mid-American Review, Valparaiso Review, Cream City Review, Faultline, Tar River Poetry, Bateau, and elsewhere.



Jean L. Kreiling is a Professor of Music at Bridgewater State College in Massachusetts, and previously taught English at Western Carolina University in North Carolina. Her poetry has appeared in several print and on-line journals, including 14 by 14, Contemporary Sonnet, Dogwood, Ekphrasis, The Evansville Review, The Formalist, London Poetry Review, and The Pennsylvania Review. She was a semifinalist for the 2009 Richard Wilbur Poetry Award and a finalist for both the 2009 Howard Nemerov Sonnet Award and the 2010 Dogwood Poetry Prize. Her interdisciplinary essays on music and poetry have been published in the academic journals Ars Lyrica and Mosaic.




The poems of Barbara Loots have appeared during the past 40 years in The Lyric, The Formalist, Measure, and Light Quarterly, to name a few, and in a collection titled Landscapes With Women, with Gail White, Rhina Espaillat, and Martha Bosworth. Most likely you've read at least a handful of the thousands of verses she wrote as one of the anonymous professionals at Hallmark Cards. Now retired, she writes when she can spare the time from leading tours at the Nelson-Atkins Museum of Art.




Susan McLean teaches English at Southwest Minnesota State University. Her book The Best Disguise won the 2009 Richard Wilbur Award and was published by the University of Evansville Press. Her poems have appeared recently in Measure, First Things, Umbrella, and Light Quarterly.




Mary Meriam's poems have appeared recently in the New York Times, Poetry Foundation, American Life in Poetry, and Sentence: A Journal of Prose Poetics. She is the author of The Countess of Flatbroke (afterword by Lillian Faderman), published by Modern Metrics in 2006, and The Poet's Zodiac, forthcoming from Seven Kitchens in 2011. She is the editor of Lavender Review, an e-zine of lesbian poetry and art, and Filled with Breath: 30 Sonnets by 30 Poets (Exot Books, 2010).




Annabelle Moseley was the 2009-2010 Walt Whitman Birthplace Association Writer-in-Residence. Her poems have appeared or are forthcoming in such journals as The Texas Review, Marsh Hawk Review, Oberon, and The Lyric, among others. Moseley's fourth chapbook is A Field Guide to the Muses, published by Finishing Line Press in 2009, and her fifth, shared with the Welsh poet J.C. Evans, is Bridging the Waters, published jointly in New York and Wales by Cross-Cultural Communications. Visit Annabelle Moseley's website.




Wendy Sloan is an attorney living in New York City. Her poems have appeared in The Raintown Review, Measure, Umbrella Journal, Blue Unicorn and Iambs & Trochees, among other publications. A translation (Leopardi) was published in The Chimaera. Wendy was a finalist in the 2006 Howard Nemerov Sonnet Award Competition.




Janice D. Soderling is a previous contributor to Mezzo Cammin. Her poems, fiction and translations are published in anthologies and a diversity of journals and zines such as Studio Journal, Magma Poetry, Horizon Review, The Centrifugal Eye, Pedestal Magazine, Coe Review, Autumn Sky Poetry, Tilt-a-Whirl, Turtle Quarterly, Boston Literary Magazine, protestpoems, Poemeleon, Literary Bohemian. Literary Mama. She has been nominated for Sundress Best of the Net, Dzanc Best of the Web, and the Pushcart Prize; and was honored with a regional Artist of the Year award for writings in Swedish.




Alison Talbott is a graduate of Amherst College and the University of Michigan's creative writing program, where she received the Meader Family Award as part of the 2005 Hopwood Program. She currently lives in Lawrence, Kansas.





A native of Buffalo, New York, Catherine Tufariello received a B.A. in English from SUNY Buffalo and a Ph.D. from Cornell University, where she specialized in nineteenth-century American poetry. She has published two chapbooks and one full-length collection, Keeping My Name (Texas Tech, 2004), which was a finalist for a 2005 Los Angeles Times Book Prize and winner of the 2006 Poets' Prize. Her poems have recently appeared in Able Muse, The Dark Horse, Light Quarterly, and The Nervous Breakdown. A staff member of the Project on Civic Reflection at Valparaiso University, Catherine lives in Valparaiso, Indiana, with her husband and daughter.




Deborah Warren's poetry collections are: The Size of Happiness (2000, Waywiser, London), runner-up for the 2000 T. S. Eliot Prize; Zero Meridian, which received the 2003 New Criterion Poetry Prize (2004, Ivan R. Dee); and Dream With Flowers and Bowl of Fruit, which received the Richard Wilbur Award (2008, University of Evansville). Her poems have appeared in The New Yorker, The Paris Review, Poetry, and The Yale Review.




Joyce Wilson, editor and creator of the magazine on the Internet, The Poetry Porch (www.poetryporch.com), teaches English at Suffolk University in Boston, Massachusetts. Her poems have appeared in many literary journals, among them Cyphers, Poetry Ireland, and Ibbetson Street Magazine. Her first poetry collection The Etymology of Spruce was published early in 2010 by Rock Village Publishing in Middleborough, Massachusetts, and her chapbook The Springhouse was published in December 2010 by Finishing Line Press of Georgetown, Kentucky.




Marly Youmans is the author of four novels, two books of Southern fantasy for young adults, and a collection of poetry. Forthcoming poetry books are: The Throne of Psyche (Mercer University Press, March 2011), The Foliate Head (UK: Stanza Press, tba, with artwork by Clive Hicks-Jenkins), and Thaliad, a post-apocalyptic epic poem in blank verse (Montreal: Phoenicia Publishing, late 2011.) She also has three novels due out in the near future: Glimmerglass and Maze of Blood from P. S. Publishing in England and A Death at the White Camellia Orphanage, winner of the first annual Ferrol Sams Award for Fiction (Mercer University Press, 2011).






AWP, Washington, D.C.
The Mezzo Cammin Women Poets Timeline Project
(Anna Evans, Kim Bridgford, Erica Dawson, Jehanne Dubrow, Kathrine Varnes)
Room: Virginia A
Marriott Wardman Park
Lobby Level
Saturday, February 5
10:30-11:45 AM

Fifth-Anniversary MC Reading
West Chester University Poetry Conference
Friday, June 10
8:15 AM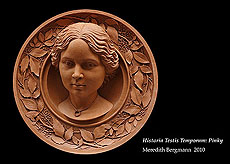 Meredith Bergmann: An artist's statement is a formal thing--not written out in lines, but still constrained in length, and more particularly, tone. One should assert one's strategies, and boast about creative mischief. (Dithering is better done in verse.) But I'm restrained by wanting you to find out on your own what tickles me, and what moves me the most.

I sometimes doubt that humor really heals. Perhaps I want to wound instead, to wake; to wrong what may too easily be right. I love how sudden recognition feels, and play with that in everything I make--as in my second sonnet for this site.