Mary Meriam






Spring Show



1.
The full moon blazing on the blizzard snow,
Your old cat creeping past the kitchen door,
And you, watching the woodstove's fireglow,
Rocking your chair before the final chore.
Safe in your tidy house, you sit and rock
And think, but what you think I couldn't say,
Nor how you feel, nor if the clock's tick-tock
Is loud or soft. I spent too long away.
The waning moon reflected on the lake
Outside my window, now another week
Lost in the silver waves. What does it take
To translate silence into words to speak,
Babel of nights and days, my mother tongue.
What is the song, what harmony is wrung?

Both a full moon and lots of snow, glistening in the moon light. Fritz the cat loves to curl up on the chair near the woodstove; this is more his mode than creeping about. There is much tail thrashing when he watches the birds from the windows. Once we had several rockers that were used a great deal to comfort my babies. All gone the rockers and the babies. The woodstove is enclosed so no soft glow, but the warmth is good. The only clock that ticks is broken and can't be fixed. Yes, you have been away too long; I wonder why.

What is the song, what harmony is wrung
From church bells tolling yes and no and yes
And no, inflaming flocks of grackles, stung,
Bee-balmed, with gardens of lost happiness?
Delphiniums at dusk with no escape,
Your gift of fuchsia hopeless in my care,
Withering in my hands while I changed shape
From bloom to stone to mountains of despair.
Your daughter-beggar by the bluebells hurt,
Me as the immigrant on city streets,
A black bereavement grinding me to dirt,
Counting my deaths and sweating my defeats.
Sing me the unbelonging lullaby,
Wrap me in patchwork made of every sky.

I hope you have been having the wonderful spring-like days we've been having. The weekend was full of good happenings. Marsha and I went to Princeton Chapel for an organ recital. I'm not fond of the organ but this was good. When it was over we went across and had a salad and 1/2 sandwich and went on to a one-man show. Sunday we went to a delightful talk by a woman who lived on Coin St. in London until the 2nd world war. I like your idea of working with you on a sonnet. I don't know that I have much to contribute. I find your sonnet sad. I don't know what else to say. Tomorrow I take Fritz to the vet for his yearly checkup. When we come home I plan to plant seed in the container for planting out later this spring. Do you have a garden?

Wrap me in patchwork made of every sky,
Gray sea-swelled cloudbanks rolling over Maine,
Pop boom rush glitter fireworks July,
Clear beaming blue sky filling up with rain.
All through the days and nights we grew apart,
My only garden kept a secret spot
That's opening now in our poetic art.
You're my first flower, my forget-me-not.
A bird call trills awake the sleeping spring,
Some gusty winds arouse the cedar trees,
Tonight tornadoes may come rollicking,
A draft of pollen teased my umpteenth sneeze.
While nature runs her course, I spend my time
Tending my tidy fruitful lines of rhyme.

Since last Friday we have been involved in a massive storm. I have power back, but there are 34,000 in N.J. still in the dark. Thousands of trees down taking wires with them. I hope you're not in the path of the rising water we are hearing about. Large areas in north Jersey are flooded, many don't expect power back before the weekend, maybe. Last Saturday Marsha and I left at 7 am and drove to Temple U. in Ambler, P.A. We listened to a wonderful daylong program of women in gardening. It started with Beatrix Farrand, then on to her aunt the writer Edith Wharton (also a garden designer), then on to the land girls of world war 1. An interesting talk about the women who started the garden clubs of America. After all this talking and picture showing, we had a great tea. Also met some wonderful women. The trip home was a horror. Wires down all over the place traffic lights out, and very heavy rain. Other than that life has been very calm. I hope all is well with you.

Tending my tidy fruitful lines of rhyme,
Squeezing the purple grapes, the white and red,
Drinking the juice myself, while green vines climb
And through the literary jungle, spread,
I hope to make a life of sorts. I hope
My path meets yours again. There is no end
To all my hopes and works, no easy slope
To slide, just far to go, and much to mend.
No rising water here. I lose the lights
Sometimes, but not for long, keep dry and warm,
Well-fed and safe, and suffer boring nights.
I'm glad you made it through that awful storm.
Women and gardens make a fine design,
A tale where earth and heaven intertwine.


2.
A tale where earth and heaven intertwine,
Then silence. Weeks go by, no word from her.
A ghost of crumpled seeds flits from the shine
Of sycamores, a cool spring breathing blur.
Lover, I ask you, should I be alive
Without a mother? Crumbled I cry once more,
And walk the fields and parks, the swallow dive,
Drink from a cow-fouled creek. This was before
I knew; she never told me not to; I
Was lost in space, grief-struck, how could I know
The water wasn't safe, or did I die
An unbeloved dog, so long ago,
And not her child, and not a child at all,
But some bad seed that rotted in the fall.

But some bad seed that rotted in the fall
Can find relief returning to the earth.
Held underground is held, though held in thrall.
Look at the rubies glowing with their worth,
Fallen from mother's ring into the dirt.
She doesn't care, she's wrapped up in her flowers;
And with the weeds, she weeds me and the hurt
Out of her cosmos, lilac-scented bowers.
I know you're sad for me, sweet lily heart,
Always a baby crying for her mother,
Living inside imaginary art,
Riding the otherworldly route some other,
Unfamiliar way, as one who died.
I did as you, kind you, advised. I tried.

I did as you, kind you, advised. I tried
To be a daisy, rose, or clementine,
Not weeping willow by the riverside,
Something alive, and not this roadside shrine
To mother-daughter distance. Old oaks lean,
Their old dead branches drop. I'm one of those,
A branch that mother lost, let fall between
The cracks. And so her lavish garden grows,
And so I drink my white and purple juice,
No past to speak of, history unspoken,
Calling for mother, calling for a truce,
The solitary cycle still unbroken.
Did spring arrive? Or is the only show
The full moon blazing on the blizzard snow.








The Fate of Angels



One of her doctors asked me where I was,
as if my being there to watch her sink
in hell would save my sister. It was because
the undertow, the snapping hounds, the brink
pursued me too that I abandoned her,
my only love, my beauty in the world,
to search for help. Too late! I am a blur
that she can't see or hear, my sister curled
inside a turtle shell no one can break,
my gift of help now helpless, turned away.
I give my life, my gift is hers to take,
but bullied, drugged, and brainwashed, she will stay
behind the gates inscribed with letters clear,
Abandon hope all ye who enter here.








Dinner



Tonight I set the dinner table for
the remnants of my phantom family.
Here is the marriage spent in fantasy,
here is my stillborn brother, here is war
that wiped out all my relatives and tore
my mother's mind to pieces, here is me,
here is a place beside me for big tree,
and here's my sister shot down with a roar.
We flipped and landed upside down in hell,
no parachutes, just higher, hotter flames
burning our places right down to our names.
The empty plates have nothing left to tell.
Here is a table, here a fork and knife,
here is the phantom of a better life.



AUTHOR BIO

Mary Meriam's poems have appeared recently in the New York Times, Poetry Foundation, American Life in Poetry, and Sentence: A Journal of Prose Poetics. She is the author of The Countess of Flatbroke (afterword by Lillian Faderman), published by Modern Metrics in 2006, and The Poet's Zodiac, forthcoming from Seven Kitchens in 2011. She is the editor of Lavender Review, an e-zine of lesbian poetry and art, and Filled with Breath: 30 Sonnets by 30 Poets (Exot Books, 2010).
POETRY CONTRIBUTORS

Taylor Altman

Barb Crane

Janann Dawkins

Rose Kelleher

Athena Kildegaard

Jean L. Kreiling

Barbara Loots

Susan McLean

Mary Meriam

Annabelle Moseley

Wendy Sloan

Janice D. Soderling

Alison Talbott

Catherine Tufariello

Deborah Warren

Joyce Wilson

Marly Youmans

AWP, Washington, D.C.
The Mezzo Cammin Women Poets Timeline Project
(Anna Evans, Kim Bridgford, Erica Dawson, Jehanne Dubrow, Kathrine Varnes)
Room: Virginia A
Marriott Wardman Park
Lobby Level
Saturday, February 5
10:30-11:45 AM

Fifth-Anniversary MC Reading
West Chester University Poetry Conference
Friday, June 10
8:15 AM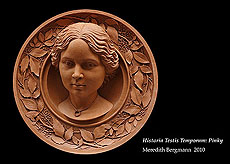 Meredith Bergmann: An artist's statement is a formal thing--not written out in lines, but still constrained in length, and more particularly, tone. One should assert one's strategies, and boast about creative mischief. (Dithering is better done in verse.) But I'm restrained by wanting you to find out on your own what tickles me, and what moves me the most.

I sometimes doubt that humor really heals. Perhaps I want to wound instead, to wake; to wrong what may too easily be right. I love how sudden recognition feels, and play with that in everything I make--as in my second sonnet for this site.