Athena Kildegaard






Glosa on a Haiku by Issa



In the oak wood
we find a snake
sluggish and delighted.
Autumn evening--

the light aslant--
snake's season.
We crouch,
knees in arms

to see him smooth
a path between red
and yellow, departing
like a saint.








Glosa on a Haiku by Shirao



Dust stoppered
his throat--
one season in
forty years--

drought to crack
the plow, cows
like fence posts--
how sharp

the thirst
at noon,
how frail
the insect's cry.








Glosa on a Haiku by Issa



The old fat garter snake
hesitates
at the day's door.
Don't weep! Insects

too arrive one
at a time, like old
men in sweaters. The solitary
lovers, stars themselves

in a firmament of hope,
long for a tender kiss.
Even the eager sparrows
must part.








Glosa on a Haiku by Shiki



Under clouds
the sunflower leans, forlorn.
I was, until today,
getting lazy,

leaning past windows,
hiding lint in pockets.
But last night, while
taking my socks off

I reformed!
Now I'm cutting marigolds--
they'll harass me
after I get in bed.



AUTHOR BIO

Athena Kildegaard lives in Morris, Minnesota, where she is a lecturer at the University of Minnesota, Morris, and a freelance writer/producer for Pioneer Public Television. Her books of poems are Rare Momentum (2006) and Bodies of Light (forthcoming), both from Red Dragonfly Press. Her poems have appeared widely in such journals as Mid-American Review, Valparaiso Review, Cream City Review, Faultline, Tar River Poetry, Bateau, and elsewhere.
POETRY CONTRIBUTORS

Taylor Altman

Barb Crane

Janann Dawkins

Rose Kelleher

Athena Kildegaard

Jean L. Kreiling

Barbara Loots

Susan McLean

Mary Meriam

Annabelle Moseley

Wendy Sloan

Janice D. Soderling

Alison Talbott

Catherine Tufariello

Deborah Warren

Joyce Wilson

Marly Youmans

AWP, Washington, D.C.
The Mezzo Cammin Women Poets Timeline Project
(Anna Evans, Kim Bridgford, Erica Dawson, Jehanne Dubrow, Kathrine Varnes)
Room: Virginia A
Marriott Wardman Park
Lobby Level
Saturday, February 5
10:30-11:45 AM

Fifth-Anniversary MC Reading
West Chester University Poetry Conference
Friday, June 10
8:15 AM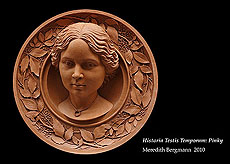 Meredith Bergmann: An artist's statement is a formal thing--not written out in lines, but still constrained in length, and more particularly, tone. One should assert one's strategies, and boast about creative mischief. (Dithering is better done in verse.) But I'm restrained by wanting you to find out on your own what tickles me, and what moves me the most.

I sometimes doubt that humor really heals. Perhaps I want to wound instead, to wake; to wrong what may too easily be right. I love how sudden recognition feels, and play with that in everything I make--as in my second sonnet for this site.