Barb Crane






Begin Again



Begin again. A length of azure blue,
to start another landscape quilt, might do.
Walk outdoors at dawn and breathe the view

of birches and the bay. Begin again
to step outside the frozen time. Mend
the empty morning with your eyes and hands.

But then you frown again. It's your old
imitation of the gray-blue glow
that melds itself to green and then to gold.

Go on. Begin again with lime and leaf
and darker ivy--living greens in cloth
for sunlit lawn, for shadows from the sheaf

of trees. Begin again with scraps. By chance,
you'll cobble up the birches' texture. Branches
sway and trunks bow in an ancient dance

that begins again. You almost hear the children's
piping voices. Their shadows might extend
in gauzy strips. But as you cut and pin,

begin again to wince. It won't be caught,
your vision. It makes you want to pull your hair out!
Do it. Pluck a hair--just one--and thread it;

begin. Under midday sun, bend
your head to your finest needle. Work the ground
of every green with the whisper of this strand.

Begin again to hear the singing twins.
The faintest traces of their heads are glinting
in the sun. This work is from within.








Understudy



A trillium bows
its wine-petaled head, alone
in spotlight of sun.



AUTHOR BIO

Barbara Lydecker Crane has published over thirty poems in the last few years, in Light Quarterly, Measure, Christian Science Monitor, Think Journal, America, Raintown Review, Blue Unicorn, Lucid Rhythms, Lyric, Shit Creek Review, Snakeskin, Bumbershoot, 4 and 20, Ars Medica, Yale Journal of Humanities in Medicine, and the three anthologies. New work is forthcoming in Comstock Review and another anthology. Crane is a graduate of Skidmore College, where she majored in fine arts. A former graphic designer, Crane is a professional fiber artist, though poetry is taking more of her time these days. She and her husband recently moved to Somerville, MA.
POETRY CONTRIBUTORS

Taylor Altman

Barb Crane

Janann Dawkins

Rose Kelleher

Athena Kildegaard

Jean L. Kreiling

Barbara Loots

Susan McLean

Mary Meriam

Annabelle Moseley

Wendy Sloan

Janice D. Soderling

Alison Talbott

Catherine Tufariello

Deborah Warren

Joyce Wilson

Marly Youmans

AWP, Washington, D.C.
The Mezzo Cammin Women Poets Timeline Project
(Anna Evans, Kim Bridgford, Erica Dawson, Jehanne Dubrow, Kathrine Varnes)
Room: Virginia A
Marriott Wardman Park
Lobby Level
Saturday, February 5
10:30-11:45 AM

Fifth-Anniversary MC Reading
West Chester University Poetry Conference
Friday, June 10
8:15 AM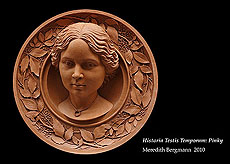 Meredith Bergmann: An artist's statement is a formal thing--not written out in lines, but still constrained in length, and more particularly, tone. One should assert one's strategies, and boast about creative mischief. (Dithering is better done in verse.) But I'm restrained by wanting you to find out on your own what tickles me, and what moves me the most.

I sometimes doubt that humor really heals. Perhaps I want to wound instead, to wake; to wrong what may too easily be right. I love how sudden recognition feels, and play with that in everything I make--as in my second sonnet for this site.