Alison Talbott






Upstate Blues



Buzzard people called him for the way he sat;
The way he hiked his shoulders up and sat
Picking his catgut made from real live cat--

At least that's what it sounded like, or worse.
Folks said the dry spell went from bad to worse
Each time he played, and someone's neighbor's horse

Was dead one morning at the water trough.
Yes, the neighbor said, the water trough!
It looked our poor old girl had had enough.

He thought the same about his girl, Lord knows.
When she died of what grievance no one knows,
He plowed her roses into feed-corn rows,

Sold the poplars, and let the yard grow in.
Then he put his banjo up for good, picked clean.








Aubade



Desolation's more of a marsh than desert.
Nights I dream a floodplain puts forth its rivers
like clematis, climbing the bed with blossoms
wrought out of darkness.

Absence leaves no footprints or sign of struggle.
Only warmth. And there, in the mud-hatched cattails,
shines the watch you'd take off to sleep--a keepsake
lost on some muskrat.

Peat preserves the rest. From dark-clotted sumac
comes the cow-cow-cow of the dabchick, lonely
but alive, her dolorous call descanting
dawn to us fallen.




The Saw-Whet
The wood wakens
to the watch its under.
Deer mice but sense her
as the iris snare
draws tight, eclipsing
the dark; as talons
inscribe in their compasses
a cri de coeur
that dissects the angle
of descent; as wings
break, vibrato,
into brittle sheaves--
the body lobbed
from larch perch to limbo
a weight that's lifted,
the twig-sprig twanging.


AUTHOR BIO

Alison Talbott is a graduate of Amherst College and the University of Michigan's creative writing program, where she received the Meader Family Award as part of the 2005 Hopwood Program. She currently lives in Lawrence, Kansas.

POETRY CONTRIBUTORS

Taylor Altman

Barb Crane

Janann Dawkins

Rose Kelleher

Athena Kildegaard

Jean L. Kreiling

Barbara Loots

Susan McLean

Mary Meriam

Annabelle Moseley

Wendy Sloan

Janice D. Soderling

Alison Talbott

Catherine Tufariello

Deborah Warren

Joyce Wilson

Marly Youmans

AWP, Washington, D.C.
The Mezzo Cammin Women Poets Timeline Project
(Anna Evans, Kim Bridgford, Erica Dawson, Jehanne Dubrow, Kathrine Varnes)
Room: Virginia A
Marriott Wardman Park
Lobby Level
Saturday, February 5
10:30-11:45 AM

Fifth-Anniversary MC Reading
West Chester University Poetry Conference
Friday, June 10
8:15 AM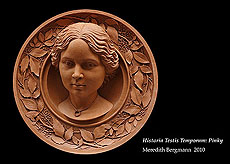 Meredith Bergmann: An artist's statement is a formal thing--not written out in lines, but still constrained in length, and more particularly, tone. One should assert one's strategies, and boast about creative mischief. (Dithering is better done in verse.) But I'm restrained by wanting you to find out on your own what tickles me, and what moves me the most.

I sometimes doubt that humor really heals. Perhaps I want to wound instead, to wake; to wrong what may too easily be right. I love how sudden recognition feels, and play with that in everything I make--as in my second sonnet for this site.