Rose Kelleher






La Milagrosa



"There is no God and Mary is his mother." --George Santayana

She's wearing a gold crown. Her feet are bare.
Flickering in a makeshift kitchen shrine
with Guadalupe and some Tupperware,
she lights my way for a dollar ninety-nine.

These Catholic candles are a quirk of mine.
I've shaken off my fetters, set down my cross,
jettisoned the Roman albatross.
But in the dry goods aisle, she looked divine

among the rice and beans, her highbeam-hands
flooding the world with mercy from above.
It's good to have her here, beside the stove.
She knows I don't believe. She understands.








Night Noise



Something is hungry, something I've forgotten.
I hear it scratching at my kitchen door,
waiting for me to let it in. It's hidden.
I search, but don't know what I'm searching for.

Something is crying, something I've mishandled.
With a voice like red-hot wire it lets me know
it's still alive, but broken. Now I've found it,
small and helpless, shivering in the snow.

Something is silent, something I've neglected.
Its uncomplaining body bears the weight
of every space where something's been omitted.
I fear I have remembered it too late.



AUTHOR BIO

Rose Kelleher grew up on the South Shore of Massachusetts, then lived in Boston for several years before moving to Maryland and marrying a transplanted Bostonian. She has worked as a technical writer and programmer, and authored four computer books and numerous technical articles. Since rediscovering poetry, she has published poems and essays in a variety of journals, most recently The Flea, The Raintown Review, Soundzine and Umbrella. Her first collection, Bundle o' Tinder, was awarded the 2007 Anthony Hecht Poetry Prize and is available from Waywiser Press.
POETRY CONTRIBUTORS

Taylor Altman

Barb Crane

Janann Dawkins

Rose Kelleher

Athena Kildegaard

Jean L. Kreiling

Barbara Loots

Susan McLean

Mary Meriam

Annabelle Moseley

Wendy Sloan

Janice D. Soderling

Alison Talbott

Catherine Tufariello

Deborah Warren

Joyce Wilson

Marly Youmans

AWP, Washington, D.C.
The Mezzo Cammin Women Poets Timeline Project
(Anna Evans, Kim Bridgford, Erica Dawson, Jehanne Dubrow, Kathrine Varnes)
Room: Virginia A
Marriott Wardman Park
Lobby Level
Saturday, February 5
10:30-11:45 AM

Fifth-Anniversary MC Reading
West Chester University Poetry Conference
Friday, June 10
8:15 AM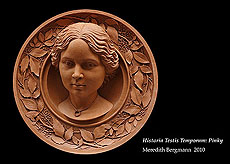 Meredith Bergmann: An artist's statement is a formal thing--not written out in lines, but still constrained in length, and more particularly, tone. One should assert one's strategies, and boast about creative mischief. (Dithering is better done in verse.) But I'm restrained by wanting you to find out on your own what tickles me, and what moves me the most.

I sometimes doubt that humor really heals. Perhaps I want to wound instead, to wake; to wrong what may too easily be right. I love how sudden recognition feels, and play with that in everything I make--as in my second sonnet for this site.