Janann Dawkins






Twelve Days (or, To January 6th)



The needle soon narrows. The sky at night
lengthens like a thread; our moon reminds
us of marrow shedding cold and bright
against the earth. The bony chips blind
and melt, a liquid sand. Attraction binds
the planet in its orbit, yet allows
a coming back--a pattern set, aligned
but curving broad, oblong. The bowing
cosmos heralds luminescence, now:
the column widens into day: beheaded
hours find their faces in the snow,
in sunlight lashes: fastened masses wed.
The bed of land receives the waxing sun
and strikes its wick. Our candle burns again.








Value



I come to you a pauper. Lower eyes
could not have bowed more often or too soon.
My pennies cannot please you. Advertise
or beg? My hand extends itself, a ruin
of delicacies, a pleasure so jejune.
I rot and ambulate through aisles. I see
that no one pays attention: though the tune
of consumerism tilts through the anomie,
the turnstiles still return. I dread the fee
that is my claim, the bread that burns the tongue,
the water that will knot my throat. The three
cashiers are open. Receipts may yet be rung.
The commonplace is overlooked--the real
surprise? The honest stoop to steal.








The Aunt's Bed



The headboard held a mini-treasure trove:
bottles full of swirly emerald oils,
Bible incantations, leather gloves
to church in, chocolates wrapped in foil,
a pillbox packed with pennies. A little girl
could spend an afternoon there, her hands
enamored: the Asian paper fan uncoiled
and batted near her face, rubber bands
to twang and pitch inside that hollow grand
panel, dolls with which to play. Undone
at evening, all items meant to stand
or lie before they were disturbed: each one
put back; the sliding doors drawn closed;
the pillows plumped; the niece in soft repose.








Magical Thinking



Sandwiched in between the consonant
and phoneme, between the level phrase
and fever (that lucid, weird contaminant),
the mystics' knife: the word. To plunge edgewise
is to surrender all mistakes, raze
the curtains down, take away the barest
ammunition. Tendered somewhere
inside a nylon stocking, honey maize
will stretch out like a toe in fair
fields. The corn shall lie, the stalks recumbent,
falling like the sky in yellowed faery
tales. The morning will strike one dumb
entirely. The strange, soft carousel,
centrifugal, will siphon what to spell.








Black Friday



The snow held off till morning. Clouds obscured
what little light could soak them. Traffic leaked
along the street like oil. Migrant birds
retreated north. A beam of neon streaked
across the picture window. Squirrels shrieked
on skinny limbs. A pencil slid along
old-fashioned stationery, fairly creaked
across that paper, writing anything
it could about unreason, how the strong
could fail to reach their mountain destiny,
how love could waltz with words and exit wrong,
how Arctic ice might somehow cease to be
in fifty years. What television! What
Mayan prophecy could stifle it!



AUTHOR BIO

Janann Dawkins's work has appeared in publications such as decomP, Existere, Mezzo Cammin, Ouroboros Review, and Two Review, among others. Leadfoot Press published her chapbook Micropleasure in 2008. A graduate of Grinnell College with a B.A. in American Studies & twice nominated for the Pushcart Prize, she resides in Ann Arbor, MI.
POETRY CONTRIBUTORS

Taylor Altman

Barb Crane

Janann Dawkins

Rose Kelleher

Athena Kildegaard

Jean L. Kreiling

Barbara Loots

Susan McLean

Mary Meriam

Annabelle Moseley

Wendy Sloan

Janice D. Soderling

Alison Talbott

Catherine Tufariello

Deborah Warren

Joyce Wilson

Marly Youmans

AWP, Washington, D.C.
The Mezzo Cammin Women Poets Timeline Project
(Anna Evans, Kim Bridgford, Erica Dawson, Jehanne Dubrow, Kathrine Varnes)
Room: Virginia A
Marriott Wardman Park
Lobby Level
Saturday, February 5
10:30-11:45 AM

Fifth-Anniversary MC Reading
West Chester University Poetry Conference
Friday, June 10
8:15 AM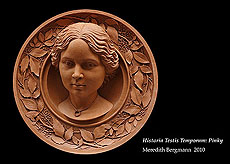 Meredith Bergmann: An artist's statement is a formal thing--not written out in lines, but still constrained in length, and more particularly, tone. One should assert one's strategies, and boast about creative mischief. (Dithering is better done in verse.) But I'm restrained by wanting you to find out on your own what tickles me, and what moves me the most.

I sometimes doubt that humor really heals. Perhaps I want to wound instead, to wake; to wrong what may too easily be right. I love how sudden recognition feels, and play with that in everything I make--as in my second sonnet for this site.