Deborah Warren






Gelomancy



divination based on the interpretation of laughter

The world, in the pressure of creation--
atoms at its core colliding--
shook with their reverberations,
shuddered its surface into fissures,
split its sides, and laughed
And where the laughter left a grotto,
crouches a hag who drinks the sulfide
in a volcanic draft.

To her interpreters she utters
truth: The sulphur-priestess squats
and, sucking from the earth
its cold upseeping exhalations,
babbles her intoxication
burped out into cacchinations--
croons and chuckles up the future--
oracles of mirth.








Mole



Earth is his occupation, and the mole
works the turf in his native breaststroke, swimming
hallways into the sod--a geonaut
supreme, and connoisseur of worms; I've heard him
breaking roots an inch beneath my sole
and pictured the subterranean specialist
who's carved out for himself a single role.

I envy the expertise he brings to bear
on dirt, the narrow office he was given;
as for me, my habitat is thought,
where I grope and sweat and scrabble out a living
forced to prove--up here in a windy lair
invisible as the mole's--that there exists
an animal who can dig a hole in air.








The Olive Eaters



The man had ordered wine, and the waiter
brought them a plate of olives and some bread.
Across the two-foot square of damask table
there was a universe that went unsaid.

Apparently the terrible expanse
deterred them both from crossing it: He ate;
and faced with the complicated damask flowers,
she fixed her eyes on the mute blue olive-plate.



AUTHOR BIO

Deborah Warren's poetry collections are: The Size of Happiness (2000, Waywiser, London), runner-up for the 2000 T. S. Eliot Prize; Zero Meridian, which received the 2003 New Criterion Poetry Prize (2004, Ivan R. Dee); and Dream With Flowers and Bowl of Fruit, which received the Richard Wilbur Award (2008, University of Evansville). Her poems have appeared in The New Yorker, The Paris Review, Poetry, and The Yale Review.
POETRY CONTRIBUTORS

Taylor Altman

Barb Crane

Janann Dawkins

Rose Kelleher

Athena Kildegaard

Jean L. Kreiling

Barbara Loots

Susan McLean

Mary Meriam

Annabelle Moseley

Wendy Sloan

Janice D. Soderling

Alison Talbott

Catherine Tufariello

Deborah Warren

Joyce Wilson

Marly Youmans

AWP, Washington, D.C.
The Mezzo Cammin Women Poets Timeline Project
(Anna Evans, Kim Bridgford, Erica Dawson, Jehanne Dubrow, Kathrine Varnes)
Room: Virginia A
Marriott Wardman Park
Lobby Level
Saturday, February 5
10:30-11:45 AM

Fifth-Anniversary MC Reading
West Chester University Poetry Conference
Friday, June 10
8:15 AM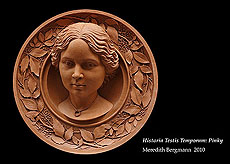 Meredith Bergmann: An artist's statement is a formal thing--not written out in lines, but still constrained in length, and more particularly, tone. One should assert one's strategies, and boast about creative mischief. (Dithering is better done in verse.) But I'm restrained by wanting you to find out on your own what tickles me, and what moves me the most.

I sometimes doubt that humor really heals. Perhaps I want to wound instead, to wake; to wrong what may too easily be right. I love how sudden recognition feels, and play with that in everything I make--as in my second sonnet for this site.