Wendy Sloan






Moose



The puppy had big feet just like a moose.
He stood on spindly legs, ears at a tilt--
one up, one down--thick black curls hanging loose.
He was an Airedale mix, solidly built.

The Berkeley life was perfect for the dog.
He met his friends around, outside cafes
and shops, and feats too bold to catalogue
were laid to him. Those sea-blown, foggy days

he followed her most everywhere she'd go.
Except New York. For that they'd have to wait
for her to settle...or a tumor grow.
She sent for him. By then it was too late.

What more to say? He suffered and he died,
and every time she thought of him she cried.








The Visit



Once in a while I can remember love.
Something or other makes me think of you
and there they are, the feelings that I shove
out of my mind, now that those days are through.
Or some dream leaves me waking with an ache,
uncalled for. No, it's not the time of year
for me to be in mourning for your sake
and yet, what a relief that you were here.
And we were back together once again,
and I embraced your presence, felt the lift
of exultation melt into the pain
of yet another parting. Is it gift
or harbinger that makes your ghost resound,
so many long years buried in the ground?



AUTHOR BIO

Wendy Sloan is an attorney living in New York City. Her poems have appeared in The Raintown Review, Measure, Umbrella Journal, Blue Unicorn and Iambs & Trochees, among other publications. A translation (Leopardi) was published in The Chimaera. Wendy was a finalist in the 2006 Howard Nemerov Sonnet Award Competition.
POETRY CONTRIBUTORS

Taylor Altman

Barb Crane

Janann Dawkins

Rose Kelleher

Athena Kildegaard

Jean L. Kreiling

Barbara Loots

Susan McLean

Mary Meriam

Annabelle Moseley

Wendy Sloan

Janice D. Soderling

Alison Talbott

Catherine Tufariello

Deborah Warren

Joyce Wilson

Marly Youmans

AWP, Washington, D.C.
The Mezzo Cammin Women Poets Timeline Project
(Anna Evans, Kim Bridgford, Erica Dawson, Jehanne Dubrow, Kathrine Varnes)
Room: Virginia A
Marriott Wardman Park
Lobby Level
Saturday, February 5
10:30-11:45 AM

Fifth-Anniversary MC Reading
West Chester University Poetry Conference
Friday, June 10
8:15 AM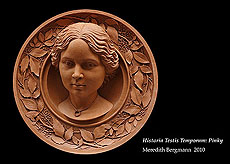 Meredith Bergmann: An artist's statement is a formal thing--not written out in lines, but still constrained in length, and more particularly, tone. One should assert one's strategies, and boast about creative mischief. (Dithering is better done in verse.) But I'm restrained by wanting you to find out on your own what tickles me, and what moves me the most.

I sometimes doubt that humor really heals. Perhaps I want to wound instead, to wake; to wrong what may too easily be right. I love how sudden recognition feels, and play with that in everything I make--as in my second sonnet for this site.