Siham Karami






The Moment



I'm leaping off a cliff into your eyes
for love, which all the odds say you'll reject—
but higher risk portends a greater prize.

Don't waste a moment with the how's and why's.
Failure is a life one can predict.
So I'm leaping off a cliff into your eyes,

a fledgling bird who either falls or flies,
defenseless from the hurt you could inflict,
a higher risk. And so is what I prize,

a greater love that bares its heart, defies
all warnings, finds a route far more direct.
Don't leap off that cliff! Yet in your eyes,

a sign of light? A spark we recognize—
delicious we!—no others could detect.
This greater height—the silence, risk, the prize

unbearable. My being almost dies
when every voice but mine is somber, strict.
Still leaping, now I feel the cliff of eyes
beneath my risky wings outstretched, my prize—








Perfume



He searches for Arpège, wants to bring
the ancient thirties heady from the grave,
atomizer moments, a slender butterfly
proboscis dipped in auras, rainbow
divining rod on my grandma's musty dresser
where the chemist's oils of fern and orchid
exude through tremolo and organ pipes,

and float like hymns, soprano in the loft,
whose resonance is meaningless to him.
And had he known it made me think of mother,
mink, pumps, and off-white cotton gloves,
her lipsticked mouth that smelled of wine
after communion mixing with the lily
petals, lilac dripping through the air,

would he have kept searching through the stores,
discussing with salesladies at great length
Neroli oil, Lanvin, and Vetiver?
To him, it was Patricia Nixon's choice,
always smiling as she turned to wave
ascending onto Air Force One. With dark
untouchability, a brightness brimmed

to last, bottled in a rich mossed cellar.
To open it would burn us with its dazzle
splashing blue and gold, a newborn sky
which he says happens in America
and maybe Paris. Smell the open doors
freshening his world. And to bring back
the night we soared, each other's fragrant mix

of myrrh and amber thighs and cedar boughs,
his frankincense a shadow in my throat,
a tongue of sweat and pheromone and pearl,
mouths where pulsing jellyfish lay bare.
He would bring back the iodine and salt
and sticky smudges and my tangled hair,
musk and Je Reviens clouding the room

in the cheap motel with its tidy
whiff of smut, its dingy coverlets.
Or bring back the sarcophagi of pharaohs
wrapped in muslin soaked in oil of oud
recalling luscious ruts and queens aroused.
Or wives of Presidents naked in their beds,
their satin sheets stained yellow with Arpège.



AUTHOR BIO
Siham Karami lives in Florida. Her work can or will be found in such venues as The Comstock Review, Measure, American Arts Quarterly, The Naugatuck Review, Unsplendid, Angle Poetry, The Rotary Dial, Right Hand Pointing, The Ghazal Page, Atavic Poetry, Raintown Review, Lavender Review, and Innisfree Journal, among other periodicals and anthologies. Twice nominated for a Pushcart Prize, she has won a Laureates' Prize in the Maria W. Faust sonnet contest and is a semifinalist in the Naugatuck River narrative poetry competition. She blogs at sihamkarami.wordpress.com.
POETRY CONTRIBUTORS

Kim Bridgford

Deborah Bruce

Melissa Garcia Criscuolo

Barbara Crooker

Elise Hempel

Katherine Hoerth

Sujata Iyengar

Karen Kelsay

Siham Karami

Miriam Kotzin

Jean L. Kreiling

Luann Landon

Jenna Le (Featured Poet)

Lesléa Newman

Angela O'Donnell

Renée M. Schell

Susan Spear

Rebecca Starks

Cara Valle

Marilyn Westfall

Joyce Wilson

Marly Youmans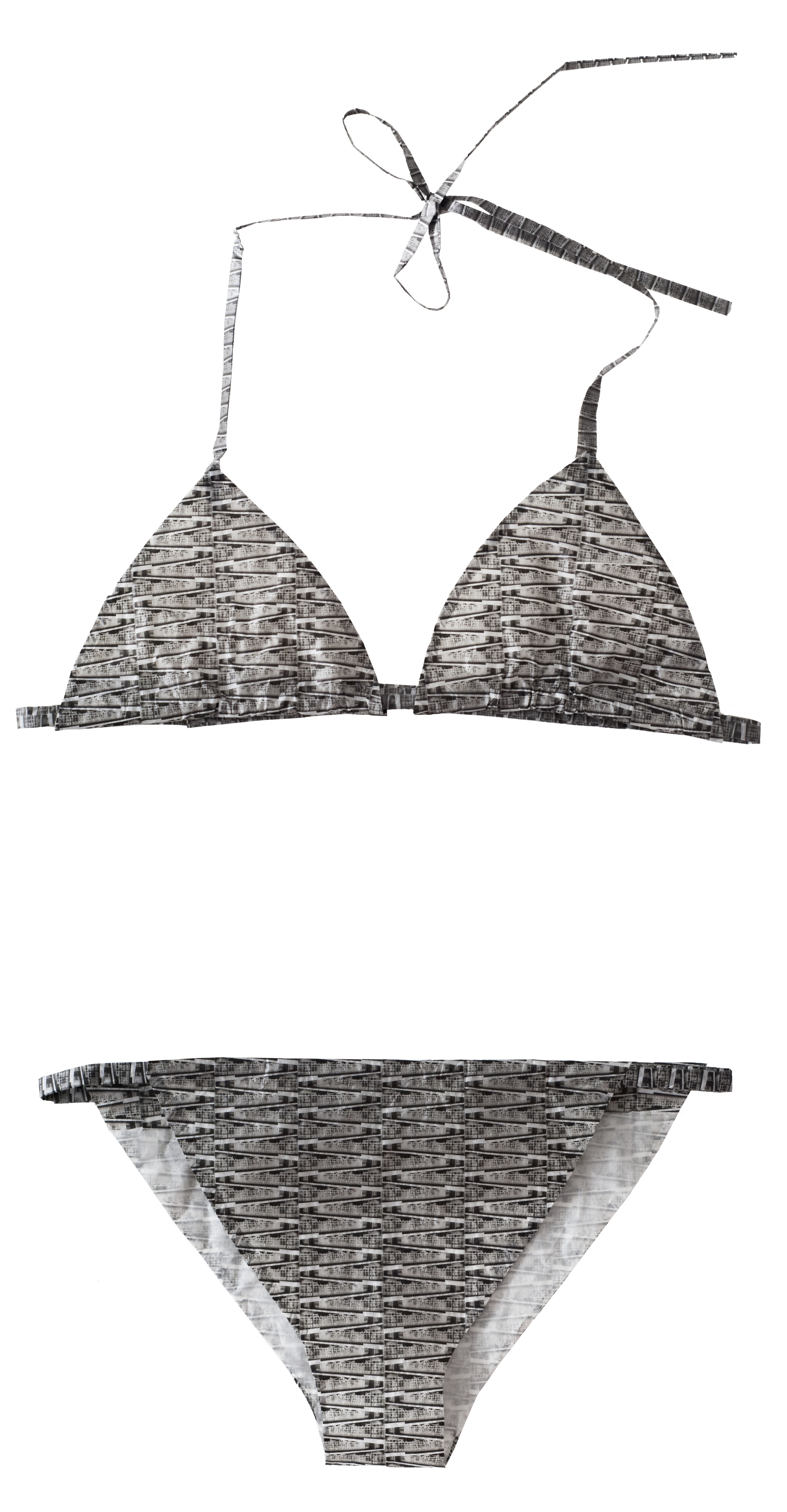 The Cheryl Yun Collection is a range of image-based sculptural objects or "products," from handbags to clothing, which simultaneously mirror and subvert fashion and consumer culture to reveal, question, and reevaluate one's relationship to the world.The Cheryl Yun Collection handbag series is handcrafted and features newspaper photographs of tragedy and catastrophe, religious and political conflict, as well as issues of beauty and control, while the Cheryl Yun Collection: lingerie and bathing suits is an image-based series of underwear, which questions the "victims" and "aggressors" of our current political, economic and religious conflicts.