Katherine Hoerth






Upon Receiving Bad News



I bit into this knowledge like an apple,
sour and dry. I want to spit it out;
the flavor spoils everything I taste.

I can't return to seeing my own flesh
as a garden, replenishing itself each day—

dandelions overtaking patches
of emptiness, the blooms of gladiolas
sprouting up from dormant roots in spring
the ruby-throated hummers swooping in
to take the place of fleeing monarchs, sipping
leftover nectar from the summer flowers

believing my legs are trees, sequoia thighs,
evergreen ankles, redwood calves, and thinking

my breath is wind that rustles everything
heaving in spring and gentle in the fall,
hurricanes when pissed, but always present,
sweeping away the tumbleweeds and humus
to make room for something new to thrive.

I want my flesh to be eternal. Tell
me stories, myths or lies that I belong.
The news has left me broken, bruised, my lips
stained, dripping with the sour taste of life.






Hummingbirds

Two hummingbirds outside my window dance
with one another, flit around the feeder,
buzzing with an urgency to make
the other disappear. I'm always faithful,
never let the stream of nectar dry.
But still, each year, they dart around the garden
with a thirst to make the most of plenty,
to drink it as if bounty ends,
to visit every petal cluster, flashing
bright against the darkening skies of spring.
The victor's blood becomes a sugared river,
the feeder halfway empty. Let the weak
and small go thirsty, banished from this Eden.
Let them find another garden or their end.




Another Art
After Bishop's "One Art"



The art of dying isn't hard to master;
it takes a little practice every day.
In time, you'll do it better, sweeter, faster.

Some think that dying is a great disaster—
But I slough skin cells on my pillow, lay
to rest each night. It isn't hard to master,

the body just lets go a little faster
as the seasons one by one give way.
The tiny deaths get better and come faster,

like the memory of falling after
years have gone, the bruises fade away,
the nerves grow numb. It isn't hard to master

slipping like the petals of an aster,
making way for summer's full bouquet
of loveliness. It isn't hard to master:

think of it as simply fading laughter
when your breath runs out, the way the bay
gives way to ocean, current pulling faster

at your heels into the ever-after
of the waves. I close my eyes. Today,
the art of dying wasn't hard to master;
with grace, I do it better, stronger, faster.






Eve at the Art Museum

I used to feel a certain freedom, naked,
Wandering my garden, letting sunshine
pour on my shoulders, windstorms brush my hair,
dew drops wash my toes with every step.
My soles were tempered by the pebbles, palms
From pulling up the endless cow tongue seedlings.
I thought my flesh was everything we needed,
Nothing more and nothing less, my thighs
The foundation, thick like weathered trunks
Of oaks, my stomach soft, a place for him
to lay his head, my nipples firecracker blooms,
a place of nourishment. My shadow loomed,
a silhouette of coolness, swathe of respite
from the sun at noon. I thought my body
was a part of paradise that moved
mountains of rocks, weeded clean the jungles,
making flowers burst into their blooms.

Who would have guessed a painter would be watching
me between the chain links of my Eden?
He dipped a brush into his painter's palette
recreated me to match the image
in his mind, his dreams, a thing of beauty
made for gazing at with alabaster
skin, no trace of sunburn, my hair a rolling
river of curls with every single strand
in place, my belly nothing but an empty
bowl, no fruit remaining to be tasted?
Who knew that everyone would stare and marvel
at this body, celebrate its beauty, not
its strength, the way it heaves and muscles, sweats
nourishes, creates new worlds from flesh.




AUTHOR BIO
Katherine Hoerth teaches creative writing and feminist rhetoric at the University of Texas Rio Grande Valley and serves as poetry editor of Amarillo Bay and Devilfish Review. Her latest poetry collection, Goddess Wears Cowboy Boots (Lamar University Press, 2014), received the Helen C. Smith Prize from the Texas Institute of Letters for the best poetry collection in the state. Her work has been included in journals such as Raintown Review, Pleiades, and Concho River Review.
POETRY CONTRIBUTORS

Kim Bridgford

Deborah Bruce

Melissa Garcia Criscuolo

Barbara Crooker

Elise Hempel

Katherine Hoerth

Sujata Iyengar

Karen Kelsay

Siham Karami

Miriam Kotzin

Jean L. Kreiling

Luann Landon

Jenna Le (Featured Poet)

Lesléa Newman

Angela O'Donnell

Renée M. Schell

Susan Spear

Rebecca Starks

Cara Valle

Marilyn Westfall

Joyce Wilson

Marly Youmans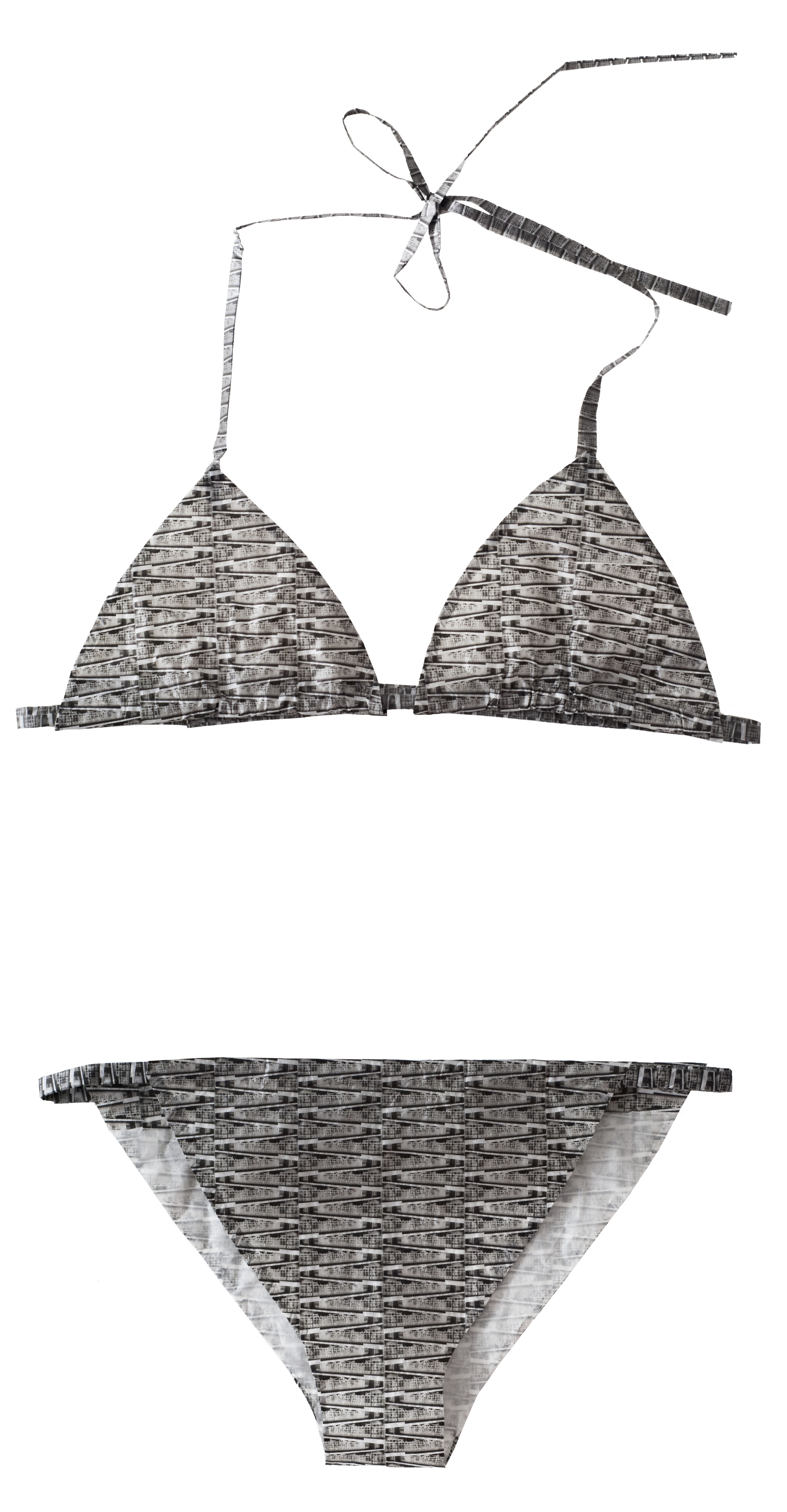 The Cheryl Yun Collection is a range of image-based sculptural objects or "products," from handbags to clothing, which simultaneously mirror and subvert fashion and consumer culture to reveal, question, and reevaluate one's relationship to the world.The Cheryl Yun Collection handbag series is handcrafted and features newspaper photographs of tragedy and catastrophe, religious and political conflict, as well as issues of beauty and control, while the Cheryl Yun Collection: lingerie and bathing suits is an image-based series of underwear, which questions the "victims" and "aggressors" of our current political, economic and religious conflicts.