Doris Watts






The Second Wife



For Aunt Mae, 1881-1972

"Things were better with me there," she said.
"At night he liked to find the lights turned on
when he came home. His first wife Edna dead,
the children grown and all moved out of town,
the house had been, you betcha, dark and cold.
And I was there to cook. Or learning to.
Fried chicken Sundays after church. He told
his friends like Edna always made. And stew.
He gave me Edna's box of recipes.
And all the shoes and dresses left behind.
Told me then that Edna would agree
there was a lot of wear still left in these."
Then she laughed. "I guess the dresses were just fine.
Those shoes were really just too big for me."




Sonnet with Purple Pajamas



Now here's an idea for you: What if
you run past me, sprinting around the room,
legs flying all directions, arms out stiff,
and doing some zany dance, a dip and zoom?
I think catch you. Here she comes, running wild
and ditsy after bath. You say catch me.
And I will catch you and dress you, my child,
in purple pajamas with feet. You'll see!

First this leg. (Do you squirm so for your mother?)
And then the next. Please, where is your foot?
Now bend an arm. Now stretch. Now the other.
There. Oh, don't wiggle. Let's zip up the front.
And I'll pull down the sleeves, smooth out the seat,
tug at the feet. Hold you tight. Tug at the feet.




"Snowflakes: Nebraska Child Discovers…."



Omaha World-Herald, January 14, 1943

When Mr. Wilson Bentley of Vermont
had photographed five thousand—plus a few,
experts agreed it was a good amount
to prove no two could be alike. We knew
that they were wrong, for how could Vermont tell
Nebraska children anything of snow?
We had our own and knew it all too well,
wind-stitched across the fields row after row.

And so on certain winter days—the kind
when early snow falls to the ground as lace—
I spent my recess times in hopes I'd find,
on outstretched mittened palms, those rare twin flakes.
And there—apologist of snow—I'd wait,
daydreaming headlines that would praise my faith.





AUTHOR BIO
Doris Watts was born in Nebraska and now lives in Temecula, California. She is a graduate of the University of Redlands and earned a special major master's degree in technical communication from San Diego State University. She has worked as a usability specialist studying the interface between user and documentation products. Her work has appeared in Mezzo Cammin, Able Muse, Autumn Sky, Poetry Daily, Blue Unicorn, The Lyric, The Formalist, and other journals.
POETRY CONTRIBUTORS

Jane Blanchard

Lesley Clinton

Maryann Corbett

Barbara Lydecker Crane

Barbara Crooker

Midge Goldberg (Featured Poet)

Grace Marie Grafton

Jaimee Hills

Kathryn Hinds

Kathryn Jacobs

Jean L. Kreiling

Charlotte Mandel

Jennifer Davis Michael

Angela Alaimo O'Donnell

Leslie Schultz

Elizabeth Spencer Spragins

Marilyn Taylor

Cara Valle

Doris Watts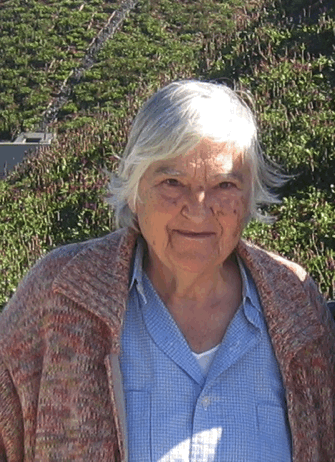 The most recent addition to The Mezzo Cammin Women Poets Timeline is Etel Adnan by Joyce Wilson.
Save the date: A Celebration of the Timeline reaching 75 essays. Lincoln Center, Fordham University (Sponsored by Fordham's Curran Center) Friday, October 20th, 7 p.m.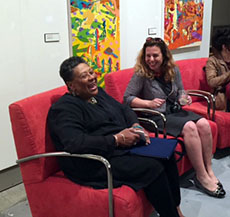 Sacred Sisters is a collaboration between visual artist Holly Trostle Brigham and award-winning poet Marilyn Nelson, touching on such issues as gender and creativity, connections between the visual and literary arts, and religion and history. Brigham met Nelson at the all-girls prep school, the Baldwin School in Bryn Mawr, Pennsylvania, in the Fall of 2012. Nelson was visiting the school as part of the Baldwin Write Now program and Brigham was a parent who co-founded the program and was her liaison for the day. They had the opportunity to visit and when Nelson asked about Brigham's work it started a conversation about nuns who were artists and writers. Brigham had already completed three paintings in her Seven Sisters II Series, later renamed Sacred Sisters.