Jean L. Kreiling






A Late Gesture



I held her hand a lot that final year,
as if to beg her not to disappear.
I'd learned the gesture in our distant past,
when I was little, but now I'd been cast
as caregiver, the one who said "I'm here"

and "I'll do that." Her usual good cheer
seemed sturdy—but was that just a veneer
beneath which doubts and worries had amassed?
I held her hand

to reassure her I'd always be near
to see her through her unacknowledged fear,
through pain and loss and change that came too fast,
through good times that we both knew couldn't last.
To hold age harmless, to hold back a tear,
I held her hand.


Foul-Weather Reunion
(Kennebunkport, Maine)

for Cam, Jane, Kate, Maureen, and Sally

As raindrops fell, the six of us shed years
to nurture our perennial connection;
grown women now, with children and careers,
we splashed through puddles and soaked up affection.
As fog insinuated its obscure
and shapeless drift into a dozen eyes,
we gladly saw the same amorphous blur
of past and present, dreams and compromise.
We walked the shore, ate lobster, and agreed
that we had weathered far worse than this rain;
wet shoes and dripping hair would not impede
reunion revels. Foggy days in Maine
made clear a truth on which our bond depends:
we've always been more than fair-weather friends.





AUTHOR BIO
Jean L. Kreiling 's first collection of poems, The Truth in Dissonance (Kelsay Books), was published in 2014. Her work has appeared widely in print and online journals, and she is a past winner of a New England Poetry Club Award, the Great Lakes Commonwealth of Letters Sonnet Contest, the String Poet Prize, and the Able Muse Write Prize.
POETRY CONTRIBUTORS

Jane Blanchard

Lesley Clinton

Maryann Corbett

Barbara Lydecker Crane

Barbara Crooker

Midge Goldberg (Featured Poet)

Grace Marie Grafton

Jaimee Hills

Kathryn Hinds

Kathryn Jacobs

Jean L. Kreiling

Charlotte Mandel

Jennifer Davis Michael

Angela Alaimo O'Donnell

Leslie Schultz

Elizabeth Spencer Spragins

Marilyn Taylor

Cara Valle

Doris Watts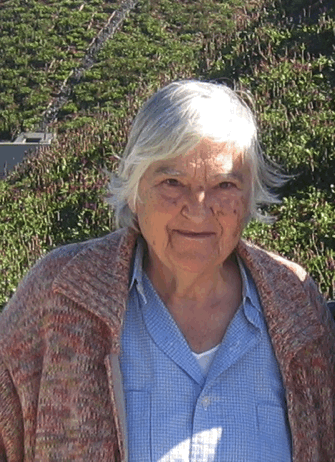 The most recent addition to The Mezzo Cammin Women Poets Timeline is Etel Adnan by Joyce Wilson.
Save the date: A Celebration of the Timeline reaching 75 essays. Lincoln Center, Fordham University (Sponsored by Fordham's Curran Center) Friday, October 20th, 7 p.m.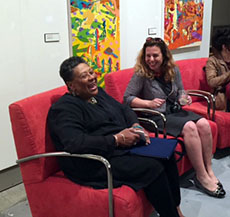 Sacred Sisters is a collaboration between visual artist Holly Trostle Brigham and award-winning poet Marilyn Nelson, touching on such issues as gender and creativity, connections between the visual and literary arts, and religion and history. Brigham met Nelson at the all-girls prep school, the Baldwin School in Bryn Mawr, Pennsylvania, in the Fall of 2012. Nelson was visiting the school as part of the Baldwin Write Now program and Brigham was a parent who co-founded the program and was her liaison for the day. They had the opportunity to visit and when Nelson asked about Brigham's work it started a conversation about nuns who were artists and writers. Brigham had already completed three paintings in her Seven Sisters II Series, later renamed Sacred Sisters.