Grace Marie Grafton






Princesses



We girls played princesses while the boys played
cowboys. It was the dresses that lured us,
flounces, lace, the draping trains, such a fuss
over beaded bodices, enchanted swains.

We didn't guess, three girls aged six, eight, ten,
that no respectable cowboy would know
how to undo those hooks and eyes, or how
to lift a hoop skirt off a waist or when

and where to carry a swooning princess
to bed (would it be feather or straw, barn
or boudoir?). We hadn't gotten as far
as sex, we just wanted the ribbons, yes?

The boys wanted the cold heft of hard guns,
they didn't think of who'd mourn them, undone.




Midsummer Pantoum



We must forgive the one who gloats, off in a corner
of the barn or walking the oat field, red poppies
poking through the blonde stalks. He's thinking
about the way he figured out getting her to dance.

Outside the barn in the oat field, it's the red poppies
that rightly reveal his feeling of adolescent joy
over the way he figured out getting her to dance.
Because red poppies are wild among domestic oats,

they accurately express the bold rush of joy—
spontaneous, unplanned, they just spring up.
Because poppies are wild among domestic oats,
farmers grumble and curse their rampant beauty.

In his spontaneity, unplanned, he just sprang up
and grabbed her hand, pulled her into the music.
Did the old ones grumble, even curse their beauty,
or did the grandmas' hips sway a bit to the beat?

Did the grandmas grab hands, pulled into music?
Midsummer and their youth a red memory,
the grandmas' hips sway and bump to the beat
in accord with old men gloating in the corner.




Vancouver Sestina



At this inn, they give you no clock
to light up the number of your hours,
how deeply you've surrendered to sleep
or been roused by all you've left undone.
You want to sink back in, you want to fix
in mind the dark-haired man your dream

was in the midst of introducing you to. Dream
not of this time in your life but, turn clock
forth or back, you find yourself in the same fix,
not knowing whether to say: my life is mine or ours
or yours. What's the setting? What was done
by you or him? How, get yourself back to sleep?

In this room without numbers, whether you sleep
or not, or whether what you do involves dream
or waking or dance or walking or things you've done
that disappointed your mother, the day you clocked
the boy who annoyed you in third grade, the hours
you spent in the principal's office, without a fix

for that mistake because you were a girl, fixed
by culture's code into being a clone of Sleeping
Beauty or Snow White, whose face? Not my face, Our
face, your girl, no one's definite anything, dreamer
who only comes alive in a room in an inn without a clock
when she's middle-aged and has left her life undone.

Night a time of undefine, take apart, un-do
the programmed, perfect picture, un-fix
the sun, then everything in shadow, clock
not yet invented. Huddle near the fire, sleep
in a bunch, puppies in a pod. Would dreams
be a group endeavor, untangling daytime hours?

First stage of creation is chaos, wandering for hours
among birds' cacophony, watching squirrels' dun
coats careen around limbs, let shadow and dream
mix your new physiognomy, a mask to fix
in place your unexpected identity, out of Sleep—
ing Beauty not a queen but a crone. No clock

to measure dreams or cycles, two hours
by ticking clock, hard-wired habits undone.
No rules fix you into the sleeves of sleep.



AUTHOR BIO
Grace Marie Grafton is the author of six collections of poetry, most recently Jester from Hip Pocket Press. Her themes range from lyrical sonnets to sestinas to experimental prose poems, with a concentration on response to fine art. Her poems have won honors from The Bellingham Review, Sycamore Review, Keats Soul Making contest and Poetic Matrix Press. Poems recently appear in Fifth Wednesday, The Cortland Review, Ambush Review, West Trestle Review, Askew and Poecology, among others.
POETRY CONTRIBUTORS

Jane Blanchard

Lesley Clinton

Maryann Corbett

Barbara Lydecker Crane

Barbara Crooker

Midge Goldberg (Featured Poet)

Grace Marie Grafton

Jaimee Hills

Kathryn Hinds

Kathryn Jacobs

Jean L. Kreiling

Charlotte Mandel

Jennifer Davis Michael

Angela Alaimo O'Donnell

Leslie Schultz

Elizabeth Spencer Spragins

Marilyn Taylor

Cara Valle

Doris Watts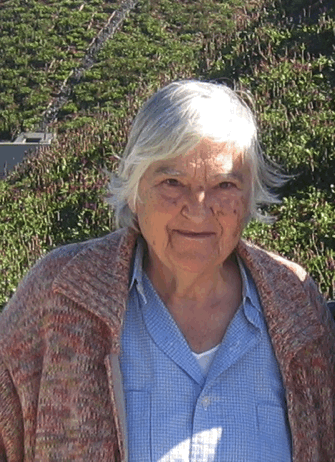 The most recent addition to The Mezzo Cammin Women Poets Timeline is Etel Adnan by Joyce Wilson.
Save the date: A Celebration of the Timeline reaching 75 essays. Lincoln Center, Fordham University (Sponsored by Fordham's Curran Center) Friday, October 20th, 7 p.m.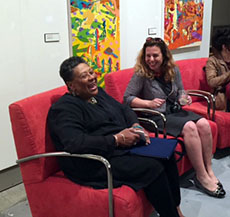 Sacred Sisters is a collaboration between visual artist Holly Trostle Brigham and award-winning poet Marilyn Nelson, touching on such issues as gender and creativity, connections between the visual and literary arts, and religion and history. Brigham met Nelson at the all-girls prep school, the Baldwin School in Bryn Mawr, Pennsylvania, in the Fall of 2012. Nelson was visiting the school as part of the Baldwin Write Now program and Brigham was a parent who co-founded the program and was her liaison for the day. They had the opportunity to visit and when Nelson asked about Brigham's work it started a conversation about nuns who were artists and writers. Brigham had already completed three paintings in her Seven Sisters II Series, later renamed Sacred Sisters.