Lesley Clinton






The End of Drehr Avenue



$425 a month. Ensconced in trees.
One bedroom, kitchen, bath, and balcony.
The humble luxury of wide baseboards.
A clawfoot tub. Oak floors (a few obscure
planks gone damp). Leafy afternoons with sun-
soaked downpours lending striking lightning views.
Because I was alone and broke I let
the rainstorms keep me company and found
that seasons steamed with cloud can ravel us
within. Cocooned, we test the lamplit walls.
We're made to weather the inclemency
that drives us. Even embryonic in
my cloistered flat, tucked out of the clouds' reach,
I felt the pressure shift as winter neared.
When boxing up the plates, anthologies,
and sheets, I also packed the thunderbolts,
and still I keep the counsel of those storms.




Rothko Paints the Central Triptych



I sieve lost whispers
from history's throat,
wide, prescient gifts
we have eyes to hear:

the wearing of stone,
geese darkening stars,
the dust of us sifting,
dew starred at our feet,

the frosted breath of
our calling. Mine's the
old wildflower wind that
has tangled the hair

of seekers from all
generations and
borne their yearnings
like dandelion seeds

bound for soil or stone.
I mean to take part in
the visceral blare
of moment, to sing

with mute pigments
to my vacancy
and yours—lurking, too—
the first of all songs

in language that can't
grow stale or go lost.
For this I still redden
my abysses a tinge.





AUTHOR BIO
Lesley Clinton's poems have appeared in the 2017 Texas Poetry Calendar, the Houston Poetry Fest 2016 Anthology, Sakura Review, Euphony Journal, Frogpond Journal, The Heron's Nest, Literary Mama, and others. Her background in language arts education includes a BA in English and an MA in Teaching, as well as several years spent teaching high school English. She currently freelances as a writer, editor, and curriculum developer.
POETRY CONTRIBUTORS

Jane Blanchard

Lesley Clinton

Maryann Corbett

Barbara Lydecker Crane

Barbara Crooker

Midge Goldberg (Featured Poet)

Grace Marie Grafton

Jaimee Hills

Kathryn Hinds

Kathryn Jacobs

Jean L. Kreiling

Charlotte Mandel

Jennifer Davis Michael

Angela Alaimo O'Donnell

Leslie Schultz

Elizabeth Spencer Spragins

Marilyn Taylor

Cara Valle

Doris Watts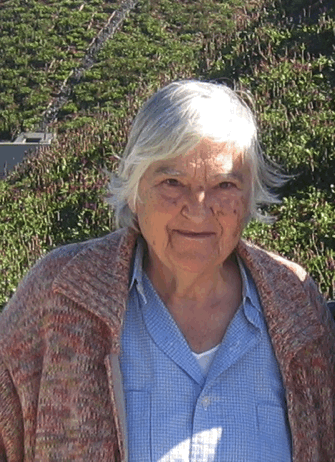 The most recent addition to The Mezzo Cammin Women Poets Timeline is Etel Adnan by Joyce Wilson.
Save the date: A Celebration of the Timeline reaching 75 essays. Lincoln Center, Fordham University (Sponsored by Fordham's Curran Center) Friday, October 20th, 7 p.m.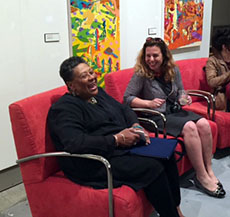 Sacred Sisters is a collaboration between visual artist Holly Trostle Brigham and award-winning poet Marilyn Nelson, touching on such issues as gender and creativity, connections between the visual and literary arts, and religion and history. Brigham met Nelson at the all-girls prep school, the Baldwin School in Bryn Mawr, Pennsylvania, in the Fall of 2012. Nelson was visiting the school as part of the Baldwin Write Now program and Brigham was a parent who co-founded the program and was her liaison for the day. They had the opportunity to visit and when Nelson asked about Brigham's work it started a conversation about nuns who were artists and writers. Brigham had already completed three paintings in her Seven Sisters II Series, later renamed Sacred Sisters.