Kathryn Jacobs






The Nature of Walls



Unless you're wary, walls accumulate;
it's what they're good at. You can move a lot,
in which case little ones will decorate
the landscape randomly, and trip you up.
Or you can just stay put and contemplate
how safe they make you feel, and if you ought
to fight for windows, because once you stop

you'll never get them back. Or you could climb
until they try for ceilings, which they will.
And you can leave, as long as there's a door.
But if you wait too long, there comes a time
there's only brick, and then you can explore
the sundry shades of brown while life stands still
and nobody can find you anymore—


Trafficking*

Eleven babies in a biscuit box,
one box per baby. Sold in bulk like sweets,
though boys cost extra, and delivery
cannot be guaranteed:

a biscuit-box
is just the size for babies. Coffin-shaped
if shipments don't work out, and nicely stacked
no matter what; they can be corded and
nobody crushes biscuits, so the box
is generally un-collapsible;

I recommend it. Boys are extra though
(I think I said that once). It's three for one
because supply is uncooperative;
we'd like to make adjustments.

Officer?
No sir; they're only biscuits—
* After reading Reuters




AUTHOR BIO
Kathryn Jacobs is professor at Texas A & M — C and editor of The Road Not Taken: A Journal of Formal Poetry. Her fifth volume of poetry, Wedged Elephant, was published last year by Kelsay Books. She also has a book from University Press of Florida, Marriage Contracts From Chaucer to the Renaissance Stage. With over 200 poems published, she appears in journals like Mezzo Cammin, Measure, Acumen, Raintown Review and Wordgathering, among others.
POETRY CONTRIBUTORS

Jane Blanchard

Lesley Clinton

Maryann Corbett

Barbara Lydecker Crane

Barbara Crooker

Midge Goldberg (Featured Poet)

Grace Marie Grafton

Jaimee Hills

Kathryn Hinds

Kathryn Jacobs

Jean L. Kreiling

Charlotte Mandel

Jennifer Davis Michael

Angela Alaimo O'Donnell

Leslie Schultz

Elizabeth Spencer Spragins

Marilyn Taylor

Cara Valle

Doris Watts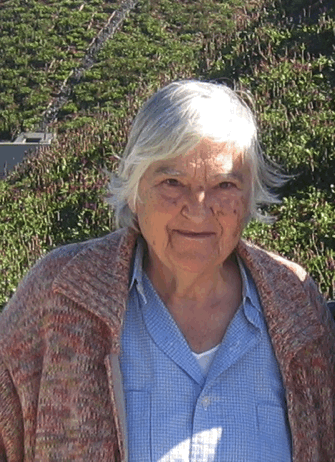 The most recent addition to The Mezzo Cammin Women Poets Timeline is Etel Adnan by Joyce Wilson.
Save the date: A Celebration of the Timeline reaching 75 essays. Lincoln Center, Fordham University (Sponsored by Fordham's Curran Center) Friday, October 20th, 7 p.m.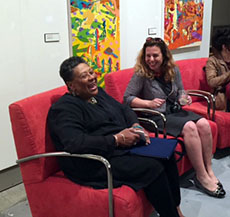 Sacred Sisters is a collaboration between visual artist Holly Trostle Brigham and award-winning poet Marilyn Nelson, touching on such issues as gender and creativity, connections between the visual and literary arts, and religion and history. Brigham met Nelson at the all-girls prep school, the Baldwin School in Bryn Mawr, Pennsylvania, in the Fall of 2012. Nelson was visiting the school as part of the Baldwin Write Now program and Brigham was a parent who co-founded the program and was her liaison for the day. They had the opportunity to visit and when Nelson asked about Brigham's work it started a conversation about nuns who were artists and writers. Brigham had already completed three paintings in her Seven Sisters II Series, later renamed Sacred Sisters.