Sacred Sisters

acred Sisters is a collaboration between visual artist Holly Trostle Brigham and award-winning poet Marilyn Nelson, touching on such issues as gender and creativity, connections between the visual and literary arts, and religion and history. Brigham met Nelson at the all-girls prep school, the Baldwin School in Bryn Mawr, Pennsylvania, in the Fall of 2012. Nelson was visiting the school as part of the Baldwin Write Now program and Brigham was a parent who co-founded the program and was her liaison for the day. They had the opportunity to visit and when Nelson asked about Brigham's work it started a conversation about nuns who were artists and writers. Brigham had already completed three paintings in her Seven Sisters II Series, later renamed Sacred Sisters.
The poet and artist immediately connected over the subject of Hildegard of Bingen, about whom Brigham had just completed her installation piece featuring paintings, sculpture, textiles, and music. Nelson had traveled to see the sites associated with Hildegard in Bingen, Germany and had always hoped to write about her. Nelson further asked Brigham why she wanted to paint nuns, and Brigham stated that she wanted to give voice to creative, inspiring women from the past who had not gotten their due. Nelson profoundly added that she could add another layer of voice to them by writing the words they would say. The collaboration was born and it would mark the first time Brigham has worked collaboratively.
Brigham painted seven watercolor portraits of nuns (each 30 X 30 inches) who were also artists: painters, ceramicists, musicians, and writers. They span many centuries and several cultures and religions, including 16th-century Catholic Italy, 18th-19th century Buddhist Japan, and 19th century Catholic Creole. For example, Sorella Plautilla Nelli's Lamentation explores the life of the only woman artist mentioned in Vasari's Lives of the Most Eminent Painters, Sculptors and Architects from 1550. The installation piece devoted to the life of the 12th-century German mystic Hildegard of Bingen incorporates portraits of Hildegard alive and dead, narrative paintings about three key episodes in her life, and sculpted relics depicting her heart and tongue. Hildegard's Box is the eighth piece in the Sacred Sisters series.
The artist uses herself as the model in all but two paintings. Because of the exploration in race that this series has garnered, Ms. Brigham has created an interesting departure from the centrally located self-portrait in those two cases: the portraits of the Japanese Buddhist nun and the Afro-Brazilian nun. Each painting also includes a relic that is meant to connect to the traditions of making the saints present through their bodies and things connected with their life and creativity. In each work, Brigham combines her art history background from Smith College and the University of Pittsburgh as well as her artistic training at the Pennsylvania Academy of the Fine Arts and her MFA in Painting from George Washington University.
Nelson composed eight poems as prayers. Each prayer is written in the first person by the woman depicted in each portrait. The poems give a powerful voice to the subjects, adding to the physical presence and historical significance of the sitters. These poems are exhibited next to each painting and Hildegard's Box. The collaborative nature of the work is embodied in the visual artworks, too, as Nelson suggested to Brigham that she include African-American nuns and nuns from religions beyond Christianity. In this way, Brigham's work has moved beyond the series that was already underway when the two artists first met. Likewise, Brigham's work inspired Nelson to create a suite of poems that would otherwise not have been written.
Because race as a subject is very much a part of her work, Marilyn asked Holly if all the nuns she was going to paint would be Catholic. Holly had not named all the subjects, but at their initial meeting she had completed the paintings of Plautilla Nelli, Santa Caterina, and Hildegard of Bingen. In their second meeting, Marilyn suggested a Buddhist nun and Holly thought that would work well if she could find a subject who was also an artist. She found Rengetsu, who was not only a calligrapher but also a ceramicist and poet, and an ideal subject who brought together the central themes of the collaboration. Marilyn also mentioned Henriette de Lille and the Sisterhood of the Good Death in Brazil. Once Holly investigated these other two ideas, she agreed that they should be a part of the series. Sor Juana had always been in Brigham's mind and now that she was working with a poet, Sor Juana became a definite subject in the series. The artist Audrey Flack told Holly about the 17th-century Baroque Spanish sculptor Pedro de Mena's daughters who were sculptors and who became nuns and Brigham thought one of the sisters would be the perfect subject for the remaining nun.
The entire Sacred Sisters series has been exhibited with Marilyn Nelson's poems twice so far at the William Benton Museum at the University of Connecticut in Storrs, in the fall of 2015 and at Penn State/Lehigh Valley in the Spring of 2016. Hildegard's Box was on view at the Cathedral of St. John the Divine in New York City as part of the Christa Project from October 2016-March 2017.
In 2016 Brigham and Nelson along with book artist MaryAnn Miller of Lucia Press in Clinton, NJ created an artist book to continue their collaboration. The edition of twelve books was launched at the Cathedral of St. John the Divine on November 17, 2016. Lafayette College, Smith College, Penn State, the Smithsonian Institution and a private collector have purchased books so far. The book is printed on Rives paper, hand-stitched in crimson thread, and folds out and stands up while creating a star form. Initial letters of each poem are painted by Brigham and represent the convent where each nun lived. The type is Uncial. Each book is enclosed in a teal green book box lined with crimson brocaded fabric. The box is then embellished with a crocheted metal hinge by Pookie Weatherburn.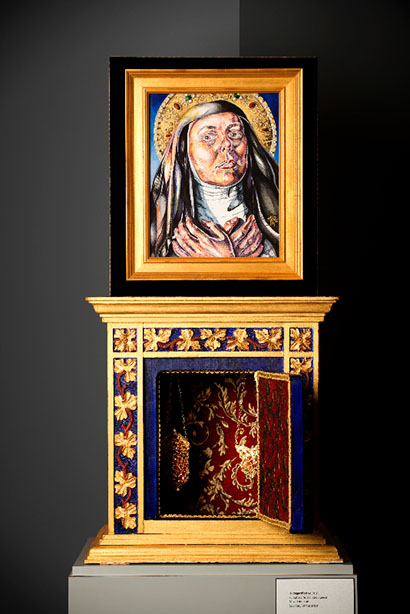 Hildegard von Bingen



Convent Elbingen, 1178

Our northern window brought us the Office,
voices of men sweetened by sacrifice,
but even they believed women are less.
Our southern window brought us the sky's light,
and, in moments between work and prayer,
calls and laughter from the world we had left.
Pledged as my parents' tithe to live thy praise,
I praise thee for freeing me as a girl
from a wife-mother's ordinary chores.

I thank thee for the gift of Living Light
that touched flame to a young novice's mind
and made me understand what stands in books.
I thank thee for the ways my visions show,
Enkindling Fire, Creator-Sustainer.
For the abbey given me and my sisters,
Alpha-Omega, Soaring Harmony.
For the music I composed by Matins light,
hearing the birds, the roosters, and my quill.

I have praised thee every hour, in spite of men.
Thou art the source of my strength and courage.
I put no trust in earthly potentates,
those men who are walking westward as I am.
As soon as they stop breathing, they are clay,
all their important plans quickly forgotten.
I praise thee even now, despite the Bishops'
denying us music and sacraments,
to break my will. (Assholes.) My soul, sing praise.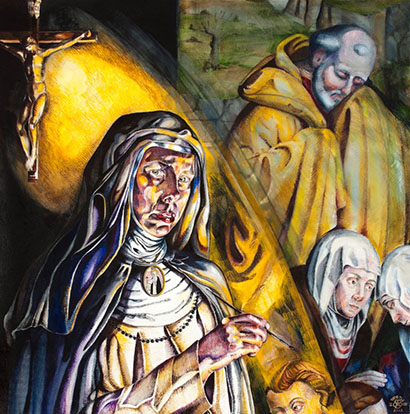 Plautilla Nelli



Orate pro pictora. Florence, ca. 1560

Lord of eclampsia, childbed fever,
of birthing children and watching them die.
Lord of the escape route to the convent.
Lord of the tunic, scapular, and veil.
Lord of daily time free from distraction.
Lord of grinding, weighing, mixing pigments.
Lord of tying and trimming sable hairs.
Lord of perspective, of the horizon.
Lord of proportions. Lord of the thumb's gauge.

Lord of copying. Lord of the masters.
Lord of the sisters, Lord of the teachers.
Lord of the slow unfolding of the gift.
Lord of a woman learning how to see.
Lord of illuminated manuscripts.
Lord of how drawing leads one into prayer.
Lord of the deepening of the prayer life.
Lord of the inward echoing of thanks.
Lord of that chime, as constant as heartbeat.

Lord of antimony and cochineal,
of malachite and verdigris.
Lord of lime white and carbon black.
Lord of the linen seed, the color wheel.
Lord of the billion colors one perceives
in just one one-blink glimpse into the world.
Lord of this altarpiece almost finished.
Lord of the peasant girl in the background,
who hums praise as she gathers wild salad.








St. Catherine of Bologna



ca. 1453

Age fourteen, I was sent to serve at court.
I begged to be freed from that privilege
into the privilege of poverty:
to embrace penance and constant fasting,
invited with my sisters to the dance
of chaste devotion. Thus I prayed at court,
listening, over my embroidery.
My maiden heart beat with a constant plea:
Show me thy face, Lord; Lord, show me thy face.

A dove released, I flew to the Poor Clares.
Then came years when my doubt tempted my faith
with remembered footmen; years when virtue
promised no reward other than itself;
years when the logic of the passing world
which jibes at chastity and devotion
rubbed my nose in absurd virginity.
I kept my lamp lighted for the Bridegroom.
Show me thy face, my Lord, my love, I prayed.

But I spent my work-hours with caught breath,
focused on the two hairs' breadth of my brush
bringing light and color to the margins
of a book of the hours; or I painted large
iconic portraits of Mother and Child
with golden halos; or on the violette,
with closed eyes, bowed harmonies of the chant.
At last, forgetting to pray Show thy face,
I glimpsed thy face in the worship of art!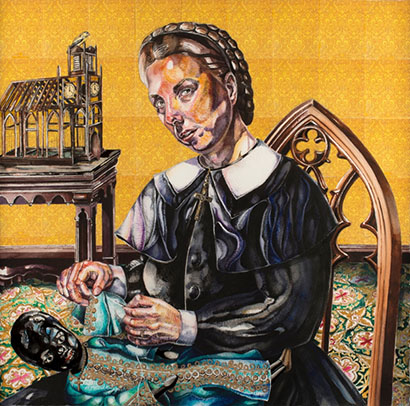 Henriette deLille



Sisters of the Holy Family, New Orleans, 1855

The sacrament of marriage is defiled
by a society that looks askance
where color is concerned.
Moi, je refuse to be a concubine
raising daughters into concubinage.
You can't white-wash sin with necessity,
nor know dignity in the narrow world
between the despised and those who despise.
I don't know much, but God tells me that's wrong!

My best friends Juliette and Josephine,
like me, are free quadroons: doomed to be kept
as almost-wives by men who can afford
to have side-families. God intervened.
Thanks to the Bishop and Père Rousselon,
thanks to the Holy See, our vocations
are recognized, and our lives given meaning
far beyond birthing octaroon children.
We are nuns, married to Christ. We'll feed His sheep.

This faith that guides me: is it black or white?
Is my love beige? What color is my soul?
And does it matter in His opinion?
He said we serve Him when we serve the poor:
did He mean the white poor, not the colored?
We serve Him in the slave children we teach,
in the black aged and infirm we house,
in the sick we nurse through epidemics.
I lift my hands high when I sing Thy name!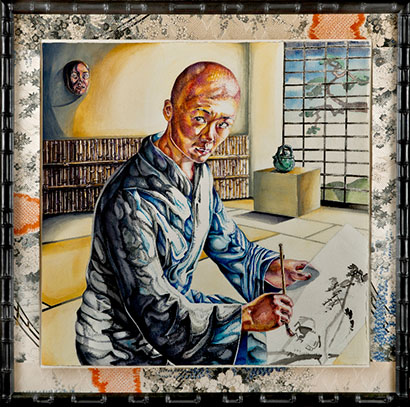 Otagaki Rengetsu



(Jinko-In Temple, 1865)

Shame-daughter of Samurai and geisha,
but adopted by an honorable family,
I was given happiness snatched away:
husbands, children, they vanished like noon dew.
The only certainty is impermanence.
So I cut my hair, put on the nun's black robe,
and became this humble servant, Lotus Moon,
who gathers mud to form into vessels,
reverently aware of each moment.

Between my palms I knead a lump of clay,
warming it into flexibility
and shaping a welcoming receptacle
for water, tea, saki, or emptiness.
Each carries, like a scent borne on a breeze,
the memory of one single moment
my poem catches, inscribed under the glaze.
In whose dream are you dancing, butterfly?
White cherry petals flutter down like snow.

Small asymmetrical cups carry my fingerprints
through the kiln's inferno into usefulness.
They fit each holder's hand, fill it with grace,
and gift each holder's heart. The moon loves me:
last night it followed me to my bedroom!
On teapots, saki sets. Pounding my robe
in the spring-deep stream, I pause, breathe birdsong.
As I walk home through twilight mist, wild geese
fly where I cannot see, voices trailing.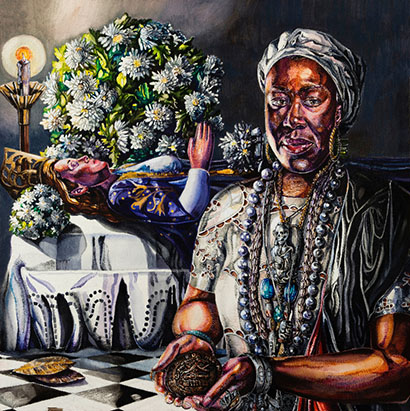 Hilaria Batista de Almeida, Provider



Sisterhood of the Good Death, Bahia, Brazil August 14, ca. 1850

Tomorrow, after we've led the procession
following Our Lady of the Good Death
back to our chapel, two hundred Sisters,
in our white eyelet headwraps and dresses
and the company of the Ancestors,
will dance a Glory samba, with our neighbors
like us redeemed, and those we work to free.
We'll dance as if we don't know aches and pains,
to celebrate the best death of all time.

No death is easy, but some deaths are good.
The free die good deaths. The people we free
will be put down with honor and music.
The best death was the one Our Lady had,
passing directly from breath to glory.
Glory is ours, too, just one death from now.
What dies lives on no longer slave, but free:
The same essence, wearing another face,
like an orixa changed into a saint.

Tomorrow is Our Lady's Assumption Day.
Today we sit in our rooms to prepare,
searching the dark silence to find glory.
My still hands, thick from cutting sugarcane...
and there it is, that flood of thanksgiving.
These nimble fingers that can tell from touch
the best tobacco leaf and when to stop
rolling a cigar smooth on the table,
this year helped free thirty Yoruba slaves!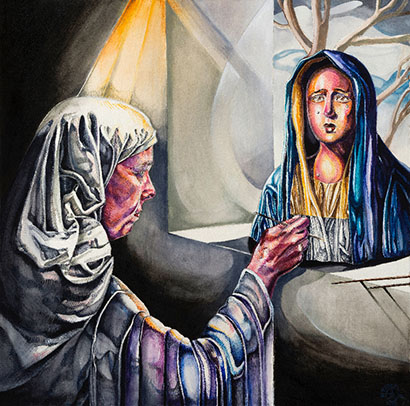 Andrea and Claudia de Mena



Maria de la Encarnation, Claudia Juana de la Asuncion, Cistertian Convent, Malaga, Spain, ca. 1680

We inherited the family gift--
Alonso to Pedro, Pedro to us
alone, of the five children who survived.
But our brother Alonso was the heir
to the last name, the patrons, and the tools.
Though we were born with seeing fingertips,
our options were marriage or the convent.
So we entered the continuous Lent
of silence and fasting, where we can sculpt.

We go to our shared studio at Lauds
and pick up tools and work where we left off:
chisel and mallet, or paint brush and pallet,
through Terce to Sext and the bread and soup.
Then back to the Mother's ecstasy of grief,
the exact pattern a patter of blood
drips onto Christ's shoulders from the thorn crown.
My tongue between my teeth, I carve a veil.
Breath held, I watch my brush create the real.

This is our way of worship: creating
truth-speaking beauty. Helping people see
what can't be seen, leading them toward belief.
I place myself in the Creator's hand,
become a fish-tail gouge, or a glass tear.
The artist asks to be an instrument,
to create, through carvings on a choir stall,
or through a solemn saint in a dim niche,
for seeing people, the Oh, my God! of awe.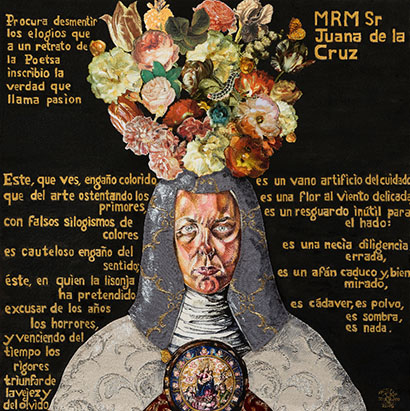 Sor Juana Inez de la Cruz



(Santa Paula de San Jerónimo Convent, ca. 1671)

At three I learned to read another's thoughts.
At five I learned the beauty of numbers.
At eight the Muse chose me and wrote my fate:
a fate impossible for a woman,
according to men, who control the world.
Thus I am called and ordered to refuse,
to accept the limitations of my sex,
for women are not minds, we are bodies.
Where in the body does the I reside?

An eagle cramped in a canary cage,
I soar to the summits only in books
and on lines I scratch with angel feathers.
For what but to fly was I given wings?
I look down on the landscape of my self.
My eyes are lakes, obsidian mirrors
out of which love stares, her eyes full of tears.
My hunger for knowledge, my poetry,
all of my gifts, men pronounce heresy.

Each day is my private Inquisition,
the Church examining each truth I find,
sieving my silence for what can't be said,
while I burn at the stake of my desire.
Am I another of your ironies,
endlessly new self-made creator Lord?
Give me humility. Help me accept
that I was made a sunlight-seeking soul
and confined to this windowless cell of flesh.


Acknowledgments, Marilyn Nelson

Hudson Review: "Hildegard von Bingen"; "St. Catherine of Bologna" (Reprinted by permission from The Hudson Review, vol. LXIX, number 2, (Summer, 2016 ) Copyright 2016 by Marilyn Nelson)

Obsidian: "Henriette deLille"; "Sor Juana Ines de la Cruz"

poets.org, Poem-a-Day: "Hilaria Batiste Almeida, Provider"

Southern Review: "Andrea and Claudia de Mena"; "Otagaki Rengetsu"; "Plautilla Nelli"