Barbara Crooker






For Geri



in memory of Geri Rosenzweig

The door was open and the house was dark
Wherefore I called his name, although I knew
The answer this time would be silence
That kept me standing listening while it grew
Seamus Heaney, "The Door Was Open and the House was Dark"

I open my email, find a post from you,
except it's signed by your younger son Paul.
He said suddenly and unexpectedly you were gone,
and I became a flame felled by a gust
of wind. You and I exchanged every poem
written in the past forty years, every mark
we'd made on paper: the good, the bad,
the ugly, we used to joke. But now, there's no
inbox where you've gone, no note that I can start.
The door was open, and the house was dark.

My heart is heavy, and the screen is black.
I've finished something new: a bulb
that shoots a stalk, then the green fire
of leaves, tongued flame of blossom,
all the more striking against the snow.
I never send a poem out until you
take a look, make comments: "loverly,"
or "Can you lose this line?" But now there's no reply.
I could hit "Send," pretend that it'd go through,
wherefore I called your name, although I knew.

In the middle of a friendship, who thinks of endings?
Each poem of yours made me look forward to the next.
They journeyed back to Ireland, your family, the buttons
on your father's coat, your mother's kettle, the birds
whistling in hedgerows and lanes. Your address
remains in my contact list, plain evidence
of your existence. Denial says you're busy or away,
not checking mail. I compose a long letter, subject:
Catching Up, press "Enter," believe in this pretense.
The answer this time would be silence.

How can you be gone? And so abruptly.
Okay, you smoked. So what?
Your life was rich with family, grandkids,
poems. The manuscript unfinished.
Submissions in the mail. So many strings
untied. How you loved summer, hated it when days drew
short, the shadows longer. Once you wrote about a long-gone lily
that, like Orpheus, came back from the dead. From bare ground,
unexpected bloom. It returned; could you?
I'm left standing, listening while it grew.




Dry Martini



The only American invention as perfect as a sonnet.
H. L. Mencken


The cold shimmer of a glass of gin,
kissed with vermouth. Or, as Noel Coward
said, waved in the general direction
of Italy. E. B. White called it the elixir

of quietude. Louis Buñuel: a reverie in a bar.
Let the molecules lie sensuously, calm
on top of one another, stirred
not shaken wrote Somerset Maugham.

Let's not forget the olives, groups of three,
sinking beneath the horizon of the glassy sea.





AUTHOR BIO
A previous contributor to Mezzo Cammin, Barbara Crooker's work has appeared in a variety of literary journals and anthologies, including Common Wealth: Contemporary Poets on Pennsylvania and The Bedford Introduction to Literature. She is the author of eight books of poetry; Les Fauves is the most recent. She has received a number of awards, including the WB Yeats Society of New York Award, the Thomas Merton Poetry of the Sacred Award, and three Pennsylvania Council on the Arts Creative Writing Fellowships.
POETRY CONTRIBUTORS

Jane Blanchard

Lesley Clinton

Maryann Corbett

Barbara Lydecker Crane

Barbara Crooker

Midge Goldberg (Featured Poet)

Grace Marie Grafton

Jaimee Hills

Kathryn Hinds

Kathryn Jacobs

Jean L. Kreiling

Charlotte Mandel

Jennifer Davis Michael

Angela Alaimo O'Donnell

Leslie Schultz

Elizabeth Spencer Spragins

Marilyn Taylor

Cara Valle

Doris Watts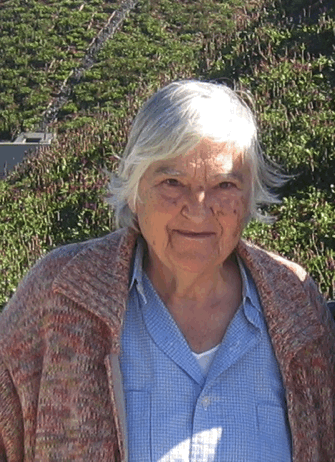 The most recent addition to The Mezzo Cammin Women Poets Timeline is Etel Adnan by Joyce Wilson.
Save the date: A Celebration of the Timeline reaching 75 essays. Lincoln Center, Fordham University (Sponsored by Fordham's Curran Center) Friday, October 20th, 7 p.m.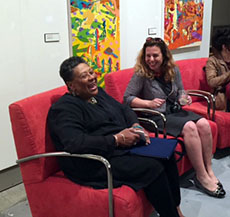 Sacred Sisters is a collaboration between visual artist Holly Trostle Brigham and award-winning poet Marilyn Nelson, touching on such issues as gender and creativity, connections between the visual and literary arts, and religion and history. Brigham met Nelson at the all-girls prep school, the Baldwin School in Bryn Mawr, Pennsylvania, in the Fall of 2012. Nelson was visiting the school as part of the Baldwin Write Now program and Brigham was a parent who co-founded the program and was her liaison for the day. They had the opportunity to visit and when Nelson asked about Brigham's work it started a conversation about nuns who were artists and writers. Brigham had already completed three paintings in her Seven Sisters II Series, later renamed Sacred Sisters.