Leslie Schultz






For My Daughter, Sleeping



Your hair, glowing
like fine Baltic amber,
spreads on your pillow.
In deepest slumber

what dreams will wash from
this oceanic night,
will nourish you before
dawn's shell-pink light?




Geography Lesson



In school, he misheard that Dallas is famous for rain.
In Minnesota, that morning, there was a light snow.
Then the radio spoke. His teacher wept in pain.

His brother told him that Airforce One is a plane,
That the president told the pilot where to go.
When young, he was sure that Dallas is famous for rain.

By noon, the sun shone on the president's campaign.
Mrs. Kennedy cradled red roses given for show.
Then the radio spoke. All the nuns wept in pain.

From his desk, he heard hungry crows in the corn complain.
On the playground, he kicked the ball toward a field row.
Just six, he believed that Dallas was famous for rain.

Their priest rushed from the sacristy like a freight train.
The Dallas sun shone now. Where was the promised rainbow?
The radio spoke. Sister Luke wept in pain.

The pilot's voice on the airwaves was tight with strain:
"The Angel is airborne." The plane was heavy with woe.
As a boy, he thought that Dallas was famous for rain.
The radio spoke. His mother kept weeping in pain.




For LaNelle, After Thirty Years



You are my mother of choice.
It hurts, now, to let you go.
You no longer know my voice.

With you, once, I could rejoice
in falling leaves, in fallen snow.
You were my mother of choice.

You offered me work, a place
of refuge when I was low.
You no longer know my voice.

You smile, but layers of ice
are forming. Blankness and echo.
You've been my mother of choice.

You scattered our wedding rice,
and held our baby just so.
You no longer know my voice.

And yet, you are joyful, at peace,
at ease in this moment's flow.
I love you, my mother of choice,
who no longer knows my voice.




Night of the Murdered Poets



Moscow, August 12, 1952

When formless terrors masquerade as laws,
then puddings stay hidden in iron ovens;
loud crows amputate their own yellow claws;

puppets clack, dancing, in wooden covens;
while the stars sag, staring at bloodied stags
whose antlers clash in weary percussions.

From Lubyanka's windows, wind ruffles rags,
old song-coats of poets soon to be dead,
too soiled and small to be taken for flags.

Against the stone wall, where thirteen are led,
scholars and poets and scientists all,
rooted like evergreens, sapped of their dread—

mere blocks from onion domes of St. Basil,
and art nouveau rooms of Hotel Metropol—
thirteen brains, with thuds, hit the wall:

stilling songs of the Yiddish cradle,
quashing light of menorah and dreidel.





AUTHOR BIO
Leslie Schultz (Northfield, Minnesota) is the author of a collection of poetry, Still Life with Poppies: Elegies (Kelsay Books, 2016). Her poetry, fiction, and essays have appeared in a number of journals and anthologies, including Able Muse, Light, Mezzo Cammin, The Orchards Poetry Journal, Swamp Lily Review, Poetic Strokes Anthology, Third Wednesday, The Madison Review, The Midwest Quarterly, and The Wayfarer; in a chapbook, Living Room (Midwestern Writers' Publishing House), and four of her poems have been stamped into the sidewalks of her home town. Schultz is also the author of two middle-grade novels featuring a home-schooled main character: The Howling Vowels (2011) and And Sometimes Y (2013), both from Do Life Right Press. She has twice had winning poems in the Maria W. Faust sonnet contest (2013, 2016). Schultz posts poems, photographs, and essays on her website.
POETRY CONTRIBUTORS

Jane Blanchard

Lesley Clinton

Maryann Corbett

Barbara Lydecker Crane

Barbara Crooker

Midge Goldberg (Featured Poet)

Grace Marie Grafton

Jaimee Hills

Kathryn Hinds

Kathryn Jacobs

Jean L. Kreiling

Charlotte Mandel

Jennifer Davis Michael

Angela Alaimo O'Donnell

Leslie Schultz

Elizabeth Spencer Spragins

Marilyn Taylor

Cara Valle

Doris Watts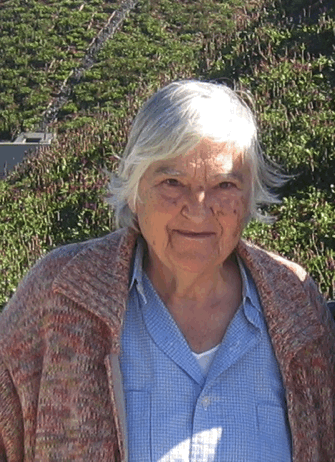 The most recent addition to The Mezzo Cammin Women Poets Timeline is Etel Adnan by Joyce Wilson.
Save the date: A Celebration of the Timeline reaching 75 essays. Lincoln Center, Fordham University (Sponsored by Fordham's Curran Center) Friday, October 20th, 7 p.m.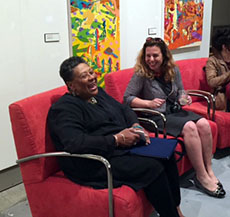 Sacred Sisters is a collaboration between visual artist Holly Trostle Brigham and award-winning poet Marilyn Nelson, touching on such issues as gender and creativity, connections between the visual and literary arts, and religion and history. Brigham met Nelson at the all-girls prep school, the Baldwin School in Bryn Mawr, Pennsylvania, in the Fall of 2012. Nelson was visiting the school as part of the Baldwin Write Now program and Brigham was a parent who co-founded the program and was her liaison for the day. They had the opportunity to visit and when Nelson asked about Brigham's work it started a conversation about nuns who were artists and writers. Brigham had already completed three paintings in her Seven Sisters II Series, later renamed Sacred Sisters.