Elizabeth Spencer Spragins




Once
(A Rhupunt)

A peacock struts
Through weeds and ruts
Where field abuts
An old estate

On weary land.
The foyer and
The stairs, once grand,
Have sagged with weight

Of barren years.
Dark dust adheres
To chandeliers
Of tarnished plate.

Once home, once inn,
Now willed to kin
Who've never been
Beyond the gate,

This manse decays.
The keeper grays,
And yet she stays
To tend the grate

At evenfall.
An eerie call
Dissolves the pall;
Cries resonate

When daylight dies.
Bejeweled eyes
Fan sun-burned skies
And undulate

With stately pace.
Rich plumes begrace,
Enchant this place—
Once more ornate.


Atonement
(A Clogyrnach)

This boxwood maze is overgrown.
No footsteps follow paths of stone.
The fountain, though dry,
Hums a lullaby—
A sea sigh
Without tone.

An angel lies in disrepair
Among the broken sculptures there.
Rust latches the gate,
But none desecrate
This estate
With no heir.

A brick walk laid in herringbone
Leads to a site where spirits moan.
A cracked marble cross,
Sun-bleached, free of moss,
Marks the loss
Heartbeats hone.

A daughter lies within the grave.
A dagger took the life God gave.
She dared love a man
With no name or clan—
African,
Once a slave.

Too late, her father felt remorse
And prayed her blood reverse its course.
He clutched at her hair,
Cried out in despair—
But her stare
Lost life force.

He spent his fortune on her tomb
And graced the grave with wild Scotch broom.*
He gardened alone,
And from the seeds sown
Nothing's grown—
Not one bloom.

* This flowering plant has been used as a heraldic badge and royal emblem by the English House of Plantagenet.




AUTHOR BIO
Elizabeth Spencer Spragins is a fiber artist, writer, poet, and editor who taught in community colleges for more than a decade. Her tanka and bardic verse in the Celtic style have been published in England, Scotland, Canada, Indonesia, and the United States. Recent work has appeared in the Quarterday Review, the Lyric, Glass: Facets of Poetry, Halcyon Days, and Peacock Journal. Her chapbook Shades and Shadows is scheduled for publication by Quarterday Press in fall 2017. Updates are available on her website.
POETRY CONTRIBUTORS

Jane Blanchard

Lesley Clinton

Maryann Corbett

Barbara Lydecker Crane

Barbara Crooker

Midge Goldberg (Featured Poet)

Grace Marie Grafton

Jaimee Hills

Kathryn Hinds

Kathryn Jacobs

Jean L. Kreiling

Charlotte Mandel

Jennifer Davis Michael

Angela Alaimo O'Donnell

Leslie Schultz

Elizabeth Spencer Spragins

Marilyn Taylor

Cara Valle

Doris Watts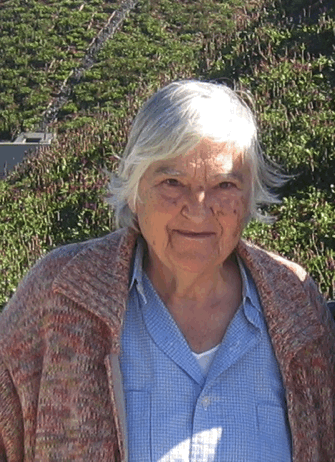 The most recent addition to The Mezzo Cammin Women Poets Timeline is Etel Adnan by Joyce Wilson.
Save the date: A Celebration of the Timeline reaching 75 essays. Lincoln Center, Fordham University (Sponsored by Fordham's Curran Center) Friday, October 20th, 7 p.m.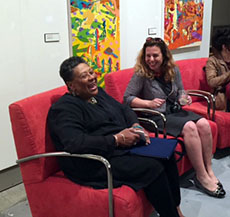 Sacred Sisters is a collaboration between visual artist Holly Trostle Brigham and award-winning poet Marilyn Nelson, touching on such issues as gender and creativity, connections between the visual and literary arts, and religion and history. Brigham met Nelson at the all-girls prep school, the Baldwin School in Bryn Mawr, Pennsylvania, in the Fall of 2012. Nelson was visiting the school as part of the Baldwin Write Now program and Brigham was a parent who co-founded the program and was her liaison for the day. They had the opportunity to visit and when Nelson asked about Brigham's work it started a conversation about nuns who were artists and writers. Brigham had already completed three paintings in her Seven Sisters II Series, later renamed Sacred Sisters.