Jane Blanchard






Storage



What good is any heirloom locked
inside a special closet?

How valuable is something stashed
away in safe-deposit?

Why own a treasure only to
be scared that you will lose it?

Is anything worth keeping if
you never dare to use it?




Relic



The antique cup had shattered when it fell.
With pieces found and glued together, it
Appeared almost unbroken. Rather well
It sat upon a saucer looking bit
By bit intact. Few lines were visible
Except though close inspection. Still, no tea
Was poured into this prized receptacle.
Who knew if it would hold sufficiently?
The precious gift remained unused. Around
It other fragile vessels daily served
All their intended purposes, proved sound
Or were discarded, owner not unnerved.
Just once before had form meant far too much;
She knew that little ever came from such.




Premises



After an argument I listen hard
to noises in our common house—the ticking
of clocks, the humming of fans, the creaking of floors,
the rumbling of pipes, the ringing of phones, the groaning
of springs, the clacking or clinking of keys, the droning
of television, the drumming of laundry, the clicking
of locks, the tumbling of ice, the squeaking of doors—
all louder once a morning has been marred.
Hours may pass as I interpret sound
by sound—source, frequency, duration. Some
attention goes to silences, which pound
and pound, but not to show where each comes from.
Throughout, peace can be found in knowing you
are also wondering when words are due.





AUTHOR BIO
A native Virginian, Jane Blanchard lives and writes in Georgia. Her poetry has appeared previously in Mezzo Cammin and recently in Amsterdam Quarterly, The Asses of Parnassus, Light, Lighten Up Online, Snakeskin, and Southern Women's Review. Her first collection, Unloosed, and her second, Tides & Currents, are both available from Kelsay Books.
POETRY CONTRIBUTORS

Jane Blanchard

Lesley Clinton

Maryann Corbett

Barbara Lydecker Crane

Barbara Crooker

Midge Goldberg (Featured Poet)

Grace Marie Grafton

Jaimee Hills

Kathryn Hinds

Kathryn Jacobs

Jean L. Kreiling

Charlotte Mandel

Jennifer Davis Michael

Angela Alaimo O'Donnell

Leslie Schultz

Elizabeth Spencer Spragins

Marilyn Taylor

Cara Valle

Doris Watts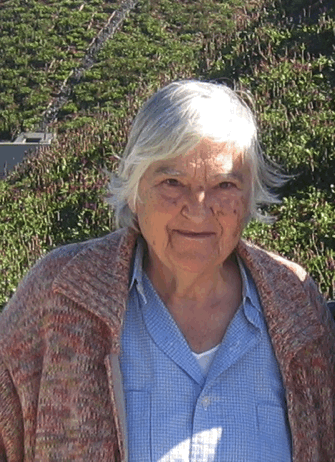 The most recent addition to The Mezzo Cammin Women Poets Timeline is Etel Adnan by Joyce Wilson.
Save the date: A Celebration of the Timeline reaching 75 essays. Lincoln Center, Fordham University (Sponsored by Fordham's Curran Center) Friday, October 20th, 7 p.m.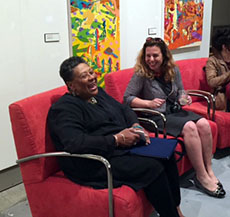 Sacred Sisters is a collaboration between visual artist Holly Trostle Brigham and award-winning poet Marilyn Nelson, touching on such issues as gender and creativity, connections between the visual and literary arts, and religion and history. Brigham met Nelson at the all-girls prep school, the Baldwin School in Bryn Mawr, Pennsylvania, in the Fall of 2012. Nelson was visiting the school as part of the Baldwin Write Now program and Brigham was a parent who co-founded the program and was her liaison for the day. They had the opportunity to visit and when Nelson asked about Brigham's work it started a conversation about nuns who were artists and writers. Brigham had already completed three paintings in her Seven Sisters II Series, later renamed Sacred Sisters.