Cara Valle






The Luddite's Prayer



Deliver us, O God, from glowing screens
that vacuum us into a brilliant void
but cannot show us what desire means.

From our enthralling handheld opioid,
from ailments cancerous and rheumatoid
deliver us, O God. From glowing screens

we learn to diagnose a hemorrhoid
or parse a dream according to Herr Freud
but cannot learn what our desire means.

The lackadaisical, the paranoid,
the carefully curated humanoid
delivers its god-self through glowing screens.

A photograph of every meal enjoyed
with tweaks and filters skillfully employed
still cannot show us what our hunger means.

Our squarish sylphs allow us to avoid
all but pure predilection unalloyed.
Deliver us, O God, from glowing screens
that cannot tell us what desire means.




Definition



Vocabulary cards from college days
carpet the junk drawer, grizzled by loose change,
gummed by old earplugs. A nostalgic haze
distracts me from my quest to rearrange
this cluttered cache. The cards are clean in back
but crimped, and grimier toward the front.
They must have started in a tidy stack
then fanned in fairy stairs amid the hunt
for batteries to excavate. The Greek
on top has very nearly been effaced,
leaving the English extant just to pique
my appetite. What was the Greek for "chaste"?
I gather up the cards, rubber-band them,
and stifle the desire to understand them.




At the Opera



Our first was Faust by Charles Gounod.
I couldn't concentrate. The hope
that you would finally propose
tonight distorted every note.

As newlyweds, we came again.
Our fast-food dinner did me in.
The punishment fit my gastric sin:
Mikado made a nauseous din.

Then, at Der Rosenkavalier
my fretfully maternal ear
would hear my cell phone everywhere --
the sitter, saying "you should be here."

What gadfly will be next? A toe
throbbing with gout through Figaro?
An aging parent on the road
to Hospice? A mid-opera doze?
Life disrupts opera: c'est la vie.
The day that you and I can see
an opera undistracted, we
will each enjoy a 6' x 3'.




Viability



A week of February warmth
enticed one bud to burst a month
too soon and bloom in fatal haste.

Though on the crocus blooming then
a snowfall quickly came again
before the spring was safe to taste—

and though a hundred days too soon
your slender shoulders broke my womb—
I cannot call that bloom a waste.

No prudent, patient April flower
will see this sudden snowy hour
and be by heaven's lace erased.





AUTHOR BIO
Cara Valle is a full-time parent, part-time teacher, and part-time writer. A graduate of Hillsdale College, she lives in Chicago, Illinois with her husband and three children. She teaches literature for the Classical Learning Resource Center. In addition to Mezzo Cammin, her poems have appeared in The Rotary Dial, The Lyric, and First Things (forthcoming).
POETRY CONTRIBUTORS

Jane Blanchard

Lesley Clinton

Maryann Corbett

Barbara Lydecker Crane

Barbara Crooker

Midge Goldberg (Featured Poet)

Grace Marie Grafton

Jaimee Hills

Kathryn Hinds

Kathryn Jacobs

Jean L. Kreiling

Charlotte Mandel

Jennifer Davis Michael

Angela Alaimo O'Donnell

Leslie Schultz

Elizabeth Spencer Spragins

Marilyn Taylor

Cara Valle

Doris Watts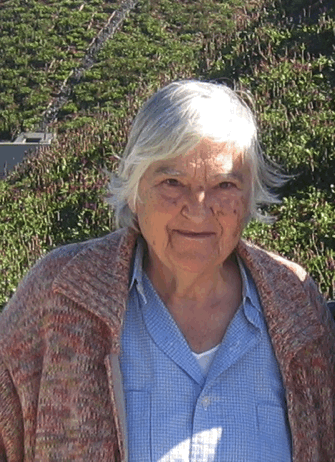 The most recent addition to The Mezzo Cammin Women Poets Timeline is Etel Adnan by Joyce Wilson.
Save the date: A Celebration of the Timeline reaching 75 essays. Lincoln Center, Fordham University (Sponsored by Fordham's Curran Center) Friday, October 20th, 7 p.m.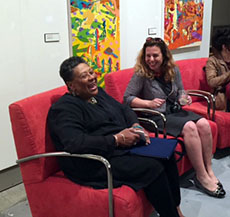 Sacred Sisters is a collaboration between visual artist Holly Trostle Brigham and award-winning poet Marilyn Nelson, touching on such issues as gender and creativity, connections between the visual and literary arts, and religion and history. Brigham met Nelson at the all-girls prep school, the Baldwin School in Bryn Mawr, Pennsylvania, in the Fall of 2012. Nelson was visiting the school as part of the Baldwin Write Now program and Brigham was a parent who co-founded the program and was her liaison for the day. They had the opportunity to visit and when Nelson asked about Brigham's work it started a conversation about nuns who were artists and writers. Brigham had already completed three paintings in her Seven Sisters II Series, later renamed Sacred Sisters.