Holly Woodward






Hovering



The white ibis glides overhead
to the far side of Turnball Bay--
the distance between what was said
and all I wished I could say.

Before me, the muscled tides flow,
and sharp winds cut back at the waves
so I can't see what lies below--
those secrets the dark water saves.

The sea grass curves in question marks
around my searching, submerged hand.
Blue, broken shells like heaven shards
lie on the narrow strip of sand.

Whichever shoreline I walk to,
the wild birds fly to the other.
This morning divides me from you,
but the birdcalls echo over.








Wreath



Days grow short in November,
the leaves are wracked by winds.
Their dance makes me remember
my restless, weathered sins.

Shadows slither down the street,
night splits the last trees apart,
and every stranger I meet
hides a tear in a burnt heart.

Branches can't scratch through the black,
no shard of daylight is saved--
not one second can one fall back--
no stone can be unengraved.

I'll cut a bittersweet vine
and tie it up with my grief
to lay on your granite stone
and touch your name in relief.

We are submerged in the dark
and baptized in white ash.
Light has to travel so far,
the night's acreage is vast.








The Rest



All night the rain has fallen alone
in the cleft that silence has cut.
While they carve my mother's stone
I try to hold my torn chest shut.

Rubbing soap and stone against skin
to wear this tired, sallow flesh down,
I wish the night were frightened
just once by its own hollow sound.

Roots know what to do in this dark,
blood sews rough sutures in my womb.
When I die, let the hard rain mark
whatever it wants on my tomb.



AUTHOR BIO
Holly Woodward is a writer and an artist. This year, she is a fiction fellow at The Writers' Institute in Manhattan. Last year, she won the Rachel Wetzsteon prize at the Unterberg Poetry Center of the 92nd Street Y. Holly combines her words, calligraphy, and paintings into books.
POETRY CONTRIBUTORS

Melissa Adamo

Sylvia Ashby

Jane Blanchard

Patricia Bollin

Cathleen Calbert

Maryann Corbett

Eleanor Cory

Casey FitzSimons

Nicole Caruso Garcia

Claudia Gary

Edith Goldenhar

A. J. Huffman

Cambria Jones

Tamam Kahn

Jean L. Kreiling

Fiona Marshall

Holly Painter

Zara Raab

Andrea Witzke Slot

Linda Stern

Anne-Marie Thompson

Doris Watts

Holly Woodward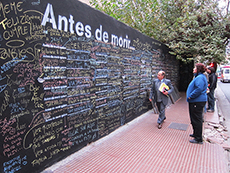 Candy Chang: Meant as a singular experiment, the Before I Die project gained global attention and thanks to passionate people around the world, over 500 Before I Die walls have been created in over 70 countries, including Kazakhstan, Iraq, Haiti, China, Ukraine, Portugal, Japan, Denmark, Argentina, and South Africa.