Holly Painter






Hometown



I talked with a Southerner who was ripping on Detroit.
I stopped him, asked if he wanted to be that guy who
says uncharitable things about other people's hometowns.
He rightly pointed out that I'm from the suburbs, so what
right did I have to be offended, to feel defensive of the
city? I dodged with some rhetoric about how all

of America has a stake in a place that brought us all
wealth and modernity; argued that we can't leave Detroit
behind, can't jettison the arsenal of democracy, the
engine of America, the countless factory workers who
made our cars and our economy. And anyway, what
kind of person spits on a desperate dying town?

I avoided explaining why I once called it my hometown,
why I feel protective of its reputation, why I always
get belligerent with people who casually ask, "What's
the big deal if it collapses? Why bother saving Detroit?"
I avoid answering because I don't really know who's
allowed to claim the city. I left the state, and then the

country a decade ago. Overseas, no one had ever heard of the
little suburb where I grew up. West Bloomfield Township
meant nothing. Michigan drew nods only from those who
followed college football or had to learn the names of all
fifty US states in secondary school. So I said Detroit:
I'm from Detroit. And then everyone knew exactly what

I was talking about. Back home now, I realize I didn't know what
I was talking about. I'm not from Detroit. I never earned the
dubious badge of honor that comes with enduring Detroit's
poverty, its crime, its crumbling neighborhoods and downtown.
I never sat in high school classrooms with sixty students, all
trying to break the cycle of poor families who raise poor kids who

go to poor schools and drop out to raise poor kids who
go to poor schools... That wasn't my reality, wasn't what
my childhood was like. Detroit was the Pistons, and we all
wore our Isaiah Thomas gear on gameday. Or we went to the
Joe to watch the Red Wings win the Stanley Cup for Hockeytown.
Garage bands, punk, fast cars, big stars. That was Detroit.

As a kid, I was proud of "my city." Who was going to explain to me the
subtleties of appropriation or why Detroit wasn't really my hometown?
All I wanted was to be from somewhere. I thought I was from Detroit.








Ruin Porn



I did the ruin porn thing--found the living
room in the elevator shaft of the old Packard Plant
and the graffitied skate park someone built
on one of its upper floors, somewhere in the middle,
far from the smashed out windows and walls
and the sheer drop off of which thrill seekers

roll old cars. And, in 2010, I went to see
Jane Cooper Elementary School. Full of living,
breathing children only three years before, the walls
were, by then, torn down by metal scrappers, and plants
grew inside. Rotting books were piled in the middle
of classrooms and shattered computers littered the building.

When I left the historic 1920's school building,
climbing over an avalanche of files, there was nothing to see
outside. The school had been surrounded by a thriving middle-
class neighborhood once, but by 2010, there wasn't a single living
soul left, just acres and acres of wild brush and desiccated plant-
life where everything had been razed for an office park whose walls

never went up. I never breached Central Station's marble walls,
though I picnicked in front of the old deserted building
many times and even half-seriously planned
to break in some quiet night with friends to see
the arcades and platforms that Amtrak abandoned a life-
time ago, leaving a magnificent Doric edifice in the middle

of Corktown. The train station is the gold standard for the middle-
class kids who come to take Instagram pictures of crumbling walls
and rows of burned down houses on streets where people still live.
When the city condemns but doesn't tear down another historic building,
when DPS announces the latest slate of school closings, they go see.
I did it, too. A "suburban urban destroyer," one Detroiter called me. A transplant

for the afternoon. A local tourist. A rubbernecker who planted
herself there, hoping for a train wreck, hoping to find herself in the middle
of chaos. I didn't take anything. I didn't break anything. I just wanted to see.
I didn't see people, though. I didn't see the No Trespassing signs on the walls.
I wandered for hours through trashed empty buildings
that were beautiful and sad without ever talking to anyone who lived

around there. I planned restorations and salvations, thought I could waltz
in there and meddle and manage and fix it. I destroyed by building
a whole new city in my mind without seeing that it's already alive.



AUTHOR BIO
Holly Painter is an MFA graduate of the University of Canterbury in Christchurch, New Zealand. Her poetry has been published in literary journals in the US, New Zealand, and Australia. Holly lives with her partner in Singapore, where she writes love poems on behalf of besotted people around the world at adoptapoet.wordpress.com.
POETRY CONTRIBUTORS

Melissa Adamo

Sylvia Ashby

Jane Blanchard

Patricia Bollin

Cathleen Calbert

Maryann Corbett

Eleanor Cory

Casey FitzSimons

Nicole Caruso Garcia

Claudia Gary

Edith Goldenhar

A. J. Huffman

Cambria Jones

Tamam Kahn

Jean L. Kreiling

Fiona Marshall

Holly Painter

Zara Raab

Andrea Witzke Slot

Linda Stern

Anne-Marie Thompson

Doris Watts

Holly Woodward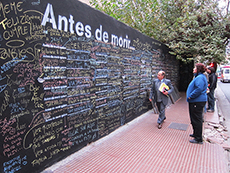 Candy Chang: Meant as a singular experiment, the Before I Die project gained global attention and thanks to passionate people around the world, over 500 Before I Die walls have been created in over 70 countries, including Kazakhstan, Iraq, Haiti, China, Ukraine, Portugal, Japan, Denmark, Argentina, and South Africa.