Eleanor Cory






Knife



A friend to wood, I tour sleek forms,
chisel features, sculpt smooth robes.
I etch in crystal and stained glass,
curl the tails of violins.
His eyes come close; they glance in fear,
then flee, as thoughts intrude besieged
by phantom faces, races lost.
He begs my hand. I move to flee,
return to art. I feel his grasp.
I scale his arm and sear his sleeve.
I long to stop, to lose my skill,
not be, not see the red, the flow.
I do not see the shaded care
he takes to spare the widest veins.
My blade's alive, but he's said "No."








Dinner and a Concert



On Friday after struggling at school,
I change into a silky party dress.
He drives me to the city in his Jag
for dinner at the Yale Club and to hear
a concert by our idol, Myra Hess:
the "Moonlight," Schumann, Bach, a waltz by Brahms.
Ascending stairs inside Carnegie Hall,
we find our family seats and hear her play
with opera glasses focused on her hands.
In whirls of intermission's suits and gowns,
we trace the notes of favorite themes and chords,
and try to guess which encores she will choose.

On Saturday he's in the living room
to hear me practice Haydn and Ravel.
He stops to comment: "Play that phrase again."
He waits at my recitals for the end;
the most accomplished always play the last.
At night we watch Sid Caesar on TV.
"Your mother doesn't laugh at shows like this,
or eat the rich éclairs we ate last night."
She sings in church, but cannot hear the keys
in Chopin's modulations, wouldn't wear
a floating dress or jewels at concert halls,
where heartbeats gather and accelerate.



AUTHOR BIO
Eleanor Cory is a composer of concert music. She has composed musical settings of poems by James Merrill, Marvin Bell, Robert Creeley, Rachel Hadas, Mark Strand, Octavio Paz, W.S. Merwin, David Ignatow, Murial Rukeyser, and Wallace Stevens. Her newest song cycle, Toward the Mind, was premiered in New York in February, 2012. Her poems have been published in Iambs and Trochees and Poetry Porch: Sonnet Scroll. On March 2, 2014 she was one of two featured readers at Carmine Street Metrics in New York. She lives in New York and teaches Music Composition at the Mannes College of Music. Her website is www.eleanorcory.com.
POETRY CONTRIBUTORS

Melissa Adamo

Sylvia Ashby

Jane Blanchard

Patricia Bollin

Cathleen Calbert

Maryann Corbett

Eleanor Cory

Casey FitzSimons

Nicole Caruso Garcia

Claudia Gary

Edith Goldenhar

A. J. Huffman

Cambria Jones

Tamam Kahn

Jean L. Kreiling

Fiona Marshall

Holly Painter

Zara Raab

Andrea Witzke Slot

Linda Stern

Anne-Marie Thompson

Doris Watts

Holly Woodward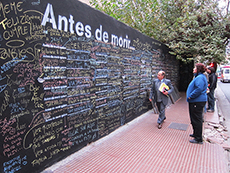 Candy Chang: Meant as a singular experiment, the Before I Die project gained global attention and thanks to passionate people around the world, over 500 Before I Die walls have been created in over 70 countries, including Kazakhstan, Iraq, Haiti, China, Ukraine, Portugal, Japan, Denmark, Argentina, and South Africa.