Casey FitzSimons






Turn on the porchlight



Turn on the porchlight.
Bring forth a tune to hum.
Imagine who will come.

Fetch a pen to write.
Sit in the kitchen mum.
Turn on the porchlight.

Pray it is tonight.
Curse the luck of some.
Wait for who will come.

You know how to incite
the circling moths to come:
Turn on the porchlight.

Forsake your love's delight.
To wretchedness succumb.
Despair of one to come.

Lace your girdle tight.
Let your womb grow numb.
Turn off the porchlight.
Yearn. No one will come.








Redbuds



They bloom before they leaf, the redbuds do.
Into tiny crimson flutes the sun
curls orphaned petals. Girls pinch them into

little moccasins in case the fairies
need new shoes, come visit on the stoop
for tardy-falling pyracantha berries.

Boys tramp the ebbing snow banks that the cars
slurry gray with exhaust and tire grit,
and pock their impish faces with red scars.



AUTHOR BIO
Casey FitzSimons is host of a reading series in the San Francisco Bay Area. Her poems have appeared in Red Wheelbarrow, Midwest Quarterly, Sand Hill Review, Newport Review, and many other print and online journals. This year she placed first in Ina Coolbrith Circle's "Poet's Choice" competition. Her chapbooks include The Breeze Was Mine: Poems in Form (2013), Riding Witness (2012), and No Longer Any Need (2011). She has a master's degree in Fine Arts from San Jose State University. For more info, see www.pw.org/content/casey_fitzsimons.
POETRY CONTRIBUTORS

Melissa Adamo

Sylvia Ashby

Jane Blanchard

Patricia Bollin

Cathleen Calbert

Maryann Corbett

Eleanor Cory

Casey FitzSimons

Nicole Caruso Garcia

Claudia Gary

Edith Goldenhar

A. J. Huffman

Cambria Jones

Tamam Kahn

Jean L. Kreiling

Fiona Marshall

Holly Painter

Zara Raab

Andrea Witzke Slot

Linda Stern

Anne-Marie Thompson

Doris Watts

Holly Woodward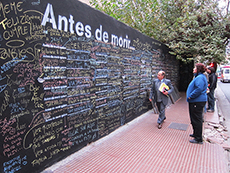 Candy Chang: Meant as a singular experiment, the Before I Die project gained global attention and thanks to passionate people around the world, over 500 Before I Die walls have been created in over 70 countries, including Kazakhstan, Iraq, Haiti, China, Ukraine, Portugal, Japan, Denmark, Argentina, and South Africa.