Nicole Caruso Garcia






Oxblood



Go to Sheplers on North 1st in Tucson.
Buy yourself a pair of cowboy boots.

You're East Coast, so the salesclerk won't attempt
to sell you Tony Lama or Lucchese.

She'll steer you toward a discontinued pair
of Sanders, plain, just under ninety bucks.

And when you hesitate--Cordovan?--
she'll gently pull the wadding from their throats,

correcting you politely: These are goatskin.
Oxblood. Under other circumstances,

brown or black would do, but it's a long
walk back along a ledge of grief. These boots

must testify: a diamond ring is neither
branding iron nor fencing wire. Don't ask,

Why take by force what you can have by love?
Despite your Spartan fist, there's no redress.

So take the oxblood. Thank the lady for
her help, and yes, you'd like to wear them home.

For eight years wear them, staggered in between
your Goth phase, swing phase, punk, bohemian.

They'll frisk you at the Guns N' Roses show,
so tuck a can of mace inside the shaft.

When trouble parks his El Dorado just
to follow you on foot, remember this:

each arch contains an eighteen-gauge steel shank.
And when the mud-scabbed soles are wearing thin,

well, get them fixed. For twenty bucks they'll look
as good as Lazarus. For eight more years,

wear them, in rain and snow and summer heat.
Though late most afternoons the light forgives,

spills violet-blue, one day you must admit
although the leather still looks plummy, half

the outsole stitching has dissolved like catgut,
and the vamp is pulling free. Beyond

repair, yet beautiful with brokenness.
Retire them beneath the guestroom bed,

and in that kneeling, listen at the window
to the swelling requiem of crickets.

If you have done all this, then stand. At first
you'll feel no different. Yet, the sun will toll

within the copper sky, that barefoot hour
when all your scorpions have turned to sand.








Route 15: Daydream



As I pump my gas along the highway,
cars that tunnel out of winter sun

zip by like match-strikes, quick to re-ignite
the cold. I wonder what they're hurtling toward

or from. But none look happy at that speed,
as if their breathless joy could not keep up.

Yet when I turn away, sun's sudden touch
behind my knees revives me, makes me wonder

where he is. Perhaps a conference room?--
speaking in a deep, oak business tone

to those who'll never hear his ape impression?
Though the gas is eighty bucks, I smile,

because tonight I'll make him sloppy joes,
the kitchen incandescent with our voices.

This wind, it isn't always like a jack-
knife to the heart. If motorists could slow

to watch the locomotion of my breath,
they'd see his name float out from underneath

my hood, a puffy parka so bright red
he teases, calls me Gumdrop. I don't mind.

Today the sky burns blue with alchemy,
but they just rocket past as I secure

the gas cap, as I shift my weight on frozen
rosy tiptoes like some hot-coal hopscotch,

wishing that the folks who've found true love
would smile or wave or horn-blast hallelujah.



AUTHOR BIO
Nicole Caruso Garcia's poetry has appeared or is forthcoming in journals such as The Raintown Review, 823 on High, Antiphon, The HyperTexts, Willow Review, The Sow's Ear Poetry Review, Soundings East, The Ledge, and others, as well as in the anthology Mother is a Verb. She received the Spring 2010 Willow Review Award. She earned her B.A. in English from Fairfield University, and after seven years in corporate industry, she left to earn her M.S. in Education from The University of Bridgeport. She makes her home in Connecticut, where she teaches poetry and creative writing at Trumbull High School.
POETRY CONTRIBUTORS

Melissa Adamo

Sylvia Ashby

Jane Blanchard

Patricia Bollin

Cathleen Calbert

Maryann Corbett

Eleanor Cory

Casey FitzSimons

Nicole Caruso Garcia

Claudia Gary

Edith Goldenhar

A. J. Huffman

Cambria Jones

Tamam Kahn

Jean L. Kreiling

Fiona Marshall

Holly Painter

Zara Raab

Andrea Witzke Slot

Linda Stern

Anne-Marie Thompson

Doris Watts

Holly Woodward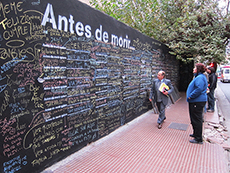 Candy Chang: Meant as a singular experiment, the Before I Die project gained global attention and thanks to passionate people around the world, over 500 Before I Die walls have been created in over 70 countries, including Kazakhstan, Iraq, Haiti, China, Ukraine, Portugal, Japan, Denmark, Argentina, and South Africa.