Fiona Marshall






Growing Up



Teenage knots of angst,
Whirlpools in a stream of calm,
Soon you'll reach the sea.








Loss



You stick in my throat
Like so many unsaid words.
I swallow regret.



AUTHOR BIO
Fiona Marshall emigrated to Northern Alberta, Canada, six years ago with her husband and two sons after living her entire life in the North West of England. Since then, she has joined the Slave Lake Writers Group and the Writers Guild of Alberta. She makes her living as an ultrasound technician but, for fun, enjoys quadding in the bush, making a fire, and toasting hot dogs and marshmallows.
POETRY CONTRIBUTORS

Melissa Adamo

Sylvia Ashby

Jane Blanchard

Patricia Bollin

Cathleen Calbert

Maryann Corbett

Eleanor Cory

Casey FitzSimons

Nicole Caruso Garcia

Claudia Gary

Edith Goldenhar

A. J. Huffman

Cambria Jones

Tamam Kahn

Jean L. Kreiling

Fiona Marshall

Holly Painter

Zara Raab

Andrea Witzke Slot

Linda Stern

Anne-Marie Thompson

Doris Watts

Holly Woodward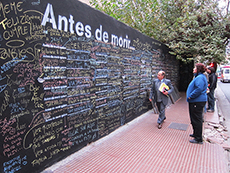 Candy Chang: Meant as a singular experiment, the Before I Die project gained global attention and thanks to passionate people around the world, over 500 Before I Die walls have been created in over 70 countries, including Kazakhstan, Iraq, Haiti, China, Ukraine, Portugal, Japan, Denmark, Argentina, and South Africa.