Sylvia Ashby






Languages



At my death bed I see you there,
kind mailman, considerate stranger,

wiping my brow, smoothing my cover,
watching, waiting, bringing me water.

Holding my hand, you study the wall
or nod to nurses who pass in the hall.

Now you are speaking, in a whisper--
What is that language? So familiar.

I listen once more, though still not sure:
Why is it I know. . .barely a word?








One, Miriam Novick



"1,250,000 words were spoken at the trial, but six million died. One word should have been said for each person."
--Parade, Oct. 29, 1961

One, Miriam Novick,
Israeli librarian,
learned about words
in a ghetto in Poland;
her plea for those
once alive and innocent,
speaks to us in words
from a Sunday supplement:

They called it a trial
but meant instead
a needed memorial
for six million dead,
an anguished Kaddish
they had to make
for themselves, and
for the dead's own sake.

As for Eichmann,
so put him to an end;
hope for consolation,
any, in revenge.
And justice? We know
that word--justice--
have yet to learn
an equal to this.

Still, what else
have we to give,
helpless to make
dead Jews live
but words?
We understand your excuse
for words: speechless
with only words to use.



AUTHOR BIO
Sylvia Ashby's background is in theatre, acting and writing; she's published some fifteen plays for family audiences with thousands of productions. After her short memoir appeared last spring in Anderbo.com she decided to send out poetry. Now she has items appearing or about to appear in lit mags such as Vine Leaves, Right Hand Pointing, Constellations, Glass, Hermes, Abyss & Apex, etc., plus a forthcoming anthology of Black Mountain College poetry. Her theatre website is sylviaashby.com
POETRY CONTRIBUTORS

Melissa Adamo

Sylvia Ashby

Jane Blanchard

Patricia Bollin

Cathleen Calbert

Maryann Corbett

Eleanor Cory

Casey FitzSimons

Nicole Caruso Garcia

Claudia Gary

Edith Goldenhar

A. J. Huffman

Cambria Jones

Tamam Kahn

Jean L. Kreiling

Fiona Marshall

Holly Painter

Zara Raab

Andrea Witzke Slot

Linda Stern

Anne-Marie Thompson

Doris Watts

Holly Woodward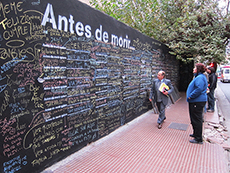 Candy Chang: Meant as a singular experiment, the Before I Die project gained global attention and thanks to passionate people around the world, over 500 Before I Die walls have been created in over 70 countries, including Kazakhstan, Iraq, Haiti, China, Ukraine, Portugal, Japan, Denmark, Argentina, and South Africa.