Zara Raab






Librarians



To the high reading rooms on Shattuck,
spaces ample and legendary,
poets go for camaraderie
and--spreading our papers about--for work.
One lumpen brings his lunch, tucks
his bedding up, and opens his bible
on the long, hardwood table.
He is haloed in golden dreadlocks.
Though Sabbath, here we spend and borrow,
and have our fair share of sprees,
sucking the sweet from Dante's leaves
in stacks only a librarian can burrow.
But what we borrow we must return--
on that the Head Librarian is firm.








Bi-Polar



I understood even my childhood as one--
house of many rooms open for the Guest
who bemoans fate or smiles or sighs or jests
within this pale skin, this arch of bone.
Each morning, invited or not, she comes:
her moods and songs and whims the beings who nest
in the high timbers of my frame, and test
their bright wings in my light, capacious rooms.
But some days my doors flap, I fold my tent,
and to her surprise the Guest is shown bare
floors to sit upon; she must wait half-froze
till other houses open, a convent,
perhaps, a stony dwelling more foursquare,
capstone inscribed beneath a window.








Regrets



Good-byes. I do hate them so.
Arranging our face, we say: "You'll be missed."
True, as far as it goes. But we're also
Happy and relieved, glad it's not us
Falling dead or migrating to Bangladesh.
No, no, we're not the least jealous.,
Though we avoid naming our anguish
At the emptiness the going leaves us.
That can fly like a hardball
To the gut of endings: "What? No sequel?
Tossed back, the words stick in my caw.
If I stay till next year, I can expect
The fine retaliation, "On second thought. . ."
And the flaming sword of my regrets.



AUTHOR BIO
Zara Raab's latest book is Fracas & Asylum. Earlier books are Swimming the Eel and The Book of Gretel, narrative poems of the remote parts of Northern California set in a mythical time. Her work, including book reviews and essays, as well as poems, has appeared in Verse Daily, River Styx, West Branch, Arts & Letters, Crab Orchard Review, Critical Flame, Prime Number, Raven Chronicles, and The Dark Horse. She is a contributing editor to Poetry Flash and The Redwood Coast Review. Rumpelstiltskin, or What's in a Name? was a finalist for the Dana Award. She lives in western Massachusetts.
POETRY CONTRIBUTORS

Melissa Adamo

Sylvia Ashby

Jane Blanchard

Patricia Bollin

Cathleen Calbert

Maryann Corbett

Eleanor Cory

Casey FitzSimons

Nicole Caruso Garcia

Claudia Gary

Edith Goldenhar

A. J. Huffman

Cambria Jones

Tamam Kahn

Jean L. Kreiling

Fiona Marshall

Holly Painter

Zara Raab

Andrea Witzke Slot

Linda Stern

Anne-Marie Thompson

Doris Watts

Holly Woodward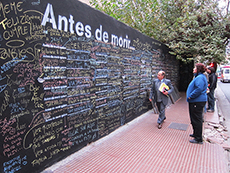 Candy Chang: Meant as a singular experiment, the Before I Die project gained global attention and thanks to passionate people around the world, over 500 Before I Die walls have been created in over 70 countries, including Kazakhstan, Iraq, Haiti, China, Ukraine, Portugal, Japan, Denmark, Argentina, and South Africa.