Cathleen Calbert






Cougars vs. Kittens



"What if I don't want to be a cougar?" I say to the TV.
Apparently, if you're forty, it's cougar. Twenty, kitten.
My television says, "Cougar or Kitten! Which will it be?"

Some guy plies contestants with roses, schmaltz, and Chablis,
causing a cat-fight among girls and women until pronouncing himself smitten.
"What if I don't want to be a cougar?" I say to the TV.

What happened to feminism? I'd ask the producers if they let me.
I say to the TV, "Shouldn't reality-shows at least be better written?"
My television says, "Cougar or Kitten! Which will it be?"

In my pilot, women would befriend girls, give them biscuits and tea.
No fur would fly. Only Snickerdoodles would get bitten.
"What if I don't want to be a cougar?" I say to the TV.

'Cougar' means divorce, dark lipstick, and acrylic nails to me.
Surely, the choice isn't this or a mewling whelp who's lost her mitten?
My television says, "Cougar or Kitten! Which will it be?"

Sistahs, I think. Don't fight over him! That guy's not a great catch! He
shouldn't be the bone of anyone's contention in the U.S. (or Great Britain).
"What if I don't want to be a cougar?" I say to the TV.
My television says, "Cougar or Kitten! Which will it be?"








The Delicate Tyranny of Hairdressers



Oh, they're easy, just takes a bit
of butter, oats, and sugar. Or is it
honey? Coconut? Cinnamon?
Well, so, my daughter, Suze, the one
with the strange baby toe that had to be
sliced off? Lives in Tallahassee?
She's due any day. We're all just starry
-eyed! Can't wait! That hurt you? Sorry.
Your kids are grown, right? What's with the big sigh?
No kids? . . . Sorry. Your hair's so dry!
Wow, you're grayin', darlin.' What? A long page?
It's better shorter at a certain age.
This old thing? No, it's new! Half-off at Sears.
Who can throw away cash these last few years,
am I right or right? What with Obama--
Sit up straight. I'm no ObamaMama--
Neck ache? You want to leave the bangs?
You like my side sweep? Thanks. It hangs
just right. See that? But, darlin', you
have this "natural wave"--see the side view?
"Witch frizz"? You're so funny! Writing,
right? That wasn't my thing. I liked fighting . . .
But now, see, I'm a whiz with hair.
That and baking. Always with the church fair,
it's "Are you going to bring those
Chocolate Delights for the bake sale, Rose?"
And I say, "Count on me, Pastor Billy."
Sit still. Such a Nervous Nelly!
You're always on the run, big things for you
to get done. You don't seem to do
much work though . . . Summers off, easy breezy.
So, my last colonoscopy--








Suburban Sestina



Well, you, my love, are in New York City
while I am here in the North Dartmouth Mall,
eyeing the baked goods at Panera Bread
although I've downed two Grandes at Starbucks.
My goals today are Penney's and the Gap.
Afterwards, I can check out the movies.

I spent most of my teens watching movies,
dreaming of Paris and New York City.
In boring Orange County, the best stopgap
I could find for café life was the mall.
I sighed and slouched like a movie star: bucks
untied, jeans tight (a mall-rat, born and bred).

This afternoon, I'm in the mood for bread-
pudding and then Milk Duds at the movies.
I just got nonfat lattes at Starbucks,
so I will look good for New York City.
On your last visit you sniffed at the mall
and spoke of our "communication gap."

God, remember the "Generation Gap"?
When we went from Wonder to whole grain bread,
preferred Mom & Pops to the sterile mall,
and referred to "films" instead of "movies"?
All cool cats had "pads" in New York City,
and there was no such thing as a Starbucks.

My goal back then? "Literary Star." Bux-
om, talented, and tough, I'd close the gap
separating me from New York City
literati who bought baguettes, not bread,
and who'd option my work for the movies.
Now I spend my Sundays here at the mall,

but it's really not that bad at the mall.
It's safer than an urban Starbucks.
Plus, I don't wait in line at the movies.
There are huge sales at Penney's and the Gap,
and Olive Garden provides endless bread-
sticks. Why starve to impress New York City?

You're in New York City; I'm at the mall.
You're too well-bred for a boondocks Starbucks
and this gap-toothed kid in love with movies.



AUTHOR BIO
Cathleen Calbert's poetry and prose have appeared in many publications, including Ms. Magazine, The New York Times, The Paris Review, and Poetry. She is the author of three books of poetry: Lessons in Space (University of Florida Press), Bad Judgment (Sarabande Books), and Sleeping with a Famous Poet (C.W. Books). She also has been awarded The Nation Discovery Award, a Pushcart Prize, and the Mary Tucker Thorp Award from Rhode Island College, where she is a Professor of English. Her website is www.cathleencalbert.com.
POETRY CONTRIBUTORS

Melissa Adamo

Sylvia Ashby

Jane Blanchard

Patricia Bollin

Cathleen Calbert

Maryann Corbett

Eleanor Cory

Casey FitzSimons

Nicole Caruso Garcia

Claudia Gary

Edith Goldenhar

A. J. Huffman

Cambria Jones

Tamam Kahn

Jean L. Kreiling

Fiona Marshall

Holly Painter

Zara Raab

Andrea Witzke Slot

Linda Stern

Anne-Marie Thompson

Doris Watts

Holly Woodward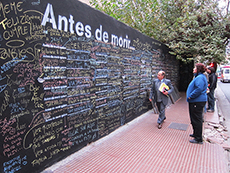 Candy Chang: Meant as a singular experiment, the Before I Die project gained global attention and thanks to passionate people around the world, over 500 Before I Die walls have been created in over 70 countries, including Kazakhstan, Iraq, Haiti, China, Ukraine, Portugal, Japan, Denmark, Argentina, and South Africa.