Jean L. Kreiling






Family Reunion Photo Taken on a Cruise Ship



Much later, we would recognize our last
hurrah: this moment, hanging on my wall.
Afloat, well-fed, we never guessed how fast
a wave like ours could curl its lip and fall.
The sunshine sparkled, and we had no trouble
reflecting it; twelve pairs of eyes were full
of ocean blue, and still blind to the bubble
that barely held our luck. The tide would pull
us under soon. The faces are now paler
and fewer: chemotherapy, divorce,
a sudden death, and a financial failure
have crossed our stars to chart a darker course.
The photograph depicts the pleasure cruise
that was our lives--a portrait of old news.








Brahms on Interstate 95



"All the heart wants is to be called again."
--Rhina P. Espaillat, "Rachmaninoff on the Mass Pike"

I'm south of Boston when I hear the first
huge thuds of timpani, and I'm immersed
in waves of urgent sound. Although I stay
alert to passing semis, and don't stray
from my lane, Brahms' first symphony demands
attention. So again my heart expands
to heed this artful call, its every tone
as satisfying as a rhyme, well-known
but not predictable, not quite. Because
tread wears and time relaxes nature's laws,
the same notes make a tune that's not the same,
despite its unchanged spelling--as my name
links constant letters to a self that varies
with every breath. Like me, the music carries
a shifting load, and after years of miles,
I don't imagine that it reconciles
the past and present, nor can Brahms remove
the billboards that I speed past, or improve
the strip-mall scenery. He only wrote--
in circumstances notably remote
from mine--some small black marks, a sort of code
interpreted by those who've breathed and bowed
his old ideas alive again, to sing
inside my car, my ear, my blood. They ring
in tune with all that hums in me already:
regrets as dark as cellos, faith as steady
as straight-stemmed quarter notes, riddles as dense
as dissonance. I'm not drawn by suspense--
I know exactly how this ends--but still
I have to listen, beckoned by his will
and my need. As I sit in my parked car,
well north of Boston now (I've traveled far
more distance than the map would show), I wait
to hear the final chords reiterate
C major: not exactly victory,
but resolution, made of harmony
that fills my lungs. My driving's more aggressive
these days, my search for cheap gas less obsessive,
but Brahms still calls my flesh and bones and cells,
and they reverberate like living bells.








The Playlist of the Woeful Middle-Aged Man



Old pop songs pandering to his regrets
renew the failures of old fantasies,
recalling woes a wiser man forgets.

Dan Fogelberg or Billy Joel upsets
his mid-life calm; he weeps at minor keys
in old songs pandering to his regrets.

He's "Blue" with Joni Mitchell, JT sets
him off with "Lonesome Road," and each reprise
recalls the woes a wiser man forgets.

As Crosby, Stills, and Nash croon on cassettes,
he's "Helplessly Hoping," brought to his knees
by pop songs pandering to his regrets.

Although catharsis never comes, he lets
his iPod replay Carly's elegies,
and dwells on woes a wiser man forgets.

He sighs with Harry Chapin, and he frets
to Bonnie Raitt's raw-silk soliloquies--
old pop songs pandering to his regrets,
recalling woes a wiser man forgets.



AUTHOR BIO
Jean L. Kreiling's first full-length collection of poems, The Truth in Dissonance, was published in July 2014. Her work has appeared widely in print and online journals, including American Arts Quarterly, Angle, The Evansville Review, Measure, and Raintown Review, and in several anthologies. She is a past winner of the String Poet Prize and the Able Muse Write Prize; she has been a finalist for the Richard Wilbur Poetry Award, the Howard Nemerov Sonnet Award, the Frost Farm Prize, and the Dogwood Poetry Prize.
POETRY CONTRIBUTORS

Melissa Adamo

Sylvia Ashby

Jane Blanchard

Patricia Bollin

Cathleen Calbert

Maryann Corbett

Eleanor Cory

Casey FitzSimons

Nicole Caruso Garcia

Claudia Gary

Edith Goldenhar

A. J. Huffman

Cambria Jones

Tamam Kahn

Jean L. Kreiling

Fiona Marshall

Holly Painter

Zara Raab

Andrea Witzke Slot

Linda Stern

Anne-Marie Thompson

Doris Watts

Holly Woodward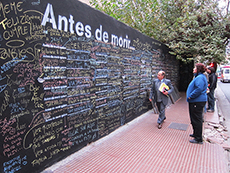 Candy Chang: Meant as a singular experiment, the Before I Die project gained global attention and thanks to passionate people around the world, over 500 Before I Die walls have been created in over 70 countries, including Kazakhstan, Iraq, Haiti, China, Ukraine, Portugal, Japan, Denmark, Argentina, and South Africa.