Edith Goldenhar






Rake



How do you make a moral life? Sophie
writes, and later I head to the garden
with ball of string to save my infant pea
shoots, tying them on rusty wrought iron.
Thank blooming green tulips, thank cilantro
and geraniums in cedar boxes.
I'm stumped. Humility? Among my hunches--
woman kneeling in dirt, anonymous.
But a garden's also good for killing.
These days I prune broken wisteria,
pound snails with a red mallet, rake yellow
thatch off the lawn, almost delirious
because tools cut and shred--my shovel flies.
Soil sweetened with manure, and what dies.








Dig



My love's late wife had a black thumb, thus
I dig and dig, queenly. My compost heap
needs turning: her many sweaters, her brooch
--a dazzling slug in lapis lazuli--
all journals and artwork, pink manicure
case, cosmetics tossed through a bathroom
window. Stop. Throw nothing out. Are we sure
dead is dead? A yellow painting, exhumed
from her studio, hangs behind my desk.
I'm gazing out my window at zinnias,
a single watermelon, and cascades
of yarrow. And sunflowers. Didn't I
hear you, Sue? From wherever you scattered?
When will you bless me? As if it mattered.



AUTHOR BIO
Edith Goldenhar's poems have appeared or are forthcoming in deCOMP, The Alembic, Whiskey Island, Salamander, Indiana Review, and Laurel Review. As a writer on progressive social change, she has articles and op-eds in such journals as The Stanford Social Innovation Review and The Chronicle of Philanthropy. She lives in Jackson Heights, NY.
POETRY CONTRIBUTORS

Melissa Adamo

Sylvia Ashby

Jane Blanchard

Patricia Bollin

Cathleen Calbert

Maryann Corbett

Eleanor Cory

Casey FitzSimons

Nicole Caruso Garcia

Claudia Gary

Edith Goldenhar

A. J. Huffman

Cambria Jones

Tamam Kahn

Jean L. Kreiling

Fiona Marshall

Holly Painter

Zara Raab

Andrea Witzke Slot

Linda Stern

Anne-Marie Thompson

Doris Watts

Holly Woodward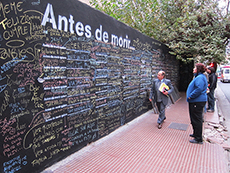 Candy Chang: Meant as a singular experiment, the Before I Die project gained global attention and thanks to passionate people around the world, over 500 Before I Die walls have been created in over 70 countries, including Kazakhstan, Iraq, Haiti, China, Ukraine, Portugal, Japan, Denmark, Argentina, and South Africa.