Jane Blanchard






Henceforth



I often wonder what life would have been
if we had married many years ago,
been spared the wounding memories that show
no whit of pity time and time again.
"We" always would refer to you and me;
our children would belong to both of us;
our wallets would be full, our health no fuss,
upon our silver anniversary.
You counter that we never could retire
had we ten children, then cite the belief
that all works for our good, since without grief
we would not be the ones we so desire.
It's better not to look behind and fret,
but to lean forward and forget regret.








February



With rain so hard and wind so strong,
The shortest month can seem so long;
I can but write a simple song
And wish the calendar were wrong.

Come summer, I shall miss the cold
That makes this month grow much too old;
But now, with words more raw than bold,
I play the role of winter's scold.








Wings and Things



While it is true--birds of a feather
most often tend to flock together--
my avian menagerie
proves yet the practicality
of tolerating lots that feed
upon the blended stash of seed
available in my back yard
when winter makes survival hard.

Each cardinal with orange bill
must share the trough to eat its fill
with speckled dove who keeps good pace
but takes up so much perching space
that chickadee, though wee, must then
stand far too close to some stray wren
until a single surly jay
alights and frightens all away.



AUTHOR BIO
Jane Blanchard studied English at Wake Forest before earning a doctorate from Rutgers. She currently divides her time between Augusta and Saint Simon's Island, Georgia. Her other work has recently appeared in Blue Unicorn, Hitherto, POEM, The Rotary Dial, and Tar River Poetry. She is looking forward to participating in the 2015 Ossabaw Island Writers' Retreat.
POETRY CONTRIBUTORS

Melissa Adamo

Sylvia Ashby

Jane Blanchard

Patricia Bollin

Cathleen Calbert

Maryann Corbett

Eleanor Cory

Casey FitzSimons

Nicole Caruso Garcia

Claudia Gary

Edith Goldenhar

A. J. Huffman

Cambria Jones

Tamam Kahn

Jean L. Kreiling

Fiona Marshall

Holly Painter

Zara Raab

Andrea Witzke Slot

Linda Stern

Anne-Marie Thompson

Doris Watts

Holly Woodward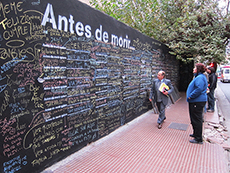 Candy Chang: Meant as a singular experiment, the Before I Die project gained global attention and thanks to passionate people around the world, over 500 Before I Die walls have been created in over 70 countries, including Kazakhstan, Iraq, Haiti, China, Ukraine, Portugal, Japan, Denmark, Argentina, and South Africa.