A.M. Thompson






The Quickening



(written the night after we mailed our application to adopt our daughter from China)

Your father saw you in a dream last night,
as clear and cherished as a photograph.
We were just days acquainted and yet kin,
our family portrait: beaming in the cold
a baby and two Westerners embrace.
A jumble, falling into sudden love
still stunned and unexplored. We hug and grin
in matching winter hats, cornflower blue
against the ancient reds and golds. The steps
of China's massive history loom behind,
almost in reach. Yet vast, unknowable:
a past forever lost to all but dreams.
Before the Forbidden City, drawn by love:
Three strangers in blue hats amid the crowd.







Burning Fallow Fields



It comes back at the moment of inhaling:
that sweetly acrid smell of meadows burning.

Unseen, the hand that bound the oily rags
securely to a pole and struck a match,

a timeless acolyte. Working alone
in fading dark, he passed from row to row

across uneven tracks, the shallow scars
that harvest leaves on earth. It seems so far

ago, last fall, before a winter's sorrow.
Still, he persists in lighting fallow furrows.

Dry tussocks twist, then pirouette and catch.
Uncoiling smoke snakes out across the thatch.

You notice, brake, and open up the vent
to take in seeing as you take in scent:

The blackened lines. Another morning grows
progressively more light. At once you know

that this is how your life, new life, must start:
that this is how spring reckons with the heart.



AUTHOR BIO
A.M. Thompson's poetry, essays, and vignettes have been published in Europe (Acumen, Staple, Vine Leaves, Best of Vine Leaves 2013) and the U.S. (ARDOR, Blast Furnace, Leopard Seal, Philosophy After Dark, Tupelo Press 30/30, Best New Writing 2014). She was short-listed for the 2014 Robert Frost Foundation contest (poetry), and was a 2014 Eric Hoffer Award finalist (fiction). Thompson's upcoming publications include poetry in The North (UK, Oct 2014) and Tupelo Press' Best of 30/30 Anthology (TBD 2014). Over 30 years, her salaried positions have ranged from graphic design to massage therapy. She lives with her husband and daughter outside Washington DC, where she edits certification exams for the American Nurses Credentialing Center.
POETRY CONTRIBUTORS

Melissa Balmain

Judith Barrington

Meredith Bergmann

Jane Blanchard

Cally Conan-Davies

Barbara Lydecker Crane

Mary Cresswell

Rebekah Curry

Anna Evans

Marcene Gandolfo

Claudia Gary

Gwen Hart

A. J. Huffman

Kathryn Jacobs

Geneva Kachman

Joan Mazza

Susan McLean

Sally Nacker

Janice D. Soderling

A. M. Thompson

Cara Valle

Marly Youmans

Seree Zohar

>We are pleased to announce that Anne-Marie Thompson is the recipient of the Mezzo Cammin scholarship at the West Chester University Poetry Conference and Wendy Sloan is the recipient of The Mezzo Cammin Women Poets Timeline Project scholarship.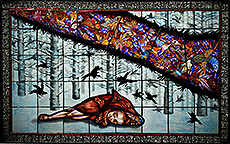 Judith Schaecter: I found the beauty of stained glass to be the perfect counterpoint to ugly and difficult subjects. Although the figures I work with are supposed to be ordinary people doing ordinary things, I see them as having much in common with the old medieval windows of saints and martyrs. They seem to be caught in a transitional moment when despair becomes hope or darkness becomes inspiration. They seem poised between the threshold of everyday reality and epiphany, caught between tragedy and comedy.

My work is centered on the idea of transforming the wretched into the beautiful--say, unspeakable grief, unbearable sentimentality or nerve wracking ambivalence, and representing it in such a way that it is inviting and safe to contemplate and captivating to look at. I am at one with those who believe art is a way of feeling ones feelings in a deeper, more poignant way.

I would describe my process as derived almost entirely from traditional techniques in use for centuries. The imagery is predominantly engraved into layers of glass; only the black and yellow are painted and fired on in a kiln. The pieces are soldered together in a copperfoil and lead matrix.