Janice D. Soderling






Gold Sonnet



This grain of gold close hoarded in my heart
gleams bright only for me. Gal pals all laugh
or sigh: Hey girl, think twice, move on, get smart!
Friends brush off my defenses like dry chaff:
Just face the facts and kiss the past good-bye.
Of course I am aware that I have been
hornswoggled, swindled, gorged on humble pie.
I also know I heard a violin.

I've thrashed through all the phases from banzai
attack through tears, hate, holier-than-thou,
to come full circle as the years rushed by.
I find familiar joy attending how
you looked my way in love, were wild and bold.
Oh, how it shines this evening, my fool's gold.








Poem for Nobody



In the attic room
on the northwest side,
there's the bouncing of a ball.

In the somber gloom
if you stare sharp-eyed,
there's nobody there at all.

But a sweeping broom
like the witch-wives ride
throws a shadow on the wall.

And a rosebud bloom
with a worm inside
and a young child's plaintive call.

Such a strange perfume
from the baleful bride,
like blood on a blade so small.

In the attic room,
if you stare sharp-eyed,
there's nobody there at all.
Just a knife and a bouncing ball.
Just a plaintive high-pitched call.
Nobody there at all.




AUTHOR BIO
Janice D. Soderling is a previous contributor to Mezzo Cammin. She has recent and forthcoming work at Rattle, Hobart, Per Contra, Raintown Review, One Sentence Poems, B O D Y, Poetry Storehouse, Alabama Literary Review, Measure, and The Evansville Review. She reads her poems at TransAtlantic Poetry Online. Janice D. Soderling is assistant fiction editor at Able Muse and poetry editor at Frostwriting.
POETRY CONTRIBUTORS

Melissa Balmain

Judith Barrington

Meredith Bergmann

Jane Blanchard

Cally Conan-Davies

Barbara Lydecker Crane

Mary Cresswell

Rebekah Curry

Anna Evans

Marcene Gandolfo

Claudia Gary

Gwen Hart

A. J. Huffman

Kathryn Jacobs

Geneva Kachman

Joan Mazza

Susan McLean

Sally Nacker

Janice D. Soderling

A. M. Thompson

Cara Valle

Marly Youmans

Seree Zohar

>We are pleased to announce that Anne-Marie Thompson is the recipient of the Mezzo Cammin scholarship at the West Chester University Poetry Conference and Wendy Sloan is the recipient of The Mezzo Cammin Women Poets Timeline Project scholarship.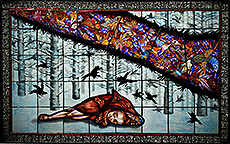 Judith Schaecter: I found the beauty of stained glass to be the perfect counterpoint to ugly and difficult subjects. Although the figures I work with are supposed to be ordinary people doing ordinary things, I see them as having much in common with the old medieval windows of saints and martyrs. They seem to be caught in a transitional moment when despair becomes hope or darkness becomes inspiration. They seem poised between the threshold of everyday reality and epiphany, caught between tragedy and comedy.

My work is centered on the idea of transforming the wretched into the beautiful--say, unspeakable grief, unbearable sentimentality or nerve wracking ambivalence, and representing it in such a way that it is inviting and safe to contemplate and captivating to look at. I am at one with those who believe art is a way of feeling ones feelings in a deeper, more poignant way.

I would describe my process as derived almost entirely from traditional techniques in use for centuries. The imagery is predominantly engraved into layers of glass; only the black and yellow are painted and fired on in a kiln. The pieces are soldered together in a copperfoil and lead matrix.