A.J. Huffman






A Pessimist is Born



Lightbulb.
Epiphany.
Thought becomes clairvoyant,
I see the world as glass, almost
empty.







What Mind's Shadows Hold



Regret.
A memory
caught in spotlight. A ghost
haunting every thought. A whispered:
Good-bye.



AUTHOR BIO
A.J. Huffman has published five solo chapbooks and one joint chapbook through various small presses. Her sixth solo chapbook will be published in October by Writing Knights Press. She is a Pushcart Prize nominee, and the winner of the 2012 Promise of Light Haiku Contest. Her poetry, fiction, and haiku have appeared in hundreds of national and international journals, including Labletter, The James Dickey Review, Bone Orchard, EgoPHobia, Kritya, and Offerta Speciale, in which her work appeared in both English and Italian translation. She is also the founding editor of Kind of a Hurricane Press.
POETRY CONTRIBUTORS

Melissa Balmain

Judith Barrington

Meredith Bergmann

Jane Blanchard

Cally Conan-Davies

Barbara Lydecker Crane

Mary Cresswell

Rebekah Curry

Anna Evans

Marcene Gandolfo

Claudia Gary

Gwen Hart

A. J. Huffman

Kathryn Jacobs

Geneva Kachman

Joan Mazza

Susan McLean

Sally Nacker

Janice D. Soderling

A. M. Thompson

Cara Valle

Marly Youmans

Seree Zohar

>We are pleased to announce that Anne-Marie Thompson is the recipient of the Mezzo Cammin scholarship at the West Chester University Poetry Conference and Wendy Sloan is the recipient of The Mezzo Cammin Women Poets Timeline Project scholarship.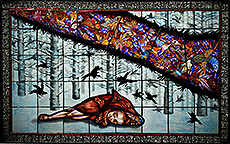 Judith Schaecter: I found the beauty of stained glass to be the perfect counterpoint to ugly and difficult subjects. Although the figures I work with are supposed to be ordinary people doing ordinary things, I see them as having much in common with the old medieval windows of saints and martyrs. They seem to be caught in a transitional moment when despair becomes hope or darkness becomes inspiration. They seem poised between the threshold of everyday reality and epiphany, caught between tragedy and comedy.

My work is centered on the idea of transforming the wretched into the beautiful--say, unspeakable grief, unbearable sentimentality or nerve wracking ambivalence, and representing it in such a way that it is inviting and safe to contemplate and captivating to look at. I am at one with those who believe art is a way of feeling ones feelings in a deeper, more poignant way.

I would describe my process as derived almost entirely from traditional techniques in use for centuries. The imagery is predominantly engraved into layers of glass; only the black and yellow are painted and fired on in a kiln. The pieces are soldered together in a copperfoil and lead matrix.