Marcene Gandolfo






Taking Down the Crib



You turn the metric wrench until each rivet
falls to carpet and place each unused piece
into the wooden box. We feel the weight
and carry it away. Now just a press
against the rug, a smudge of dust, no stain
too great to be erased. Except one streak
of light across the wall. It must have been
a sunbeam through the window, against bleak
blue paint. It bleached a line white. It's best
not to ask questions of what can't be explained
so I'll pull the blinds, close the door, won't guess
why this light shone, why another waned
in the house where we pretend to forget
in the empty room where no child slept.







Sometimes, Silence



Evening came early
through the kitchen window.
A pot of black tea was steeping.

Too much to do--
beds unmade, laundry unfolded.
Today evening came so early.

I wanted to call, tell you
the story. I could feel
the black tea steeping.

Had so much to say,
rehearsed it so well
then evening came early.

Now I fumble the words
as I fold the clothes as the pot
of black tea is steeping.

Sometimes silence is kinder.
Some days, light is thin,
and evening comes early,
a pot of black tea, steeping.


AUTHOR BIO
Marcene Gandolfo's work has appeared recently in several journals, including DMQ Review, Harpur Palate, Bayou, Poet Lore, Van Gogh's Ear, The Café Review, Paterson Literary Review, River Oak Review, Inertia, Georgetown Review and Red Rock Review. Her first full-length collection of poems, Angles of Departure, is from Cherry Grove Collections/WordTech Communications. She teaches literature and writing at Sacramento City College and UC Davis.
POETRY CONTRIBUTORS

Melissa Balmain

Judith Barrington

Meredith Bergmann

Jane Blanchard

Cally Conan-Davies

Barbara Lydecker Crane

Mary Cresswell

Rebekah Curry

Anna Evans

Marcene Gandolfo

Claudia Gary

Gwen Hart

A. J. Huffman

Kathryn Jacobs

Geneva Kachman

Joan Mazza

Susan McLean

Sally Nacker

Janice D. Soderling

A. M. Thompson

Cara Valle

Marly Youmans

Seree Zohar

>We are pleased to announce that Anne-Marie Thompson is the recipient of the Mezzo Cammin scholarship at the West Chester University Poetry Conference and Wendy Sloan is the recipient of The Mezzo Cammin Women Poets Timeline Project scholarship.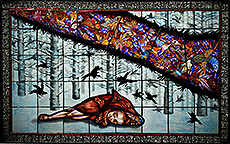 Judith Schaecter: I found the beauty of stained glass to be the perfect counterpoint to ugly and difficult subjects. Although the figures I work with are supposed to be ordinary people doing ordinary things, I see them as having much in common with the old medieval windows of saints and martyrs. They seem to be caught in a transitional moment when despair becomes hope or darkness becomes inspiration. They seem poised between the threshold of everyday reality and epiphany, caught between tragedy and comedy.

My work is centered on the idea of transforming the wretched into the beautiful--say, unspeakable grief, unbearable sentimentality or nerve wracking ambivalence, and representing it in such a way that it is inviting and safe to contemplate and captivating to look at. I am at one with those who believe art is a way of feeling ones feelings in a deeper, more poignant way.

I would describe my process as derived almost entirely from traditional techniques in use for centuries. The imagery is predominantly engraved into layers of glass; only the black and yellow are painted and fired on in a kiln. The pieces are soldered together in a copperfoil and lead matrix.