Kathryn Jacobs






For Romona



You need a sitter, that's all. And your son
is on machines, and that means tubes, and so
you can't help asking--favors, really, since

you can't afford much. "Look, if anyone's
available out there, please let me know.
That I can trust I mean, because" (you wince,

apologizing); he keeps pulling on
the tubes; I have to change them. And he's two,
so sometimes he feels poked at. Oh, please rinse

the plastic parts in vinegar? Forget
when I'm not there--it matters; he could die
of the infection--" Scares them; you should try
to stress less maybe. "God, if she should quit--
Look, I'm convinced he likes you!" (kiss goodbye).







Sweet Dreams



When we sing lullabies, we leave out things
like 'death' and 'mutilation.' We don't sing
of children stomped by giants, or roast boys
in gingerbread constructions; we save those

for day consumption, safely watered down.
Like elevator-music for the young
we make them bland and boring--and the child
fills in the details. Don't think she's beguiled

by your convenient lumberjack; it's teeth
that keeps her coming back, and underneath
that lurking question, who ate grandma? In
the bedtime stories giants never win--

but we know just how close they come. Farewell
for twelve more hours; that was wild. Don't tell.


AUTHOR BIO
Kathryn Jacobs is editor of The Road Not Taken and professor at Texas A & M - C. She has published four volumes of poetry, some fifteen articles, and over 150 poems in Mezzo Cammin, Measure, The New Formalist, Raintown Review, Whiskey Island, Xavier Review and Poetry and South, among others.
POETRY CONTRIBUTORS

Melissa Balmain

Judith Barrington

Meredith Bergmann

Jane Blanchard

Cally Conan-Davies

Barbara Lydecker Crane

Mary Cresswell

Rebekah Curry

Anna Evans

Marcene Gandolfo

Claudia Gary

Gwen Hart

A. J. Huffman

Kathryn Jacobs

Geneva Kachman

Joan Mazza

Susan McLean

Sally Nacker

Janice D. Soderling

A. M. Thompson

Cara Valle

Marly Youmans

Seree Zohar

>We are pleased to announce that Anne-Marie Thompson is the recipient of the Mezzo Cammin scholarship at the West Chester University Poetry Conference and Wendy Sloan is the recipient of The Mezzo Cammin Women Poets Timeline Project scholarship.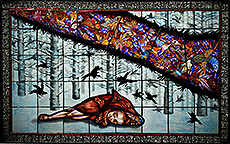 Judith Schaecter: I found the beauty of stained glass to be the perfect counterpoint to ugly and difficult subjects. Although the figures I work with are supposed to be ordinary people doing ordinary things, I see them as having much in common with the old medieval windows of saints and martyrs. They seem to be caught in a transitional moment when despair becomes hope or darkness becomes inspiration. They seem poised between the threshold of everyday reality and epiphany, caught between tragedy and comedy.

My work is centered on the idea of transforming the wretched into the beautiful--say, unspeakable grief, unbearable sentimentality or nerve wracking ambivalence, and representing it in such a way that it is inviting and safe to contemplate and captivating to look at. I am at one with those who believe art is a way of feeling ones feelings in a deeper, more poignant way.

I would describe my process as derived almost entirely from traditional techniques in use for centuries. The imagery is predominantly engraved into layers of glass; only the black and yellow are painted and fired on in a kiln. The pieces are soldered together in a copperfoil and lead matrix.