Gwen Hart






Galatea Comes to Life



I couldn't breathe. His lips were on my lips,
his tongue was in my mouth--his hair, my nose--
the tangle so complete--his hands, my hips--
I couldn't free myself or break the pose

he'd carved me in. Then he lost his grip,
stumbled backwards, looked at me and froze.
I sucked in air, my stomach doing flips.
Cautiously, he inspected me up-close,

gently circling his fingertips
around my navel, down to my thighs, my toes.
He said we should get married, hurried to slip
my arm in a sleeve, button up my clothes.

He took my hand. He said we had to go.
I learned to say yes before I could say no.







To Pygmalion



It's easy to love a woman who doesn't move
or make a face or threaten to just walk
right out that door, who doesn't have to prove
she's going to the grocery store and back--
that's all. It's easy when she doesn't talk
or sigh or whimper, easy to believe
you know exactly what she'd like, to gawk
up at her breasts and shoulders, at the stone
you've carved to look like other girls you've known,
their curves perfected now, rendered--minus
the moles and scars--with an alabaster knife.
You sob and clutch her waist, praying to Venus,
who hears your plea for a soft and supple wife,
and pities Galatea, grants her life.







Narcissus after Making Love



He inhales a sweetness, there at the back of her neck.
It's not perfume; he knows she never wears
any. So what is it that he detects--
a powder? No, nor pomade in her hair.

He investigates her cheeks, her breasts, her arms,
even her knees and ankles prick his nose.
The aroma's subtle, magical, and warm--
not honeysuckle, lavender, or rose.

What garden has she walked through? What strange blossom
has she picked? He bends again to kiss
her neck, and begs her, "Tell me what this custom
potion is, this fragrance I can't resist?"

She laughs at him, his nose pressed to her skin:
"It's only your own scent, you fool, rubbed in."







Kissing in the Rain



is overrated, claims my jaded student.
"I know someone who tried it," says another,
rolling her eyes. I picture a couple, heads bent
together, no umbrella. They're getting wetter

by the second. His shirt is plastered against
his chest, and her mascara's turned to ink
and drawn calligraphy down her cheek. The fence
they lean on bends and sways--yet they don't think

it's overrated. Their lips are warm, the rain
is cool. His hand is sliding inside her dress.
My students have moved on. Now they complain
a swimming pool is no place to have sex.

"Just think about it," they insist, winking.
I know two hours from now I'll still be thinking.


AUTHOR BIO
Gwen Hart teaches writing at Buena Vista University. Her story "This Is a Good Idea" won 2nd place in the 2013 International Women Who Write prose and poetry contest. Her poetry and fiction have appeared in literary journals such as Measure, Calliope, Lake Effect, and Open to Interpretation. Her poetry collection Lost and Found is available from David Robert Books. She and her husband live in Storm Lake, Iowa, with over 300 lbs of Newfoundland dogs.
POETRY CONTRIBUTORS

Melissa Balmain

Judith Barrington

Meredith Bergmann

Jane Blanchard

Cally Conan-Davies

Barbara Lydecker Crane

Mary Cresswell

Rebekah Curry

Anna Evans

Marcene Gandolfo

Claudia Gary

Gwen Hart

A. J. Huffman

Kathryn Jacobs

Geneva Kachman

Joan Mazza

Susan McLean

Sally Nacker

Janice D. Soderling

A. M. Thompson

Cara Valle

Marly Youmans

Seree Zohar

>We are pleased to announce that Anne-Marie Thompson is the recipient of the Mezzo Cammin scholarship at the West Chester University Poetry Conference and Wendy Sloan is the recipient of The Mezzo Cammin Women Poets Timeline Project scholarship.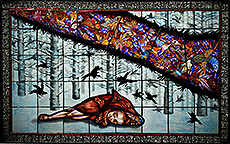 Judith Schaecter: I found the beauty of stained glass to be the perfect counterpoint to ugly and difficult subjects. Although the figures I work with are supposed to be ordinary people doing ordinary things, I see them as having much in common with the old medieval windows of saints and martyrs. They seem to be caught in a transitional moment when despair becomes hope or darkness becomes inspiration. They seem poised between the threshold of everyday reality and epiphany, caught between tragedy and comedy.

My work is centered on the idea of transforming the wretched into the beautiful--say, unspeakable grief, unbearable sentimentality or nerve wracking ambivalence, and representing it in such a way that it is inviting and safe to contemplate and captivating to look at. I am at one with those who believe art is a way of feeling ones feelings in a deeper, more poignant way.

I would describe my process as derived almost entirely from traditional techniques in use for centuries. The imagery is predominantly engraved into layers of glass; only the black and yellow are painted and fired on in a kiln. The pieces are soldered together in a copperfoil and lead matrix.