Jane Blanchard






Keepsakes



For months dust fell upon the ring, size ten,
inscribed to you from me. The bedside stand
bore well the weight of love abandoned. When
you came back home to stake a claim, my hand
no longer wore the size-five wedding band
inscribed to me from you, for I had sold
the yellow metal for scrap value and
reset one stone in a pendant of white gold.
Astounded that your wife could be so bold,
you muttered utter anguish. Undeterred
I loosed the pain too long restrained, untold,
then showed you out without another word.
Door shut, my voice turned verse. I soon must choose
better from worse, which gems to use or lose.







Mother to Daughter



Whatever has happened to Jane?
I don't even know who you are.
You are completely unreasonable.
You only think of yourself.

Who do you think you are?
You never do anything for me.
You only think of yourself.
You must care nothing about me.

What do you do for me?
When do you pay me a visit?
Do you care nothing about me?
What is the matter with you?

You never pay me a visit.
You never pick up the phone.
What is the matter with you?
No person can be that busy.

Why don't you pick up the phone?
You must be incredibly selfish.
What person can be that busy?
No wonder you can't keep a man.

You are incredibly selfish.
You are completely unreasonable.
No wonder you can't keep a man.
Whatever has happened to Jane?







Mail Call



Who cares about the how or why or when--
the Postal Service has gone broke again.
No news flash here. It runs through cash much faster
than Congress can respond to such disaster.
But now it has just issued a release
that Saturday delivery will cease.

Impatient patrons may be less than keen
to wait till Monday for a magazine,
a catalogue, even a bill, as though
speed ever were this eagle's status quo,
as if each second-class solicitation
displayed a too-soon date of expiration.

And while my mate may like the ritual
of getting weekend mail to mull or cull,
I can do well without the extra lot
addressed to those old ghosts who once chose not
to come back home--a former child or spouse
who never lived or loved in this our house.


AUTHOR BIO
Jane Blanchard studied English at Wake Forest before earning a doctorate from Rutgers. She currently divides her time between Augusta and Saint Simon's Island, Georgia. Her other work appears this season in Noctua Review, Orbis, Penwood Review, and River Poets Journal. She is looking forward to participating in the 2014 Sewanee Writers' Conference.
POETRY CONTRIBUTORS

Melissa Balmain

Judith Barrington

Meredith Bergmann

Jane Blanchard

Cally Conan-Davies

Barbara Lydecker Crane

Mary Cresswell

Rebekah Curry

Anna Evans

Marcene Gandolfo

Claudia Gary

Gwen Hart

A. J. Huffman

Kathryn Jacobs

Geneva Kachman

Joan Mazza

Susan McLean

Sally Nacker

Janice D. Soderling

A. M. Thompson

Cara Valle

Marly Youmans

Seree Zohar

>We are pleased to announce that Anne-Marie Thompson is the recipient of the Mezzo Cammin scholarship at the West Chester University Poetry Conference and Wendy Sloan is the recipient of The Mezzo Cammin Women Poets Timeline Project scholarship.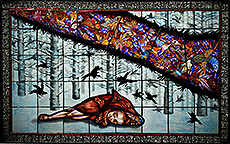 Judith Schaecter: I found the beauty of stained glass to be the perfect counterpoint to ugly and difficult subjects. Although the figures I work with are supposed to be ordinary people doing ordinary things, I see them as having much in common with the old medieval windows of saints and martyrs. They seem to be caught in a transitional moment when despair becomes hope or darkness becomes inspiration. They seem poised between the threshold of everyday reality and epiphany, caught between tragedy and comedy.

My work is centered on the idea of transforming the wretched into the beautiful--say, unspeakable grief, unbearable sentimentality or nerve wracking ambivalence, and representing it in such a way that it is inviting and safe to contemplate and captivating to look at. I am at one with those who believe art is a way of feeling ones feelings in a deeper, more poignant way.

I would describe my process as derived almost entirely from traditional techniques in use for centuries. The imagery is predominantly engraved into layers of glass; only the black and yellow are painted and fired on in a kiln. The pieces are soldered together in a copperfoil and lead matrix.