Mary Cresswell






Magnetic North



The roads unwind within us.
It is not time's undone us,
but we ourselves, who ravel
the thread by which we travel.
Judith Wright, "For the loved and the unloved"

Maps impossible to refold
are replaced by robot voices
who send us
where we think we want to go.
But we end up somewhere else.
The roads unwind within us

so we despair. New coordinates,
new lines of sight, don't help at all.
It's no use,
we plead, let's go home. It's time
to stop, but now we suspect
it is not time's undone us,

it's ships--it's shoes--it's sealing wax--
too big a mess to sort out facts
from rubble
and construct a foolproof road.
We throw out the printed plans.
But we ourselves, who ravel

chaos, will step out yet again
trail-blazing fresh and different tracks.
External
strangeness needn't change our bent.
Somehow, some way we know this is
the thread by which we travel.








One World



The situation continues to evolve....perhaps significantly.
[News broadcast]

Hostages sit still. No one dares to move.
One sun moves across the sky, then another.
The situation continues to evolve.
No one knows what comes hereafter.

The sun has crossed the sky. Another
man moves up. He takes the first one's place.
I know that love is not hereafter.
I cannot see my captor's face.

The new man moves to a higher place,
triumphant, smirking as he stalks.
He glares at the women face by face
He raises his gun. He turns. He jokes.

He's chewing gum. When he talks
the others listen. They nod their heads.
Will I be the first to crack?
Be still, my breath; be still, my hands.

What next? What now? What are the odds?
Still we sit still. No one dares to move.
We are completely in their hands.
The situation continues to evolve.







Back Again



The blue starfish will see
its arms grow back again:
It always works this way:
they must grow back again.

Cats come down from the roof,
bored with being lost.
They circle me, crying for food,
and then slink back again.

I lost my place in the book--
can the endnotes save me?
To find where I left off,
I'll turn to the back again.

Why was I heartless?
An excitation of hearts
will beat through the black sky
when time comes back again.

There's nothing new beyond the reef.
Beyond the glittering waves
swells swallow troughs--disappear--
then grow back again.


AUTHOR BIO
Mary Cresswell is from Los Angeles and lives on New Zealand's Kapiti Coast. Her third book, Trace Fossils, was published in 2011. She has poems in a variety of journals (US, NZ, Australia, Canada, and the UK), and she's very pleased to debut in Mezzo Cammin. More info here.
POETRY CONTRIBUTORS

Melissa Balmain

Judith Barrington

Meredith Bergmann

Jane Blanchard

Cally Conan-Davies

Barbara Lydecker Crane

Mary Cresswell

Rebekah Curry

Anna Evans

Marcene Gandolfo

Claudia Gary

Gwen Hart

A. J. Huffman

Kathryn Jacobs

Geneva Kachman

Joan Mazza

Susan McLean

Sally Nacker

Janice D. Soderling

A. M. Thompson

Cara Valle

Marly Youmans

Seree Zohar

>We are pleased to announce that Anne-Marie Thompson is the recipient of the Mezzo Cammin scholarship at the West Chester University Poetry Conference and Wendy Sloan is the recipient of The Mezzo Cammin Women Poets Timeline Project scholarship.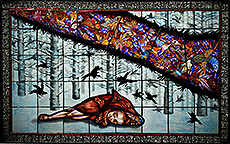 Judith Schaecter: I found the beauty of stained glass to be the perfect counterpoint to ugly and difficult subjects. Although the figures I work with are supposed to be ordinary people doing ordinary things, I see them as having much in common with the old medieval windows of saints and martyrs. They seem to be caught in a transitional moment when despair becomes hope or darkness becomes inspiration. They seem poised between the threshold of everyday reality and epiphany, caught between tragedy and comedy.

My work is centered on the idea of transforming the wretched into the beautiful--say, unspeakable grief, unbearable sentimentality or nerve wracking ambivalence, and representing it in such a way that it is inviting and safe to contemplate and captivating to look at. I am at one with those who believe art is a way of feeling ones feelings in a deeper, more poignant way.

I would describe my process as derived almost entirely from traditional techniques in use for centuries. The imagery is predominantly engraved into layers of glass; only the black and yellow are painted and fired on in a kiln. The pieces are soldered together in a copperfoil and lead matrix.