Joan Mazza






The Scent of Memory 14



You spend two hours deciding what to wear,
though next day you can't wash smells from your hair:
wood floors soaked in beer, smoky, perfumed air,
din of drumbeat deafens while you swear.
You stand and wait to be asked to dance,
hope some guy will converse with you, though wish
none will. You want to go home, be alone,
say you hate to search for a man, to fish
a disco, singles scene, as if by chance
you'd meet your kind of man--a homebody,
guy who reads and cooks, who, like you, is ready
to stop the quest for a Perfect One. Not old,
not young, skin not decorated in ink,
who doesn't smoke or lie or stink of drink.







Like Half a Walnut Shell



A little boat for one person, lightweight
to carry on land, a wickerwork made
of coppices that curve. A paddle blade
that's square or long reveals your county place.
Framework covered with flannel, then with tar,
or with a canvas that is painted,
for fishing needn't take you very far.
Those in antiquity were acquainted
with this small vessel called a coracle.
Lucan from Caesar's time described it well.
Earliest of animal skins. Vehicle
for river crossing, though not the one in hell.
Alone, you can construct a one-seat boat.
You'll never need another man to float.







Night Sit



Who sits at length in nature goes deepest.
As light dims, woods fill up with night sounds.
We might find here what set us on this quest

to find the tasks that open up our best
selves. The woods grow dark, tall trees all around
while sitting at length, nature takes us deepest.

Each of us collects until we divest
of ballast before our boat goes aground,
and finds us where we set upon this quest

to ascend the mountains hardest, steepest.
Inhale and single out fragrances around.
Who sits at length in nature goes deepest.

This--our cathedral, no cash to invest.
Watch quietly. Listen. We grow unbound.
We could find here what set us on this quest

to shift our feeling from pressed down to blessed
by nature's hand on every limb around.
Who sits at length in nature goes deepest.
We can find here what set us on this quest.


AUTHOR BIO
Joan Mazza has worked as a medical microbiologist, psychotherapist, writing coach and seminar leader. She is the author of six books, including Dreaming Your Real Self (Perigee/ Penguin/ Putnam), and her work has appeared in Cider Press Review, Rattle, Off the Coast, Kestrel, Permafrost, Slipstream, American Journal of Nursing, The MacGuffin, Writer's Digest, and Playgirl. She ran away from the hurricanes of South Florida to be surprised by the earthquakes and tornadoes of rural central Virginia, where she writes poetry and does fabric and paper art. www.JoanMazza.com
POETRY CONTRIBUTORS

Melissa Balmain

Judith Barrington

Meredith Bergmann

Jane Blanchard

Cally Conan-Davies

Barbara Lydecker Crane

Mary Cresswell

Rebekah Curry

Anna Evans

Marcene Gandolfo

Claudia Gary

Gwen Hart

A. J. Huffman

Kathryn Jacobs

Geneva Kachman

Joan Mazza

Susan McLean

Sally Nacker

Janice D. Soderling

A. M. Thompson

Cara Valle

Marly Youmans

Seree Zohar

>We are pleased to announce that Anne-Marie Thompson is the recipient of the Mezzo Cammin scholarship at the West Chester University Poetry Conference and Wendy Sloan is the recipient of The Mezzo Cammin Women Poets Timeline Project scholarship.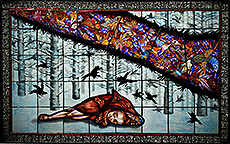 Judith Schaecter: I found the beauty of stained glass to be the perfect counterpoint to ugly and difficult subjects. Although the figures I work with are supposed to be ordinary people doing ordinary things, I see them as having much in common with the old medieval windows of saints and martyrs. They seem to be caught in a transitional moment when despair becomes hope or darkness becomes inspiration. They seem poised between the threshold of everyday reality and epiphany, caught between tragedy and comedy.

My work is centered on the idea of transforming the wretched into the beautiful--say, unspeakable grief, unbearable sentimentality or nerve wracking ambivalence, and representing it in such a way that it is inviting and safe to contemplate and captivating to look at. I am at one with those who believe art is a way of feeling ones feelings in a deeper, more poignant way.

I would describe my process as derived almost entirely from traditional techniques in use for centuries. The imagery is predominantly engraved into layers of glass; only the black and yellow are painted and fired on in a kiln. The pieces are soldered together in a copperfoil and lead matrix.