Claudia Gary






Understudy



If that were you, they'd shout, "Yes! Sing it for us!"
Out in the spotlight--that's where you belong,
not here, buried alive within the chorus,
waiting and hoping something will go wrong.

Since she's so bright, the star you study under
obliterates your sky. You mustn't show it.
Just sweetly sing while dreaming of your plunder,
and blithely smile in hopes that she won't know it.

Of course she knows. Her smile's as fake as yours.
In Trial By Jury, she's the jilted bride
and you're a bridesmaid. No pretense endures
Gilbert and Sullivan's rollicking ride.

Since you have not yet learned satiric mettle,
your stomach sours, turns, and cannot settle.







Fifteen Minutes at Juilliard



Auditioning without a repertoire?
Your Mom's connections put you on the spot.
She has you walk in toting your guitar
to show all things are possible--or not.

With good pitch and a sweet but untrained voice
you're used to singing anything you want to,
picking out chords to strum. That was your choice
until, this year, you learned about Bel Canto,

but too late. You perform "If I Had Wings
Like Noah's Dove," "Along the Purple Heather,"
and "I Know Where I'm Going."
Pack your things.
Today you know she's lost it altogether,
wasted your time, strung and unstrung your gut--
velvet-lined case reopened, filled, and shut.



Song of Flight
Take all of these: my childhood books, my dolls,
phonograph records from a certain day
I couldn't share with you. Peace of mind calls
and I can only find it far away,
or so it seems. What is this gnawing pain?
It sends me spinning from the grassy hill here
that seemed to be my deepest love's terrain
until a sinkhole yawned in the familiar--

familial pain. What is its form, my form?
What difference does it make how I am seen?
The search for sanity becomes a storm
I must ride out, because I'm seventeen.

But you, my little sister, have no hand
in this. I hope someday you'll understand.





Letter Space



You've given up living among the French,
abandoned residency paperwork.
Armed with a trade--typography--you clench
your teeth in post-Vietnam-War New York.

In setting type, you must pay full attention
to space above, below, between black shapes
flashed onto photo paper. Their dimension
and style affect the meaning that escapes
their boundaries onto a shining field
of white in which you recognize a word.

You savor this. Sharp focus has revealed
you can survive alone, if you're not stirred
too often or too deeply when you find
a letter from the one you left behind.



AUTHOR BIO
Claudia Gary writes, edits, sings, and composes (tonally) near Washington DC. A 2013 semifinalist for the Anthony Hecht Poetry Prize and past finalist for the Howard Nemerov Sonnet Award, she is author of Humor Me (David Robert Books 2006) and several chapbooks. Her poems appear in anthologies such as Forgetting Home (Barefoot Muse Press 2013) and Villanelles (Everyman Press 2012). "Understudy," "Fifteen Minutes at Juilliard," "Song of Flight," and "Letter Space" are from her forthcoming narrative sonnet sequence.
POETRY CONTRIBUTORS

Melissa Balmain

Judith Barrington

Meredith Bergmann

Jane Blanchard

Cally Conan-Davies

Barbara Lydecker Crane

Mary Cresswell

Rebekah Curry

Anna Evans

Marcene Gandolfo

Claudia Gary

Gwen Hart

A. J. Huffman

Kathryn Jacobs

Geneva Kachman

Joan Mazza

Susan McLean

Sally Nacker

Janice D. Soderling

A. M. Thompson

Cara Valle

Marly Youmans

Seree Zohar

>We are pleased to announce that Anne-Marie Thompson is the recipient of the Mezzo Cammin scholarship at the West Chester University Poetry Conference and Wendy Sloan is the recipient of The Mezzo Cammin Women Poets Timeline Project scholarship.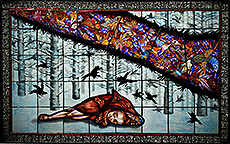 Judith Schaecter: I found the beauty of stained glass to be the perfect counterpoint to ugly and difficult subjects. Although the figures I work with are supposed to be ordinary people doing ordinary things, I see them as having much in common with the old medieval windows of saints and martyrs. They seem to be caught in a transitional moment when despair becomes hope or darkness becomes inspiration. They seem poised between the threshold of everyday reality and epiphany, caught between tragedy and comedy.

My work is centered on the idea of transforming the wretched into the beautiful--say, unspeakable grief, unbearable sentimentality or nerve wracking ambivalence, and representing it in such a way that it is inviting and safe to contemplate and captivating to look at. I am at one with those who believe art is a way of feeling ones feelings in a deeper, more poignant way.

I would describe my process as derived almost entirely from traditional techniques in use for centuries. The imagery is predominantly engraved into layers of glass; only the black and yellow are painted and fired on in a kiln. The pieces are soldered together in a copperfoil and lead matrix.