Marly Youmans






Tree Girl



You passed this way without bending a twig,
Your feet pressing the moss

Soundlessly--when I broke a sourwood sprig,
You looked at me with loss

And rain, as if the weather lodged in eyes
To speak without a word,

And while I hunted for the right replies
You changed into a bird.

I was so small. I wanted to be friends.
But you were not like me

And couldn't care. Grief goes, a child-heart mends,
Returning to its glee--

With leaves and sticks making a camp for fairies
Beside the wild blueberries.







The Garden at 4 A.M.



Say the face at windowpanes is the Fool's,
Page, or gentleman of the bedchamber--
Not one will know what the Red King ponders,
Or why he chooses to be washed with dew
Before the summer sun vaults to its place.
He might be wrestling with barbarians
Or dreaming of the orchard's froth of spring,
Or rising, falling with the breath of world,
Feeling the black earth under toes and heels
While the pollen gold of Flora's weddings
Sifts onto the labyrinth and the grass.

What would the Fool say, watching the Red King?

"See how he stops, is anchored to the ground
And lifts his arms outward, as if he were
Fixed there by roots to the dark, crumbling soil?
That crown is a ring of yellow anthers
To pollinate the stigma of his mind,
A realm of energy, now blazing white,
As when the sun shines on a lily field.
His rose-red mantle smolders in the leaves
As if it were a flower spilling light--
He is contained, the chalice of himself
Emblazoned, broken, swept into blossom."








The Alchemist to the Fool



You glimpsed the matter like a globe of Earth?
Nine months ago I sealed the mixture fast
In an oval vessel, and let the heat
Meditate on what this substance was--
In time it seemed an egg, tinted yellow,
Reddish here and there, like moon's corona,
And azure veins ribboned-round the whole.
It yielded blackest water, and birthed threads
Like spray from summer fountains pierced by sun,
Puckered like a purse mouth, as if to speak,
And working marvelously, dropped a dew
Into a smaller vessel that I sealed,
While yet the orb kept longing to be a world,
Crumpling and buckling, shouldering new hills,
And straining for a sky with clouds of steam.
Then little sparkling stars like eyes of fish
Winked gold, except for one that seemed a pearl.
The sphere was a fair winter's night with stars,
And later still was heated to rose-red
Ichor seeping from its deep-chinked flesh.

Nine months I have been waiting on new birth,
An oyster that transmutes a grit to pearl,
Lapping the raw with nacre from my soul--
Nine months I have been locked with this essence,
Feeling the stars begin to shine in me,
Knowing myself to be a little world
Brimming with child, unguarded in my throes,
Bleeding this wine and water from my side.








The Red King to the Stricken Man



for Phil Corriveau and Marsha Parker

How to go on when body fails the will,
When with one stroke a life's transformed to less,
Or seeming-less than what it was before?
Perhaps it seems too cruel that the fish
Still make their undulations under sea
Like moving flowers, tended by the rasps,
That the anemones sway languidly
While the clownfish jerk away to hover
Inside their rose-tipped bloom of tentacles:
All goes in water meadows as before,
But not for you: the sea forgets your shape,
Fleet and muscled in a cloud of angels--
Exploding, vanished like a magic trick.
The notes once schooled in mind have swerved and fled:
Composed to quiet now and waiting for
Your fingers at the drum, the keys, the strings
To wake the sleeping beauties of your song.
And elsewhere, once, some knew your beck-and-call,
Obeyed and they and you were glad to make
A world of air that waved across the world,
Outflowing art and song and story--all
Belonged to you, your private fief, your gift.
But now that musing box is just a box
Where someone else's world survives and sings
As if forgetting you who ruled are gone.

Then what remains to be, and how will you
Find again a summer realm of gladness?
Idle as fairies, snowflakes waver in the air,
And paths and stairs are blocked so deep in snow . . .
Cold like a parasite works into bone.

In bones of winter sunlight's honey gathers.
In dissolution sleeps another birth.
In the beak of the bird is a bright seed.
Your spring approaches with its flamey light,
The wheel creaking, the black and fertile earth
Giving birth--the sky unpacking its stars
That spread and stare like a peacock's tail-fan.
You must no longer wear the raven's head
Because the phoenix hour is close to you,
When everything you were must be reborn.
Oh, many things resemble what you knew--
There are the windings of the library,
The curve of coastline lying in the sun,
The woman who has been faithful to you
In many things, from brow to soles the same.
Your house that was a mansion, fine and strong,
Must be rebuilt, and sorrow left outside
For scavengers, the crow and the raven.
Now build in caravu, the rocky place,
And let it be the firm foundation laid
To raise new life, and let it have a court
Surrounded on all sides, with blooms and trees,
With trellising and topiary shrubs,
With lawn and berm, and let there be a pool
For bathing, and a fountain where water
Flies up and then is dashed against a bowl,
For most of all I wish for you a fount,
The image of an ever-flooding spring.
I want you to lean against the basin
And stare at broken pictures of your face:
How beautifully it dances on the water,
How whole it is in sunlit flitterings.
At night, the stars will gather round your head,
The world will pulse, tidal in your veins,
The little flowers will blossom in your mind,
And everything will dance around the sun.

I am the Red King. I give you those stars,
I give you the angelfish under the sea,
I give you the rose-fragrance and the rose,
I give you the wings of whistling swans,
I give you music of the crystal spheres,
I give you the black bed of this your death
From which I tell you now to rise: arise,
Walk in the evening paths of my garden.
Out of the earth, out of the stars in the sky,
Out of the gusts and silences of air,
Out of the crimson-feathered phoenix fire
I call you: I see you and know your name.
This world is my kingdom come. You are mine.




AUTHOR BIO
In 2012, Marly Youmans published two books of poetry: a collection of formal poems, The Foliate Head (UK: Stanza Press); and a narrative poem in blank verse, Thaliad, "a gripping story populated with sharply-drawn, memorable characters whose struggles illuminate the complexity of human behavior from its most violent to most noble" (Montreal, CA: Phoenicia Publishing.) Her most recent novel is A Death at the White Camellia Orphanage (Mercer University Press / The Ferrol Sams Award / ForeWord finalist.)
POETRY CONTRIBUTORS

Catherine Chandler

Amy Conwell

Lisa DeSiro

Jehanne Dubrow

Katherine Hoerth

Julie Kane

Fayth Kelly

Siham Karami

Jean Kreiling

Luann Landon

Charlotte Mandel

Mary McCall

Susan McLean

Laura Sheahen

Marly Youmans


Marilyn Nelson and Sonia Sanchez participating in the women poets roll call, March 21, 2013
>Mezzo Cammin hosted the third anniversary of The Mezzo Cammin Women Poets Timeline Project on Thursday, March 21 at the Pennsylvania Academy of the Fine Arts, as part of its PAFA After Dark series and in affiliation with its exhibition The Female Gaze. Featured readers included Rachel Hadas, Marilyn Nelson, and Sonia Sanchez.
>Mezzo Cammin Awards Scholarship at West Chester Poetry Conference: Nausheen Eusuf.
>The Mezzo Cammin Women Poets Timeline Project Turns "40."
>The Mezzo Cammin Women Poets Timeline Project Panel at Celebrating African American Literature (CAAL) 2013, Penn State University, October 25-26.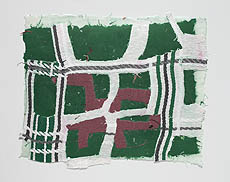 Elana Herzog: In all of my work curiosity and pleasure are driving forces. The materials I use are often cheap, discarded household items that challenge conventions of taste and beauty. They draw attention to how art and design migrate throughout culture, from high to low and back again. My imagery traverses the language of abstract art, and that of the domestic and industrial landscape. Increasingly the work reflects my desire to understand the relationship between Modernism and the legacy of industrial and technological progress that permeates contemporary culture.