Katherine Hoerth






Cowgirl



For Io

The story says her face was lovely once
like wildflowers, cheeks a paintbrush hue
with eyes the color of bluebonnet groves.
The story says that her magenta lips
invited in the thunder clap that morphed
her maiden skin to cowhide, ringlet curls
to horns. So now the cowgirl roams the brush
and snuffs the flames of flowers at the edge

of every country road. The heifer dreams
up her reflection as she stomps the buds
beneath her hooves and warns the beautiful
to hide their blooming faces. Petals catch
the wandering eye of clouds, but clouds can kiss,
and sometimes kisses come to sting like flies.








After the Flood



I walk the shore of Falcon Lake alone
and kick a cloud of dust into the air.
A pair of rusted musket balls unearth
and then a glint of white. A human bone,
is my first thought, just one of countless found
along this lake like chalcedony, rare,
but not enough to steal my breath away.
I want to trust that floods can rinse all dirt
and leave the beautiful untouched, but how
can drops of water trickling down a shore
erase the rugged landscape's every scab?

I pick the glinting white up from the earth.
It's just a rock, and moist like skin, the face
is sun-baked warm, and sparkling veins run through
with hues of blush. I toss the jagged stone
over my shoulder, hear a lifeless thump.
I'm not the child of Pyrrah; I'm a girl
the waves of Falcon Lake will soon devour.



AUTHOR BIO
Katherine Hoerth is the author of three poetry books: a full collection titled The Garden Uprooted (Slough Press, 2012) and two chapbooks, The Garden of Dresses (Mouthfeel Press, 2012) and Among the Mariposas (Mouthfeel Press, 2010). Her work has been featured in journals including BOXCAR, Front Porch, and Victorian Violet Journal. She teaches English at the University of Texas Pan American and serves as Assistant Poetry Editor of Fifth Wednesday Journal. Katherine lives in Deep South Texas with her love, Bruno, and their many cats.
POETRY CONTRIBUTORS

Catherine Chandler

Amy Conwell

Lisa DeSiro

Jehanne Dubrow

Katherine Hoerth

Julie Kane

Fayth Kelly

Siham Karami

Jean Kreiling

Luann Landon

Charlotte Mandel

Mary McCall

Susan McLean

Laura Sheahen

Marly Youmans


Marilyn Nelson and Sonia Sanchez participating in the women poets roll call, March 21, 2013
>Mezzo Cammin hosted the third anniversary of The Mezzo Cammin Women Poets Timeline Project on Thursday, March 21 at the Pennsylvania Academy of the Fine Arts, as part of its PAFA After Dark series and in affiliation with its exhibition The Female Gaze. Featured readers included Rachel Hadas, Marilyn Nelson, and Sonia Sanchez.
>Mezzo Cammin Awards Scholarship at West Chester Poetry Conference: Nausheen Eusuf.
>The Mezzo Cammin Women Poets Timeline Project Turns "40."
>The Mezzo Cammin Women Poets Timeline Project Panel at Celebrating African American Literature (CAAL) 2013, Penn State University, October 25-26.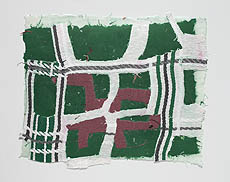 Elana Herzog: In all of my work curiosity and pleasure are driving forces. The materials I use are often cheap, discarded household items that challenge conventions of taste and beauty. They draw attention to how art and design migrate throughout culture, from high to low and back again. My imagery traverses the language of abstract art, and that of the domestic and industrial landscape. Increasingly the work reflects my desire to understand the relationship between Modernism and the legacy of industrial and technological progress that permeates contemporary culture.