Catherine Chandler is the author of Lines of Flight (Able Muse Press, 2011), This Sweet Order (White Violet Press, 2012) and two chapbooks. Her second full-length collection, Glad and Sorry Seasons (Biblioasis Press), is forthcoming in the fall of 2013. Winner of the 2010 Howard Nemerov Sonnet Award, her work has been widely published in print and online journals and anthologies, most recently in Measure, Quadrant, Comstock Review, The Raintown Review, Able Muse Journal, Lewis Turco's The Book of Forms: A Handbook of Poetics, Including Odd and Invented Forms (University Press of New England, 2011) and Theresa Welford's The Cento: A Collection of Collage Poems (Red Hen Press, 2011). A dual citizen of the United States and Canada, Catherine is a graduate of McGill University, where she lectured in the Department of Translation Studies for many years.





Amy Conwell received her B.A. in Writing Seminars and Classics from the Johns Hopkins University. She then advanced her study of Latin and Ancient Greek through the University of Pennsylvania's Post-Baccalaureate Classical Studies Program. During her time at Penn, she won The William Carlos Williams Prize from The Academy of American Poets for the best poems by a graduate student. She is currently pursuing her M.A. in Medieval Studies at the University of Toronto.





Lisa DeSiro earned her MFA in Creative Writing from Lesley University and a BA in Literature / Creative Writing from Binghamton University. She also earned degrees from Longy School of Music and The Boston Conservatory, and is an accomplished classical pianist. Her poems have appeared in The Comstock Review, Beacon Street Review, and Commonthought Magazine. Texts of hers have been set to music by several composers, and she is a poet-in-residence for the CMASH ensemble (www.cmashmusic.org). Lisa lives in Cambridge, MA, and is the Editorial & Production Assistant for C.P.E. Bach: The Complete Works.





Jehanne Dubrow (featured poet) is the author of four poetry collections, including most recently Red Army Red and Stateside (Northwestern UP, 2012 and 2010). Her work has appeared in Southern Review, The Hudson Review, Prairie Schooner, and Ploughshares. She is the Director of the Rose O'Neill Literary House and an assistant professor of creative writing at Washington College, on the Eastern Shore of Maryland.





Elana Herzog lives and works in New York City. She has a BA from Bennington College and an MFA from Alfred University. Herzog is the 2012 Fellow of the Saint-Gaudens Memorial in Cornish, New Hampshire, where her work is being exhibited through July 14th 2013. Solo and two-person exhibitions include Into the Fray, at Lmak Projects in New York City, De-Warped and Un-Weft, a survey of Herzog's work since 1993, at the Daum Museum of Contemporary Art in Missouri in 2009. the Aldrich Museum of Contemporary Art in Connecticut, Smack Mellon in New York, the Herbert F. Johnson Museum at Cornell University, in New York, Morgan Lehman Gallery, and PPOW Gallery, New York City, and Diverse Works in Texas, the Zilkha Gallery, Wesleyan University, Connecticut. Her work has been exhibited internationally at the Reykjavik Art Museum, Reykjavik, Iceland, in Sweden at Konsthalle Goteborg and at Konstahalle Gustavsbergs, and Tegnerforbundet in Oslo, Norway, among other venues.

Herzog has participated in numerous group shows at institutions such as the Tang Museum in Saratoga Springs, New York, the Weatherspoon Museum in Greensboro, North Carolina, and at David Castillo Gallery in Miami. The Brooklyn Museum, The Museum of Arts and Design, both in New York City. The Jewel Thief, at the 2010, at the Tang Museum, was the subject of a feature article in the New York Times, which included a reproduction of Herzog's installation.

In 2011 she was a recipient of the Farpath Foundation Residency in Dijon, France, and the 2011/12 Marie Walsh Sharpe Foundation Space Program Residency in Dumbo, New York. She has also received the 2009 Anonymous Was A Woman Award, the 2007 Louis Comfort Tiffany Award, the 2007 and 1999 NYFA Individual Artist's Fellowship, the 2004 Lillian Elliot Award, the 2003 Lambent Fund Fellowship and the 1999 Joan Mitchell Award. She was a 2008-2009 Workspace Resident of the Lower Manhattan Cultural Council, and Dieu Donne Paper. Herzog has been awarded upcoming residencies by the Josef and Annie Albers Foundation, in Bethany, Connecticut, and at Gertrude Contemporary in Melbourne, Australia.

Elana is a lecturer in Sculpture at Yale School of Art.





Katherine Hoerth is the author of three poetry books: a full collection titled The Garden Uprooted (Slough Press, 2012) and two chapbooks, The Garden of Dresses (Mouthfeel Press, 2012) and Among the Mariposas (Mouthfeel Press, 2010). Her work has been featured in journals including BOXCAR, Front Porch, and Victorian Violet Journal. She teaches English at the University of Texas Pan American and serves as Assistant Poetry Editor of Fifth Wednesday Journal. Katherine lives in Deep South Texas with her love, Bruno, and their many cats.





Julie Kane served as Louisiana Poet Laureate from 2011 to 2013. Her two most recent poetry collections are Jazz Funeral (Story Line Press, 2009), the winner of the Donald Justice Poetry Prize, and Rhythm & Booze (University of Illinois Press, 2003), a National Poetry Series winner and Poets' Prize finalist. Her poems have been featured on Poetry Daily, Verse Daily, and The Writer's Almanac. A former George Bennett Fellow at Phillips Exeter Academy, New Orleans Writer in Residence at Tulane University, and Fulbright Scholar to Vilnius Pedagogical University (Lithuania), she currently teaches at Northwestern State University in Natchitoches, Louisiana.





Siham Karami owns a technology recycling company in Northwest Florida and is a mother of five. Her work has been published in a number of venues, including String Poet, Innisfree Poetry Journal, Shot Glass Journal, The Lavender Review, 14 by 14, The Whirlwind Review, Sisters Magazine, The Road Not Taken, Snakeskin, and New Verse News.





Fayth Victoria Kelly is an M.F.A. Creative Writing student at Fairleigh Dickinson University in New Jersey, where she has been awarded an editorial assistantship at The Literary Review, an international journal of contemporary writing. She'll receive her M.A. in English in August 2013 from West Chester University of Pennsylvania. After several years as a patient service representative, Ms. Kelly had returned to graduate school to pursue her first love, writing. There she rediscovered the lure of formal poetry, which culminated in the creation of her book of sestinas "Helen Aisle." Kelly is currently working on another collection of formal poetry and a novel. She supports many nonprofit organizations that work for the welfare of animals. She currently resides in Pennsylvania where she enjoys music as a hobby.





Jean L. Kreiling's work has appeared widely in print and online journals, including 14 by 14, American Arts Quarterly, Angle, The Evansville Review, Measure, and Think, as well as in several anthologies. She was the winner of the 2011 Able Muse Write Prize for Poetry, and has been a finalist for the Dogwood Poetry Prize, the Frost Farm Prize, and the Howard Nemerov Sonnet Award.





Luann Landon is writing both narrative and lyric now. She was a Finalist in the 2011 and the 2012 River Styx International Poetry Contest, and her poems have appeared in The Poetry Porch and Measure. Her memoir-cookbook, Dinner at Miss Lady's (Algonquin, 1999), has recently been published as a paperback.





Charlotte Mandel is winner of the 2012 New Jersey Poets Prize sponsored by Journal of New Jersey Poets. Her eighth book of poetry titled Life Work is forthcoming from David Robert Books in July 2013. Previous books include Rock Vein Sky from Midmarch Arts Press, and two poem-novellas of feminist biblical revision--The Life of Mary (foreword by Sandra M. Gilbert) and The Marriages of Jacob. Her verse play The Gardener's Wife is available with audio link on Verse Wisconsin. Among her critical essays, "The Cinematics of H.D.'s Poetry" is included in the volume Approaches to Teaching H.D.'s Poetry and Prose, published by Modern Language Association; and "Muriel Rukeyser: Her Rabbi Akiba Inheritance" featured on the Rukeyser website.





A New Jersey native, Mary McCall is pursuing her Ph.D in rhetoric and composition at Purdue University where she also teaches first-year composition. Her work has been nominated twice for Best of the Net and her poem, "The Woods of the Misses Lonelyhearts," was selected as the January 2010 Best of the Issue for Thick with Conviction. Her poetry has appeared in work to a calm, Decompression, Chantarelle's Notebook, The Storyteller, and elsewhere.





Susan McLean, an English professor at Southwest Minnesota State University, grew up in Oxon Hill, MD, and received a B.A. from Harvard University and a Ph.D. from Rutgers University, New Brunswick. Her poems have appeared recently in Able Muse, First Things, Light Quarterly, and Per Contra. Her first full-length poetry collection, The Best Disguise, won the 2009 Richard Wilbur Award. A book of her translations of the Latin poet Martial, Selected Epigrams, will be published by the University of Wisconsin Press.





Laura Sheahen's poems have been published in The Dark Horse, The Interpreter's House, MiPOesias, and other magazines. She works in humanitarian aid and has lived in Italy, Cambodia and Egypt.





In 2012, Marly Youmans published two books of poetry: a collection of formal poems, The Foliate Head (UK: Stanza Press); and a narrative poem in blank verse, Thaliad, "a gripping story populated with sharply-drawn, memorable characters whose struggles illuminate the complexity of human behavior from its most violent to most noble" (Montreal, CA: Phoenicia Publishing.) Her most recent novel is A Death at the White Camellia Orphanage (Mercer University Press / The Ferrol Sams Award / ForeWord finalist.)







Marilyn Nelson and Sonia Sanchez participating in the women poets roll call, March 21, 2013
>Mezzo Cammin hosted the third anniversary of The Mezzo Cammin Women Poets Timeline Project on Thursday, March 21 at the Pennsylvania Academy of the Fine Arts, as part of its PAFA After Dark series and in affiliation with its exhibition The Female Gaze. Featured readers included Rachel Hadas, Marilyn Nelson, and Sonia Sanchez.
>Mezzo Cammin Awards Scholarship at West Chester Poetry Conference: Nausheen Eusuf.
>The Mezzo Cammin Women Poets Timeline Project Turns "40."
>The Mezzo Cammin Women Poets Timeline Project Panel at Celebrating African American Literature (CAAL) 2013, Penn State University, October 25-26.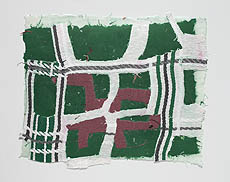 Elana Herzog: In all of my work curiosity and pleasure are driving forces. The materials I use are often cheap, discarded household items that challenge conventions of taste and beauty. They draw attention to how art and design migrate throughout culture, from high to low and back again. My imagery traverses the language of abstract art, and that of the domestic and industrial landscape. Increasingly the work reflects my desire to understand the relationship between Modernism and the legacy of industrial and technological progress that permeates contemporary culture.